My 1928 FORD AV8 Roadster
Well, Hot Rods really are never finished, you just continue to wrench, change looks and idea's etc and thats what I love about Hot Rodding, My 1928 Ford Roadster is no Show ride, it is no super high Dollar Performance machine, nor is it a trailer Queen either.
What it is, well- To me anyways, is a Nostalgic styled AV8 Hot Rod that you would of seen on the streets on Southern California back in the late 1940's.
It is something I really have a passion for since I was a Teenager. lucky for me I had a Three Window Coupe in the UK but my Dream was a Roadster and to have one in California, so dreams do come true and wanted to share my little Model A machine with you.
This is a real Henry Ford Body and Chassis, and the stance I have as you see it here is right on the money, have a look at many Vintage pics and you may see a late 1940's Roadster similar to mine, I wanted to keep the Side Aprons on, these are the step covers that your fenders bolt to. Below is Jack Mickleson's Roadster in about 1942. I think it was the last dry lake run before World War 2 was underway, I believe Don Francisco owns it but have yet to see if this Roadster survived.
Back in the day, the Hot Rodders would drive to the Dry lakes such as Harpers, Muroc or the famous El Mirage and then strip the fenders and head lights off as well as the windshield and then see how fast they could run on them dried out lake beds.
This is how she is right now, still may change a few little things and then fine tune all the time, I am hoping to eventually Louvre the front hood and the rear Rumble Seat lid.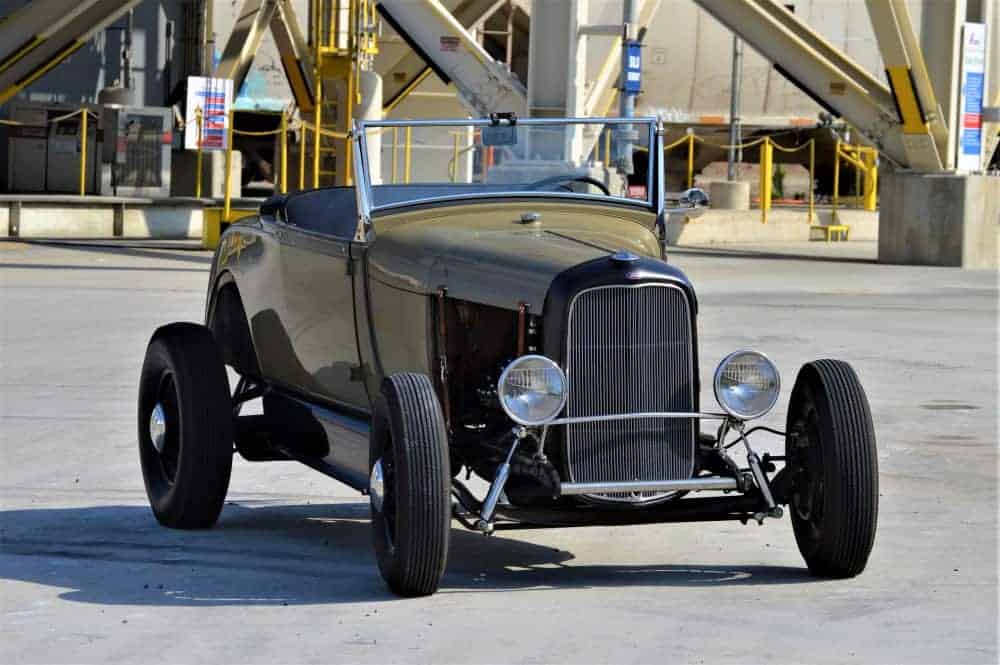 I used a Genuine 1932 Grill and Shell and fitted the Model A Hood to it with Old style belts, then used one of Limeworks Stainless Steel dropped headlight bars with stock Model A Lights.
Shorty shocks up the front soak up as much as possible, dropped I-Beam front axle sits this front end just how I want it , I then made a Spreader bar to complete the Nostalgia going.
Not as powerful as the locomotives behind me but eventually I shall build a Hopped up Flathead for this Jalopy, right now it has a 1939 24 stud mill with Edelbrock Heads.
I shall be shortening the exhaust pipes, I did have the original Bumpers on there when the exhaust set up was made, but shall cut them back and may make a Nerf Bar for the rear.
She is sat on a set of Kelsey Hayes wire Rims with Vintage style Firestone 16 inch tall tires and it is fun to drive, she tracks a little on the freeway but thats the feel I wanted.
I have a chopped Stainless Steel windshield, another common touch that was done in the day and of course sit lower now else my head would sit up too high. LOL
it is always fun to take out, this place isnt that far from me and wanted to try and take some decent pic's, im no pro at this but I am really happy at how these came out.
She runs stock pistons but New and right now a stock cam, later I hop to build a little growler motor that has an Isky Cam, just to get me out of trouble if I need it.
Plenty of old freight train and shunting lines around where we live and whats great is to think about 70 Years ago, this was full of Dairies, fruit trees and Flathead Motors.
Sadly, more common than not, all you will see these days is Graffiti, personally not a fan of it at all, but as it was close to the color of the Roadster, I thought a photo Opportunity awaits.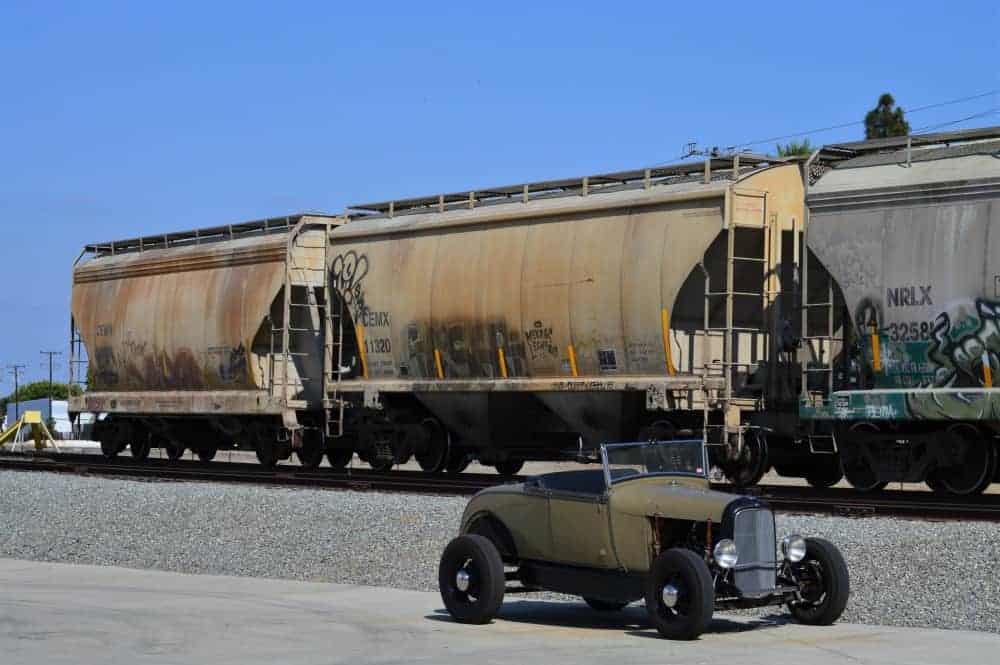 One hauls freight and the other hauls Arse!!! LOL!
Sat patiently awaiting me to jump in and stamp the right pedal and head back home, so much Hot Rod History in and around where we live in La Mirada.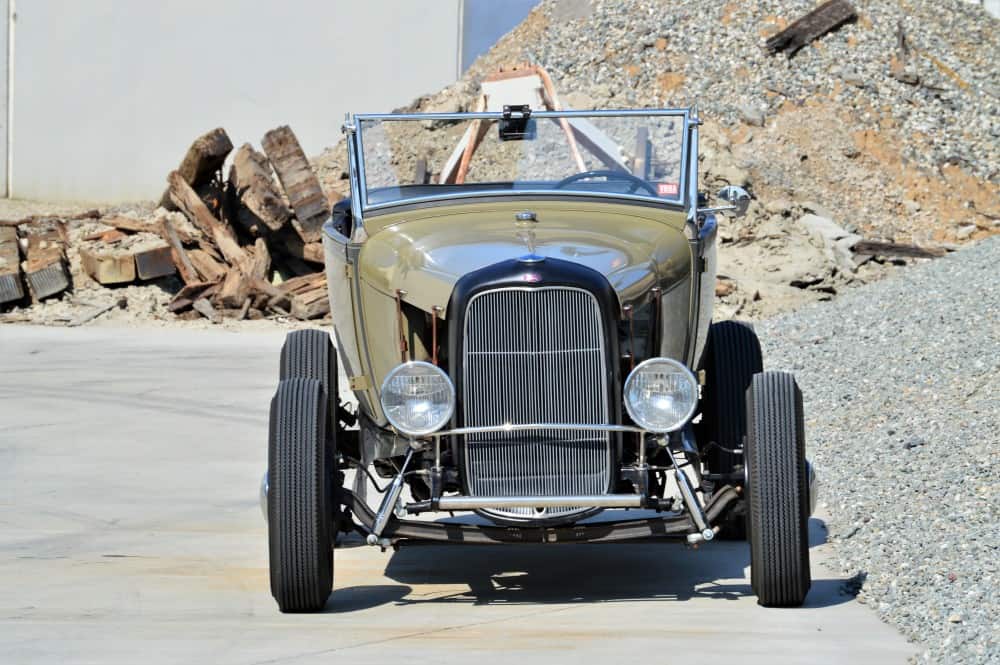 A great ride and more to do, I have a Columbia 2 speed rear end for it, but have to send it away to get Bullet Proofed, not cheap but that will give me a good overdrive.
Long way to go as I would like to have Oxblood Leather interior, but for now this old Naugahyde will suffice as leather is not cheap.
Hot Rods and Trains have always gone together like peanut butter and jelly sandwiches, Hot Rods use to try and race the train if there was a good straight away.
VHRA Vintage Hot Rod Association of which I joined in the 90's back in the UK, huge part of my life to be honest and going so strong there today.
I shall always keep this Roadster, I drempt about one as a kid and here I am 5400 miles away and living that dream , totally amazes me sometimes and have to pinch myself.
I have always liked vintage stuff, be it Hot Rods, Motorcycles, Juke Boxes, Chris Craft Boats, Spitfires, Hurricanes, Thunderbolts to Dakota's, Vintage is in my blood I guess.
Hope you like my little 1928 AV8 Roadster?  I really have fun with this and enjoy the experience of feeling what a traditional Hot Rod feels like to drive and work on.
Maybe some of you can relate? As I have spoken to a few people that have Motorcycles and Hot Rods, it is a fun and to me, a therapeutic Hobby.
I will still be working on this for many years but enjoying what i do, some things work and then sometimes they dont but, mechanical parts are great to work on.
I shall be selling Hot Rod parts and Apparel so will be revamping the website a little, stay tuned to the site if you want to see what I do to this Model A Roadster of mine.
Thanks for reading my Blog today, I enjoy doing it and people often email me to say that they like looking at what I am up to out here in La Mirada.
Let me know if you have a cool ride, love to see what you are creating and of course having fun in these days, I always have a smile on my face driving the Roadster, sometimes bugs too.
Have a great weekend and enjoy life to its fullest.
Comments
comments