A Few Days Away in Arizona was Much needed.
Well, a change is sometimes as good as a rest and My Girlfriend Jennifer, thought it would be a great idea to have a long weekend away in Arizona, as I have always wanted to see the Grand Canyon as well as London bridge and of course, ride a bit of Route 66 on our Triumph Motorcycles.
The build up to this was I had purchased a New Ford Transit 250 and that thing is taller than a Basket Ball players Locker, so Ideal for us to carry a couple of motorcycles and everything else needed to camp out when we decide to go places etc.
We fitted a RV electrical outlet to the side of the Van and had 2 receptacle sockets installed, along with breakers etc on the left side of the wall of the van, this way, we can stay in an RV camp and hook up to their power, thus having our own little place where we have a blow up bed, a Kurig Coffee Maker and an Amish heater, we were all wired and that also saved us Hotel Bills.
So, we Loaded the Van up and headed up the 15 Freeway to the 40 and first stop was the London bridge, now I have not seen this place and I would of gone over it in the car with our parents when I was 4, but by the time I was 5 in 1967, the London Bridge had been sold and was being taken apart, Brick by Brick, and then shipped over to Arizona and put back together like a huge puzzle.
I remember at school as kid my teacher saying "Why would they put a bridge in a desert"?
So, when I approached the Bridge, I was gobsmacked, believe or not, I thought it was just a Museum piece stuck on concrete in the desert as an attraction, I was so stoked to see the Colorado River running through it with tons of cool speed boats cruising under the Famous bridge.
What a fantastic place, the weather was 101 and everybody seemed to be having fun on the River, some of the Boats must of been over $1 Million and these big Motors just idled as it cut through the water like a Hot Knife through Butter.
What a great and surprising experience for me, after ALL these years, I thought the Bridge was on a piece of dry Concrete, so my head was in quite a spin when I got to see the Bridge doing what it is supposed to do, and made my trip even more fun.
We stayed there for a few hours, ate at the side of the Bridge and just relaxed for a bit and enjoyed all the cool expensive water craft just cruising up and down the river, I loved it all, but, time was ticking, so we headed out of this great Historic area and then back onto the 40 freeway heading towards Williams. The weather was still bloody hot and we needed to get a few miles under our belt as we wanted to get into Williams before it got dark.
We were really lucky with the traffic and clicked along at a decent speed and not really slowing for bumper to bumper traffic at all, just lucky I think and it certaingly made the trip a lot more easier to bare when traffic is light.
Above, as you can see, we pulled onto some of Route 66 for a tick and stopped off for a coffee at the Road Kill Cafe, it was pretty busy here and a few restaurants are scattered along this road.
Seligman was the town and this weekend they had their Annual fun Run, which we thought was some Charity mini marathon, only to find out it was a cool car show held there.
On Route 66 through out the United States, there is always great places with history, artifacts or just old buildings and I find it most entertaining when we go to great old towns and try and make the whole event a fun and happy one. And of course, try and not get arrested there.
We headed out of Seligman and then we were back off the 66 and onto the 40 again, but not for too much longer as Williams was not too far away now and as i was starting to feel the miles on my eyes, i was glad to pull into the RV station in Williams and looked forward to unloading the van and having a cuppa.
Nothing quite like having your own Brew in the van when you feel like it, and as we hooked the RV Plug into the parks power, we were ready to stay and enjoy this area for the next few days.
We unloaded our bikes and really wanted to enjoy the warm weather that was here to greet us, the unusual thing for me was that in Arizona, there was No helmet law, I am a great believer in the use of Crash helmets but sometimes its just fun to try it and see how it is and, as the town has a max 25 MPH law, its pretty safe. especially in town as the speed limit is 15 MPH so a fun time we had riding about checking out some of Williams town out.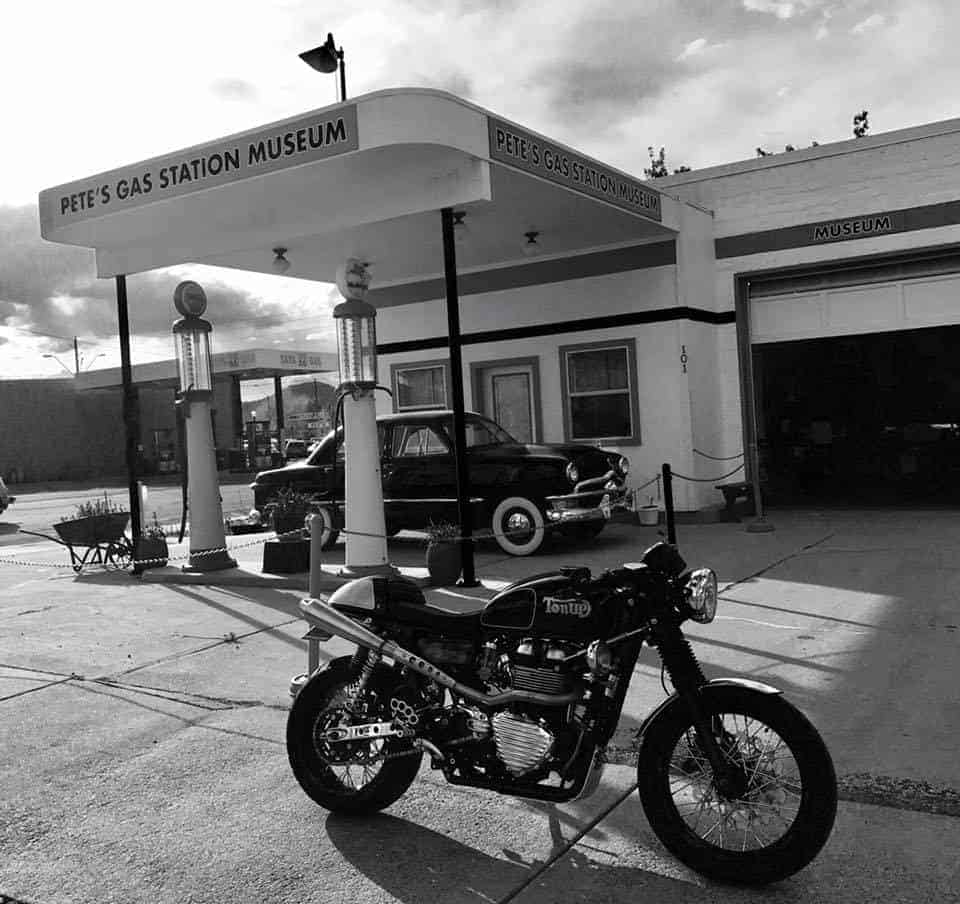 Pete's Gas station was awesome as they had all sorts of cool memorabilia there to look at, I loved the place, Original Old 1930's Gas pumps, Old 1950 Flathead ford parked up and a cool speed shop by the side, so thought I would take a few Black and white photos to try and set the scene we saw as it was like stepping back in time there.
Jenn loved riding around and exploring the places that Williams has to offer and, for a small community town, it does have quite a lot to offer you when you visit.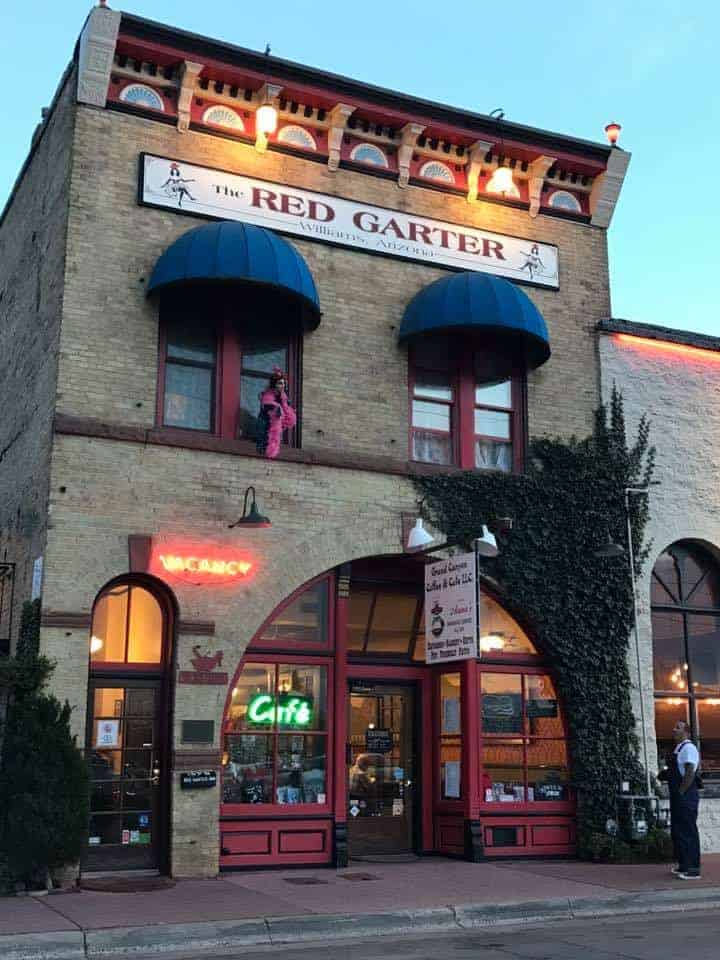 Lots of old buildings there and this was an old Parlor where the gents go to get a bot of exercise , for a price, if you know what I mean?
Here are some pf the cool places we stopped off in the town.
If you find yourself in Williams, there is always something to go and look at, the food is good and the people are really friendly.
The next Morning Jenn and I woke up and we headed to the train station and jumped on the old Steam Train that takes us to the Grand Canyon, quite a laugh going on this Old Steam Train and all the carriages are 1950's and earlier, such fun to travel this way.

This Steam train is not powered by Coal any more but vegetable oil, how about that, so im sure the wild life must wonder if its burger king approaching them or In & Out Burger.
Below is just some small video that I recorded on my phone, but it just does not really show the immense size of this hole in the ground.
I was blown away with the sheer size of the Canyon, boy what a place and I understand now why it is one of the 7 wonders of the world. made me Wonder- Why I hadn't visited before. LOL!
If you have not visited this place, then put a tick on that bucket list.
Such a mind blowing place that I was quite nervous about walking anywhere near the edge, as its a 1 mile drop to the bottom, but the school kids were just perched on the edge sitting wiggling their legs- I couldnt look.
The train ride was a blast and alll sorts of singing and adventures on the whole journey there and back.
Loved riding route 66 but this day was cold and windy, but the day before was 101 degree's but I loved it all and so did Jenn, except riding in a cross wind, that was a whole new experience for her.
Some of the photos I took whilst at the Grand canyon for you to have a peek at.
Jenn and I both took photos and were glad we did as so much to see.
This was the South Rim so next time we shall ride to Vegas, then take the old road to Hoover Dam and then onto the Grand canyn that way to see that scary Glass bridge.
On Route 66 we saw so much stuff, I was blown away with some of the old Cars I saw and a super break away from work to do this with my girl, loved every moment.
I took photos where ever I saw cool stuff, it was really a fun drive too on Route 66 and I had no clue what we may see.More to see if you want to have a look on here.
Tons of stuff to see long Route 66 and so much more that we hope to go back and explore, such a great time away and, it was just 4 days too.
If you lot get a chance, spend a few days travelling across Route 66 as it still holds many cool places and artifacts.
Last bit is Oatman in Arizona, Old Gold mining town, the Burro's stayed and have been there ever since and walk the streets trying to get food from you.
This sign we saw on the road was super cool and had to take a photo of it.
By the way- it did get cold there for a day, here was our bikes in the morning with lots of frozen ice covering them. BBBRRR!
Until Next time Route 66- looking forward to more discoveries on that Iconic Mother Road.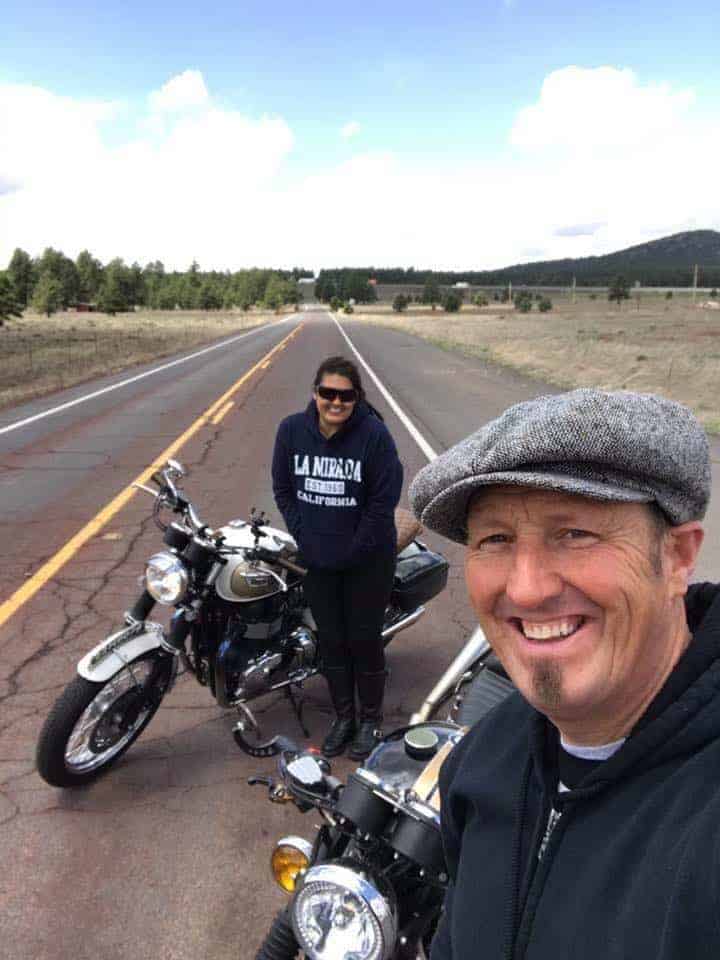 Comments
comments