The OG Moto Show was a Blast this weekend.
Well, finally I managed to get the old girl put together in time for the OG Moto show in LA this weekend and only by the skin of my teeth, but it was all worth it in the end.

The Bike came out really well and I received so many congratulations from people that saw the bike, it was fun showing it and many people taking photos etc and made for a fun weekend thats for sure.
Plenty of cool machines there this year and the weather could not of been better, although for three weeks before this, it rained all the bloody time, no idea how I managed to bang this out in less than a month but I pushed hard and got there in the end.
There were so many details on my machine, I am sure not many people even took note, but one thing they loved was the color set up and the way it all flowed and of course sparkled, due to all that metalflake paint.
I am super Stoked at the way the bike turned out and happy to of got the bike to the show, as a lot of people wanted to come and check it out and it sure has a lot going for it.
She sits well on the Lester Rims and I made my own Handle bars and chromed them and they are so comfortable, nothing like your own Custom Handlebars.
The Bike looks great in the Sun and I am glad that I came up with this Classic 70's styled Flake, it just needed to be like this and it is pleasing to me to look at.
Still ant to do a little more to the bike but it turned out as I imagined it would and it will be a lot of fun to ride around Orange County, this is a strong Motor and will run great.
The 40 year Old Rims look good with New brakes and tires etc and, these are Genuine Lesters off a CR750 that I purchased a few decades ago now and I knew that eventually I would get to use them on a build, very strong rims and gives that 70's era the right look on this machine.
I went ahead and did the quick realse system on the frame rails on the side and the top, that way, if I need to work on the top end I can keep the motor in the frame, Or if I need to remove the whole engine, getting to it is a whole lot easier with the side rail off.
The Exhaust is Stainless and the bends are right on the money for the exit, a crisp look that you dont often see these days and am pleased at how this turned out.
Well, you cannot get much wilder than the paint and I wanted it to scream Flared pants and wide Collar shirt and it sure does, I cut the old gas cap and neck off and welded a harley version for a more crisp look to the petrol tank and am happy that I went this route in the end.
The Matching helmet i thought would be a good effect and many people commented on the skid lid which is a British 1950's style Davida piss pot.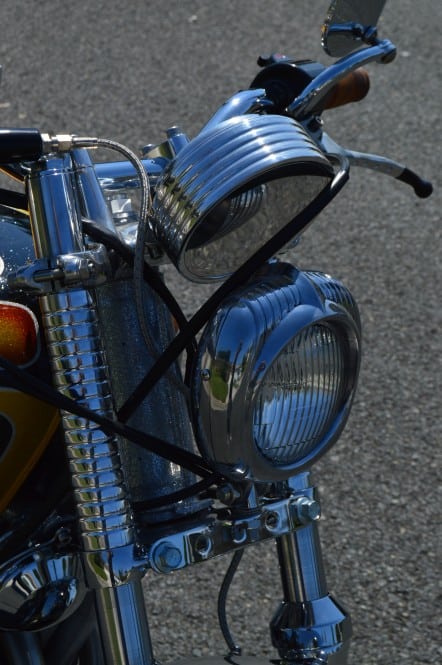 Of course, I really wanted to make a statement on the bike here and went the whole hog by creating some machined forks and uppers for the Vesco bike and machined a piece of 6061 Billet to make the finned bucket to house the GPS speedometer, the finned headlight came out pretty cool too.
I wanted a Stainless 4 into 2 into 1 system this time, let the Old Girl breathe and a unique look that you really dont see these days, its a nice free flowing stepped set up that will work very well all the way through the curve of power and will sound pretty unique too.
Having the right stance was important to me and she sits really well on the tarmac, I have a 110X19 on the front and a 140 by 18 on the rear nd they fill the rim out nicely .
Available soon: My Bobbed front fender all made right here, I wanted something that would really hug the tire and this sure does and does not rub at all.
The Polished rear Hub was drilled by me, I don't make the pattern up on a template, I just go with the flow and they always turn out really cool, they get rid of heat and any brake dust too.
This Vesco Honda started off as a non running bike and I knew that I would get this thing back on the Tarmac, its a great feeling to get to that stage as many of you have and will understand the Euphoria that goes through you when you hit first gear and let that clutch lever out.
This really sits well and I am glad that I had a go at a full Custom machine for this show, it is a fun motorcycle that really does turn a lot of heads.
I fitted slightly over-sized tires to this bike as I wanted the Custom Brat to have some thickness all over and it really does give that effect, plus for me, more Rubber on the Tarmac, better the grip right?
The weather was great for a Motorcycle show too and LA is a really great place to put on such an event, so glad that I got invited to this again.
Thanks for following this build, it was a tough one as I had a month to do this but we got there, even with 3 weeks of rain, it was a task I really didn't think that I would finis in time for the show but, persistence paid off this time and cannot thank you all enough for the encouraging words you gave me to keep going forward and not give up.
The 4 into 2 into 1 Stainless Steel Exhaust system came out just how I wanted it and a nice aggressive kick out with a Chromed Baffle, the Chrome Swing arm sets it all off too.
I have had built a lot of these bikes over the 19 years here but this one was a challenge and sure hope that you like what i have done to the bike and it is a different look but I like some things that are Unique and believe that this was the style it should end up as, fresh look with a lively Metalflake Uniform, makes this stand out for sure.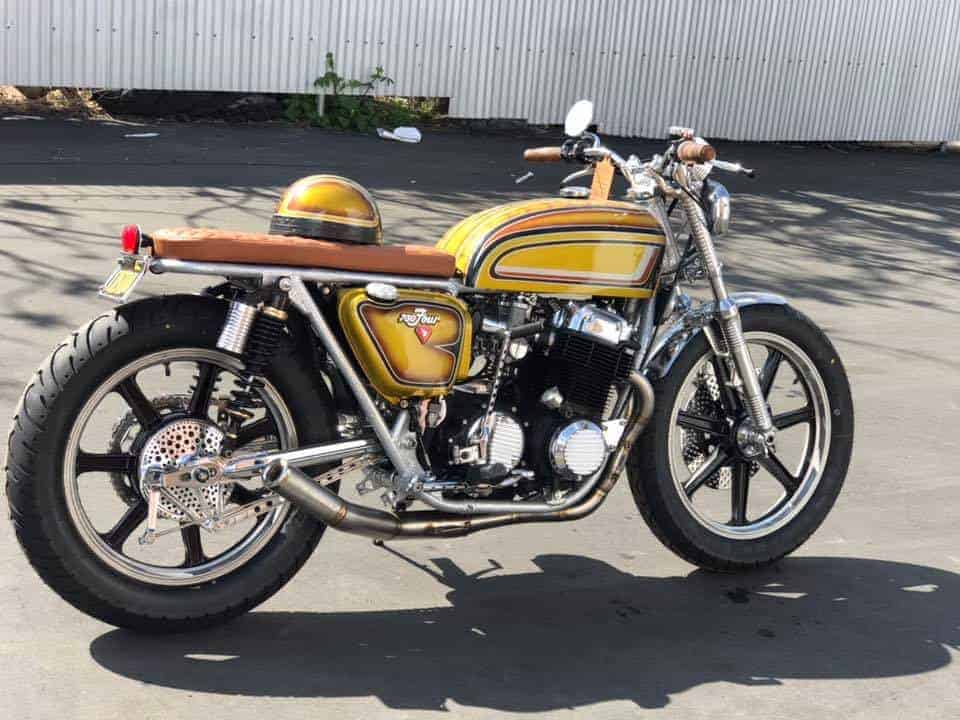 So, what next? hard to say to be honest, next year is my 20th Anniversary of creating these machines, I have no idea what to do yet, so my mind is racing away, LOL!
This has so many cool touches to it and where ever you look I have tried to change things up, surprise myself sometimes and this makes me smile every-time I look at it.
If you need parts, service or a complete build, I am here to help you, feel free to call or even Text me on 714-598-8392 and I shall do my best to help you out.
Thank you for everyone that spoke to me or emailed me, letting me know they like what I have done, Motorcycle building should be fun, this is a great industry and everyone's bike is different in some way- The bike you ride is an extension of your Character and I look forward to seeing progress photos of your machines as you go along this build.
Comments
comments