Cafe Racer Rolling Project for sale on Ebay.
Just some Ebay stuff I have on auction you may want?
Look at this 1971 Rolling project I have under the hammer and it starts at $100, hows that?
just copy and past the line below and then you just have a look at sellers other items.
http://www.ebay.com/itm/390541835119?ssPageName=STRK:MESELX:IT&_trksid=p3984.m1555.l2649
But I have an old rolling project up for grabs.
I will add photo's below.
A great project for some one, or even a conversational piece for your shop?
I have a 5 gallon glass Cafe Tank on it, an old Razor back cafe Seat base with an L.E.D. rear tail light.
It has an old Harley 16 inch rear wheel.
Bobbed front fender.
An alloy fork brace.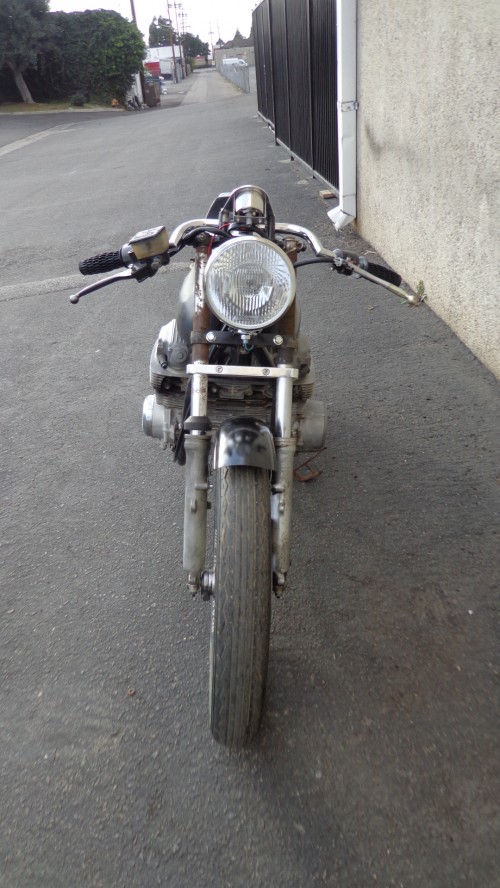 Cool Cafe Racer oil tank.
Original 39 mm Velocity stacks.
Clubman bars.
Cool Cafe Chromed headlight.
Custom chain guard etc.
This motor kicks over but needs the exhaust studs drilling out.
NO TITLE, sold with BILL of sale.
It  is a 1971 Motor and a 1971 frame.

Just email me for more information, and I will help where ever I can, but check on here and on my Ebay auctions for other stuff that you might just want.
Comments
comments