CB550 HONDA BROWN BOMBER BRAT BIKE
Sometimes I forget to take photos when I am working on something, then a little later on down the line, I end up kicking myself as somebody usually comes into my place or calls or even emails me and asks if I have built a Honda CB500 or CB550 Brat Bike.
I did take a few photos of this ride but not enough and to be honest it was a Bike I picked up locally not three miles from the house, a guy had had it for many years as he used to use it to go to college as a cheap means of transport.
10 years after he completed College, life in general took over and had no time for the little inline Four Honda and it sat at the way side of the house under a tarp and then a few years later it was put in the corner of the garage.
I bought it and even though the bike was a sad state of affairs, it would be a fun little project that I could have a little bit of artistic sculpturing on and see where it ends up.
I used one of my Special Stainless Steel 4 into 1 systems and boy did this thing Bark like a scolded dog, this really did turn heads and in a good way, such a perfect breathing motor.
The seat was made from 20 Gauge steel and then we welded about 5 inches of old rear fender to the seat base and I thought it would look cool if it were all upholstered.
Removed the forks, took apart and then machines some cool fins in the lower legs, then magnafluxed to make sure all was safe and it sure was, New upper tubes fitted and rebuilt.
The bike sat so well, and when you jumped on this bike, it would go as hard as you wanted it to go with out any question, it really breathed so well you would be so surprised when you opened the throttle, the little CB550 felt like a 750.
The wheels were all new and used stainless steel spokes and polished the hubs, then shod both of them with Coker Diamond treaded tires that fills the bike out very well indeed.
Should of kept this little Ripper as it would suprse any motorcycle at the traffic lights yet it was great on gas, the Carbs were set up on a Mercury stick and loved the gas I used.
Hand made 7/8 Brat/Tracker Bars of mine that I chromed, help steer this Bar Hopper in the right direction. used Metalflake grips and 2 inch Bar Risers.
One piece of steel and a rear fender shortened and welded to it, then covered in Foam and upholstered over, came out so well and stoked that I wet this route on the bike.
Old carbs rebuilt, Dipped and re-jetted and then synchronized to make sure it ran even and smooth under load and boy did it handle well, fitted new cables too.
Rebuilt the forks but machined these fins and then polished to a super high Luster you would think they were chromed and these last a long time until you need to polish once more.
New Fork top Rubber fitted and New Rims were laced to the Polished Hubs, not a show bike but New parts in the right places.
New Brake shoes and Polished hub with New shocks, sorts the rear end out and it handled so well too.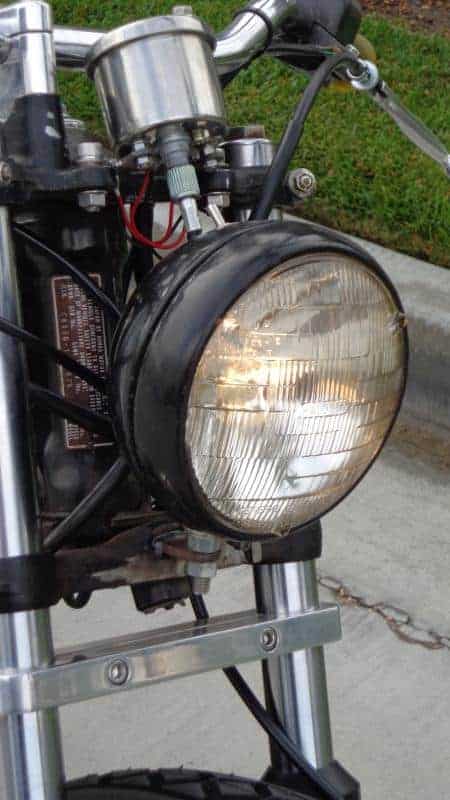 Old speed Boat headlight I used with a Toggle switch ontop to illuminate it, I think it suited this machine very well indeed.
A great bike that was super fun to create and ride, the guy that bought it was a New marine and rode it to Pendleton with no worries all the time, great testament to a cool machine.
Kota taking the Brat for a little run and loved it, Dakota Made the seat and he loved this mean machine.
Hope I see this bike again one day as its one of them that you wished you had kept, thanks for reading about this little Honda, it was a Giant Killing machine.
Comments
comments