CRASH HELMETS- How people make theirs Different.
Happy Tuesday
Quick Blog today
As its 106 degrees and I have to do some welding too, some days its just not fair but there ya go, so I thought I would add a little Humor to the page today with a little Blog on Crash helmets, Skid Lids, Brain Buckets, what ever you lot want to call them, we mostly all have to wear them, except for Nevada I know but over here in So Cal we do.
So-here are some crackers that may make you smile today, I know that made me laugh as I added these to my files and thought what better way to get the day going by, then to add these.
Some I like and would wear, the Full face above is cool and still available at some retail stores, very Stealthy and compact, loved it.
This Shark is great, always loved the Camo stuff since I was in the Royal Anglian Regiment and thought this was pretty cool and again, still available today.
Anyone for Tennis, some one has lost their Balls if they are wearing this on the road, havent seen one about anywhere to be honest.
This Bandit full face looks like it has had a Punch right up the Hooter, Bloody awful looking thing.
I like this, whether it means Danger, Hazardous, or Toxic, this is a great and easy design that says it all.
Custom Crash Helmets are always cool to see and very individualistic, this must get many looks when they are stopped at a major traffic light in the town center on a Saturday Morning.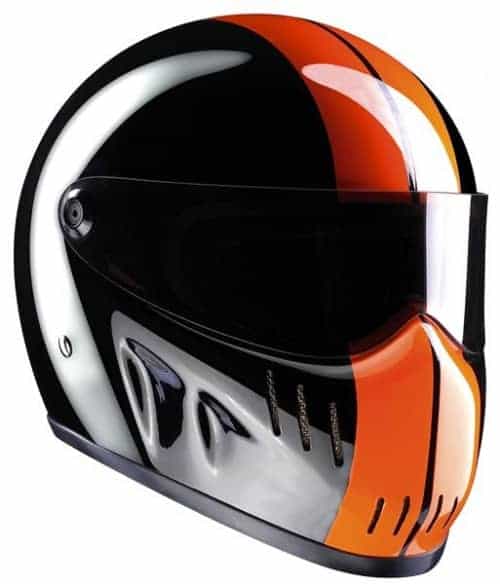 I really like the simplicity of this and Orange and Black goes surprisingly well together , yet to see this on the freeways but I am sure at some point I will as its pretty darn cool.
This is Halloween, Halloween, Halloween, how frigging cool is this, I would wear it for sure, not sure how long until the Old Bill would pull me over but a head turner for sure.
Something a little different too, I am sure many a Car driver will stop and their eyes widen when they see this next to them in the street, very cool indeed.
This is another cool one to wear on Halloween night, riding around with maybe a neon light under it with some dry ice fog belching out underneath it.
Looks a cool idea but not much vision out of that eh?
                                               You stop and have a double take when you see this coming down the road at night, bad ass and looks the part for sure.
Neat, smooth and very cool, see a few of these about and they get people looking out of the corner of their eye when stopped at a T Junction in Town.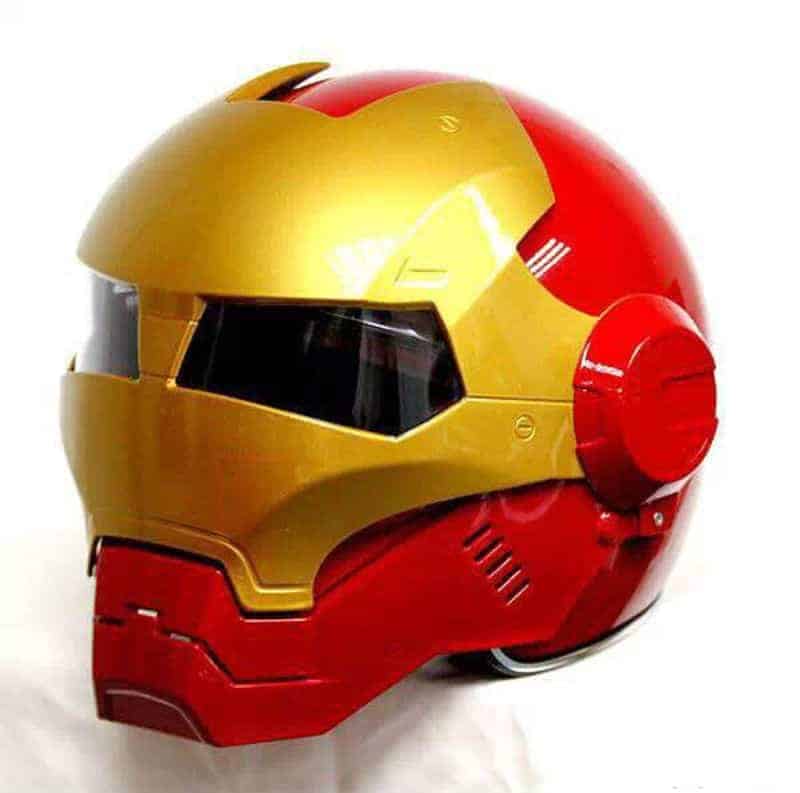 I have seen a few of these about but they need the whole costume to pull the effect off though.
Custom painted or wrapped Helmets are very popular right now and have seen some great stuff, but never have enough time to get my phone out to take a picture of them though.
Clowns are really popular too and this is pretty scary, I wouldnt like to look in my Mirror at night and see this thing pulling up behind you on an old back road with no light poles anywhere.
Pretty effective this Skull design, a lot of time must of gone into these paint jobs and it sure shows it, some clever designers out there taking advantage of their skills, and why not indeed.
I'd wear this to shoot down to the shops or something on Halloween, thats pretty cool looking, hope I see something like this on the road next week.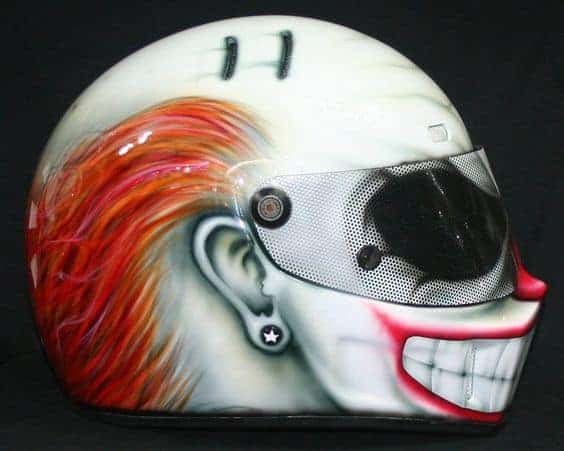 More Crazy Clown stuff, I think we shall start to see a lot of these designs coming out as a mainstream Crash helmet by the big guns soon as they really are becoming sort after these days.
This is very cool and very detailed, has a great depth to it, I am sure this was not cheap to do but it sure is effective and hope to see this somewhere like the Sema Show Next month.
                                                                                                   Now that really is plain weird, bet you cannot stop looking at it though?
Some talented people out there and sure will start seeing many more one off custom Skid Lids at the shows and the events that we attend during the year, love to see these Custom lids.
This will be popular next month for sure, get your Nan to crochet you a Santa hat for your Lid and a beard to match, easy to do but really effective whilst riding down the road at night.
No idea whats going on here but a lot of work to get this to come out like that, wonder if the Visor will still function as a one piece, looks like that it might do, very strange but cool art.
Just when you have seen it all eh? Get someone in your family this for a Christmas gift and watch your Nan's face when they reveal the gift they have been given, Classic!
Thanks for looking today, have a great Tuesday.
Comments
comments