HONDA CAFE RACER————– NOW S O L D !!!!
Hey there Cafe Racer enthusiasts!
You can call me at 714-598-8392 if you want to know more about this motorcycle.
I just shot this Video as I fired it up for the first time, just need to sincronise the carb's an then bleed the rebuilt and polished front brake caliper and it will be ready for a test ride.  This is November 11th at the workshop.
Chrome 16" rear Harley wheel
Rebuilt carbs with velocity stacks
Allen head stainless bolts throughout
Ignition relocation bracket
New braided steel front brake hose
New Honda speedo cable, fork gators, gator clamps
New Honda throttle cables, handlebar control switches
New Rocket 6 Seat Base with new upholstery
New chrome round L.E.D. tail/stop light
New non maintenance battery with tender fitting
New 530 chain and sprockets
New ignition switch & keys
New petcock
New Honda fuel lines
New 7" Tri-bar headlight
New chrome jeweled visor
New neutral and oil display lights – Oil pressure gauge
New chrome turn signals
New chrome gas cap
New 2.5" speedometer & tachometer
New left and right side covers
New intake manifolds
New old stock G.T. grips
Polished Master Cylinder
Polished front brake caliper
Polished front forks
Polished speedometer drive
Polished stator cover
Polished gear shift cover
Polished and drilled sprocket cover
Polished clutch cover
Polished rear brake hub
Well- here is another project that I am selling as I have many other things t jump on and this is going to be up for grabs.
this is a great set up for someone and YES this does run, and, I shall add some video of the bike running and me riding it on this page, so scroll down to check that out.
I shall be fitting the headlight, and everything will work on here, I am upholstering the seat at this very moment and will take more photos as I go along.
This has a round L.E.D. rear tail light and a few other parts that I can try and add.
I have polished the master cylinder to a chrome finish and lever too, this will have a braided hose front brake set up on this bike too.
I have fitted a cool Aluminum drilled battery box and a new non maintenance battery with a tender.
The Carbs have been rebuilt and run fine as well as having new fuel lines and jets.
We have fitted BRAND NEW left and right hand side handlebar switches, as well as New chrome  7/8 Clubman handle bars with New old Stock 1974 GT grips.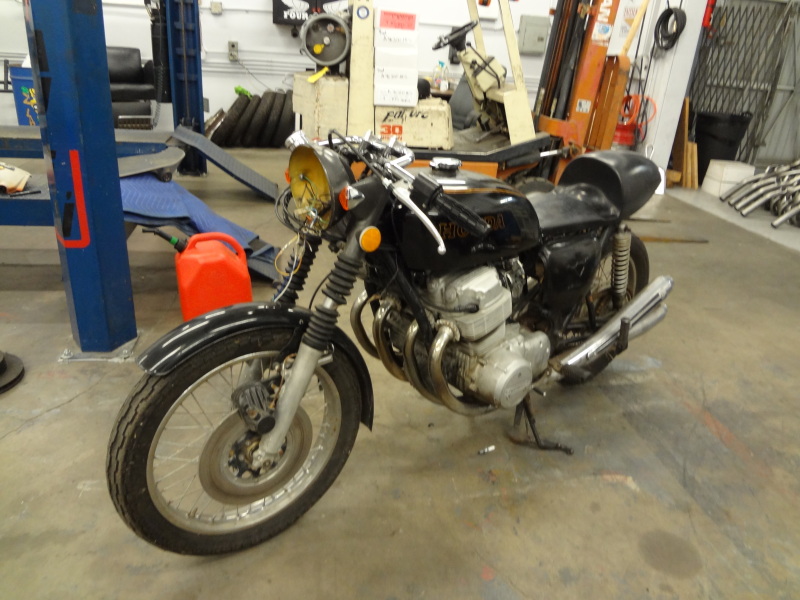 OK, here we go with more photo's, as I have been working my arse off to get this looking cool.
I have torn the front end off and polished the forks to a chrome finish and boy do they look great, and, as to garnish this plate of coolness, I added New gators and New Chrome bezels.
This looks really cool now and I am sure you lot will be happy with it, but I am still working on this machine so have patience ok?
As you can see, this bike is starting to look the part now and I have still to complete here as there are many more things i would like to get completed on this Cafe Racer.
Some people have asked me if the lights work on this bike?
Oh yes, and the rear L.E.D tail light functions quite well thanks.
I have also added a few other cool items on this bike and am sure that you will be happy about that? I wanted to make sure that you had a neutral light and an oil pressure light, so ftted my special bracket I made, use stainless steel LED light displays and wired that up and fitted etc.
Then I added brand new Chrome 2.5 inch Gauges and this looks the part now, I added the cables this evening and I actually wired the lights inside the gauges and they work well when you turn your headlights on.
This bike has an array of parts on since you lot looked on the website and more to do tomorrow as I want to try and finish this by the end of the weekend.
Both front and back turn signals are my Chromed diamond version and also I fitted a New flasher unit, these function perfectly.
Speedo drive I polished and re-chromed the drive plate, I then used New Stainless M8 Bolts and Flange nuts to hold this all together.
Look at the new parts on there, new switches, new cables, New bars, new grips, new headlight, new visor, new gators, new bezels etc.
I even polished the master cylinder and tomorrow I shall add braided steel brake line to a Polished caliper.
The seat base is upholstered and it is hinged with working LED rear light.
You look and decide, as all this works.
Stay tuned for more photo's tomorrow and over the weekend.
The rear wheel is now a Chromed 16 inch Harley rim laced to a CB750 Hub and with new brake shoes fitted.
Well I am almost there now, this will be a good set up for somebody.
Polished stator cover and gear shift cover now, helps the motor look a little more cleaner now.
Old aluminum Velocity stacks give this machine the old school feel.
I drilled and polished the front sprocket cover to dress this side up.
So I have a few more things to do but I have now had a chain fitted to the New sprockets and I have a new non maintenance battery too.
I also polished the clutch cover to get that side looking better .
I fitted my New Bracket that can allow for a ignition relocation, but what I wanted to do was use it so I can fit 2 LED display lights, of which I wired up and they both function as they are supposed to.
I polished the Master cylinder too as it was a Back anodizing that had faded over the years to a dull Grey, so best polish it and now that looks like chrome.
I have just rebuilt the Brake Caliper and then polished it to a chrome finish, then, I got rid of the old worn out brake hose and replaced it with a New braided Steel hose.
Comments
comments