Well, here we are with a 1974 Honda CB750 SOHC model that was turned into an old Land Speed dry lakes Racing bike many many moons ago, but have no real history documentation of what it achieved back in the day etc, but- you can be sure that someone thought long and hard as to what they may do with it.
Last year this was a total mess, it was too dangerous to even attempt to ride, so, it sat for some time in the corner of the shop of mine, until such time as I thought that it needed to have a new lease of life and restyle this inline four 500 pounder into something a little cooler.
As you can see by the photos below, it was not much of a looker but- it did intrigue me to see to what lengths people would go to with these iconic Honda Fours, and I just let this bike sit until I decided it was indeed time to resurrect this sleeping giant. I removed the Old wheel and Built 2 Brand New Rims, with Polished Hubs and Stainless Steel Spokes, Both 18 inch rims.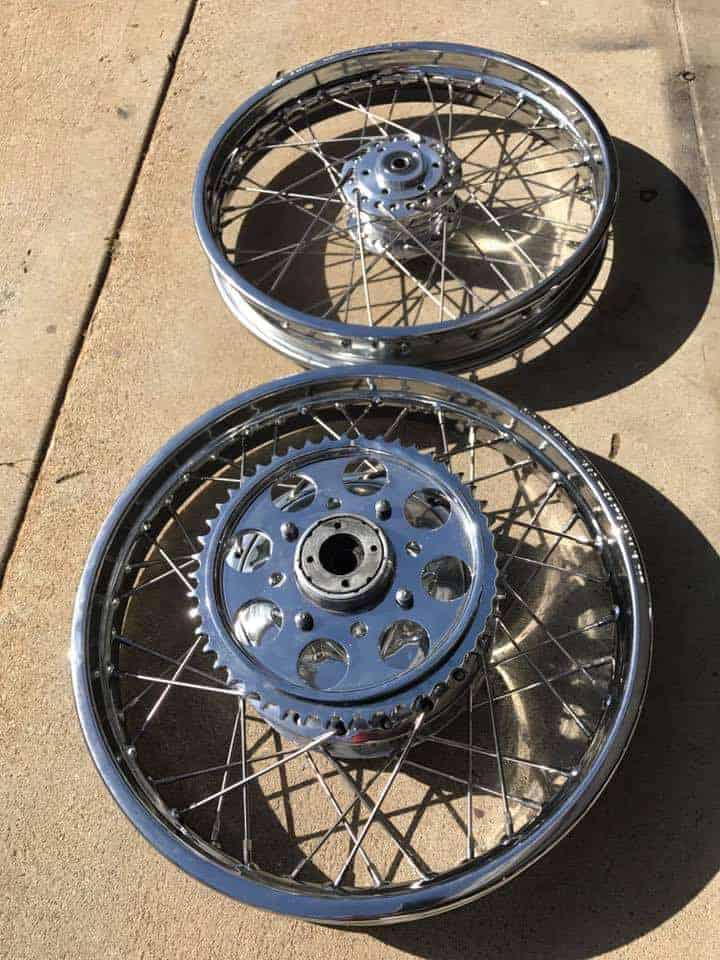 So, time has gone by and over the past few weeks I have changed a number of things and I am sure that you will notice a difference right away, this is NO show point for sure, I just went ahead and changed a few bits and bobs as I pulled the old rusty and non usable parts off and either refurbished, remade or purchased New parts to slowly transform this inline 4 into a cool looking Bar hopper Brat style machine.
Below is the bike with another Gas tank, fitted with a New OEM genuine Honda Petcock, then I have totally rebult the old carbs, vapor blasted and rejetted them to the pipe, the parts taken off were zinc plated, polished and re-assembled.
Some of you may not even like what I am creating here, that's fine as we all have our own tastes, but, if you are reading this, then of course, you must be into seeing what is becoming of this Single Over head cam Motorcycle. I wanted a Brat style machine and every few days at a New part, some of the work I have created has taken many hours and sometimes days to get it right.
Just have a look at the front forks compared to the old ones, as I took them apart. cleaned everything internally, then Polished the lowers, fitted New genuine Honda Fork seals and then Brand New Chrome Fork upper tubes, with New springs and caps etc, I also set the pre-load with stainless washers, just like back in the old days of racing.
I also cut the back of the old frame rails as they were not good anyway, and then I made my Own steel Hoop and shortened the chassis to give the bike a lower looking stance, Whilst I was at it, I also fitted a Custom Oil Tank that I sell on my website, this Oil tank holds 3 Quarts and has a battery Compartment where I have fitted an Anti-Gravity 8 cell battery pack and managed to fit some of the electrical in there too.
Also you can see that I made a seat pan and upholstered it with cool Old School style Diamond Stitching, this looks pretty cool and am surprised how comfortable the seat is, and just have a look at how much this bike has changed since I first acquired it, I have fitted new Diamond Treaded Firestone Tires to match the seat and both Rims are 18 inch and make the bike sit so much better than the stock configuration.
Now, As you can also quite clearly see, this bike has a TON of New or refurbished parts, the carbs alone are like New, has a super cool New polished Air-box that makes this Motor breathe right.The Motor has Black wrinkle High temp paint on it and is embellished with stainless Allen head bolts through out and Brand New Honda valve caps on the cover.
This Brat Bike now has some cool parts, like my Newest Prototype exhaust system, the "Sling Shot" This is a great set up that produces power through all the range of motion and sounds incredible, later I will add a sound byte for you to sample the Motorcycle Running. I have many parts now added to this machine and here is the list below of things that I have either rebuilt, changed or refurbished.
Throttle Cables
Clutch cable
New Rims
Polished hubs
Stainless steel spokes
New Firestone tires
Polished hub
Custom Stabilizer Bar
Drilled and chromed rear brake pedal
Drilled and chromed Kick starter
Custom seat
Hooped frame
My own hand made bars -Chromed
Biltwell grips
New levers
Custom headlight Chrome
Polished Front Rotor
New handlebar control switches
Custom oil tank with internal Battery box
Solid state regulator and rectifier
New wire harness
Finned engine covers
Stainless Allen head bolts through out
Wrinkle painted motor
New master Cylinder
New upper fork tubes
New Fork cap
Polished and rebuilt fork lowers
Custom lower Fork caps
New ignition switch and Bracket
New Honda coils
New spark plugs
New oil and oil filter
Anti gravity Lithium gel battery
New chain
Custom Airbox
Completely rebuilt and vapor blasted carbs
1974 Gas tank
New OEM Valve caps in valve cover
Custom 4 into 1 exhaust with DEI  Wrap and Chrome
I am still working on this and not sure on a price, No title for it but will come with a Bill of sale when completed, I also will be adding a few videos for you to look around later and also then I will have another Video of the bike running, that way you can hear this amazing exhaust system.
A few months ago I got this running and I loved the sound when I had the raw steel exhaust on, this now has a high performance exhaust system and is look really cool.
Comments
comments