Hybrid Cafe " The Tracy Special"
The Tracy Special was a Motorcycle I created for fun, and to use all the parts I had laying about in my garage at home, and she turned out to be a really cool little bike.
I used a set of Original Raider rims that I have had for many many moons and powder coated them an Aztec Gold color to give it some contrast as I hadn't seen any Gold rims over here then.
I loved the rims and they were heavy made and sturdy as hell, so had them all ready to go but i wanted something right out of the Custom scene of the 70's this time and there it was, an old Tracy body that I picked up at a swap meet.
I also hand drilled the front Rotor on a cheap harbor freight drill press and am glad how she came out.
Its an early model too and I went about cleaning it up and getting the bodywork all prepped and then had to decide on a color that would suit this, I then decided that if I used the original Candy Apple red, that would accentuate the gold really well, and so, the concept was born and off i went on a crazy tangent of odds and sods until I had what I needed.
The bodywork came out so well and then one night about 10pm I get a call from a guy in Guatemala, he asked about the Tracy body and that the one I had was a very early one that he made many years ago in the 1970's, I said oh yeah really?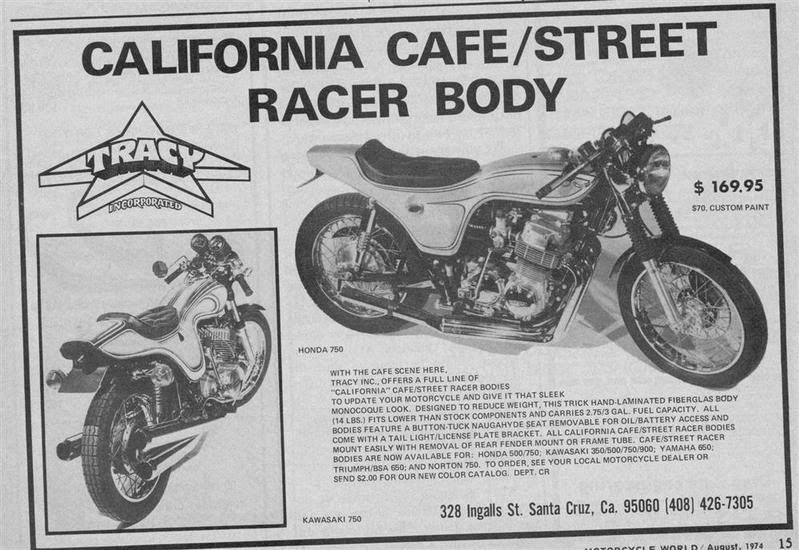 He said yeah, turned out to be Mr Tracy himself and he was glad that someone had made a bike using the body and raised me on my effort, that was so cool, so I had to finish the bike now.
There were many produced over the years but you don't see too many on the tarmac as a lot of people have them on the wall but they tend to twist out of shape from the heat and then will not go back to their original form after that, so you usually see them hanging up on walls in shops but they do look cool.  ( I took the two pictures above from the internet on Google, so shows there are still some out there.)
The motor I had was a Late 1978 set up and I wanted to use every year of the SOHC on this Hybrid just to see how she turned out to be honest.
I wanted the exhaust system to be wilder than I first designed, so this time I had my Buddy Eric come over and we pieced together this crazy Spaghetti style header set up and I just loved it, so we tig welded it and then chromed it, I should of numbered the elbows as it took me 2 hours to figure out what went where that day.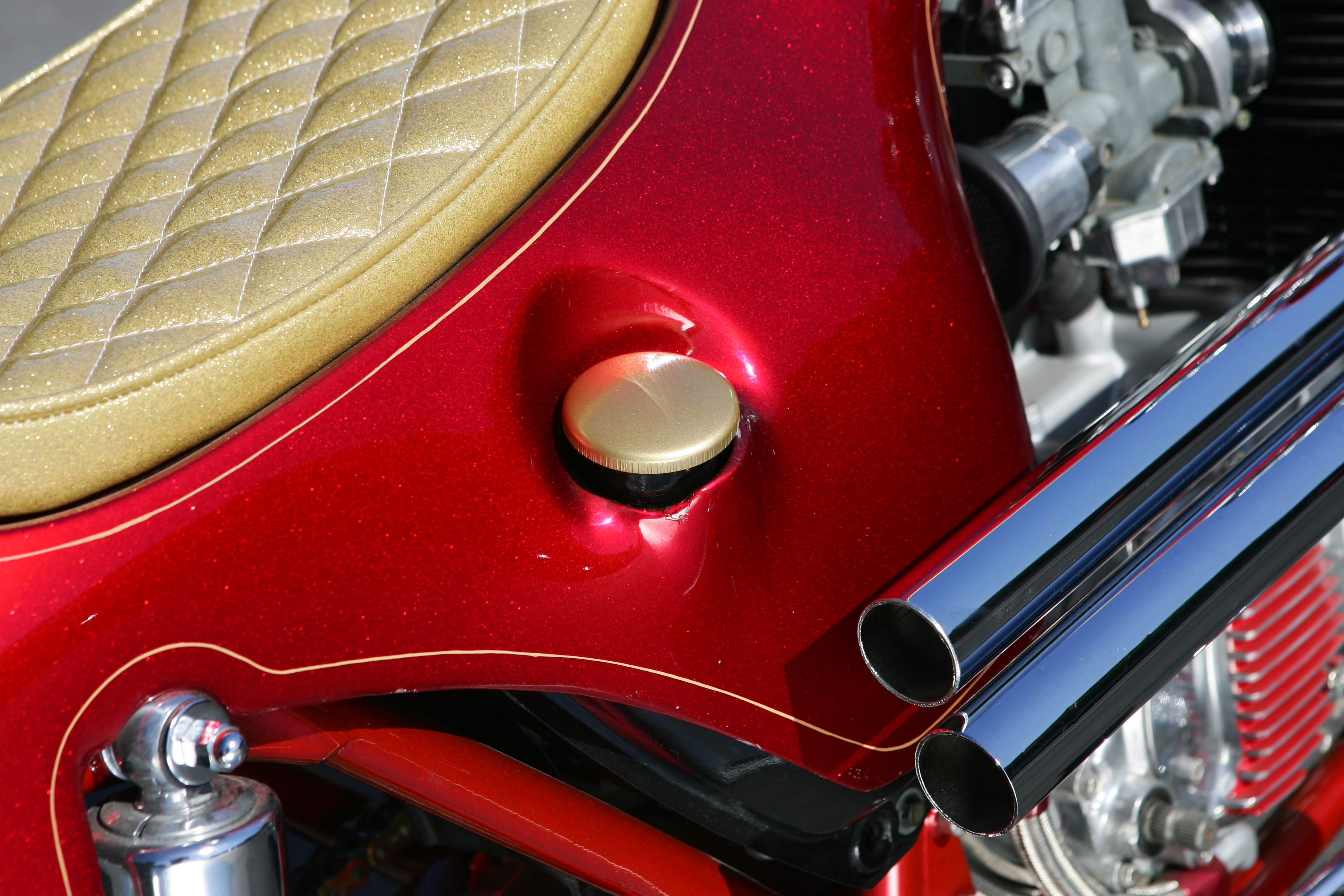 The design was good but, your leg on the right hand side got bloody hot for a long length of time, but overall I liked the bike, I dug the headers, but wished I had re-routed the 12 bore side winders to go under the bike, but that's bike building and I was building TWO bikes for the Pomona show that time.
The Gas tank was sealed and once the Candy Apple went on it looked amazing in the sun, also the early bodies have the hold in the tank for a bolt, that's the way it secures to the frame, so to make at least something appealing than just a mount hole, I incorporated an oil pressure light in there and it worked out very well indeed, banged on a few pin lines with the triple O dagger brush and she was awesome.
I loved the way the bike came out in such a short amount of time and using just spare parts that I had been leaving in the garage to trip over from time to time and the proof of the pudding is in the eating and I ate well that week.  I built the carbs and they purred like a kitty when the motor first fired up, no leaks and no misfire, something that is quite unusual to be honest as they are more than likely out of sincronisation, I just got lucky on this one though.
The seat base was something I hoped to make as I didn't have one at all, my buddy rang me to say he had some Original 1970's metal flake Gold and I said that's just what I need and we made up some cool Diamond stitching pattern and the end result was just the cherry on top of the cake for me.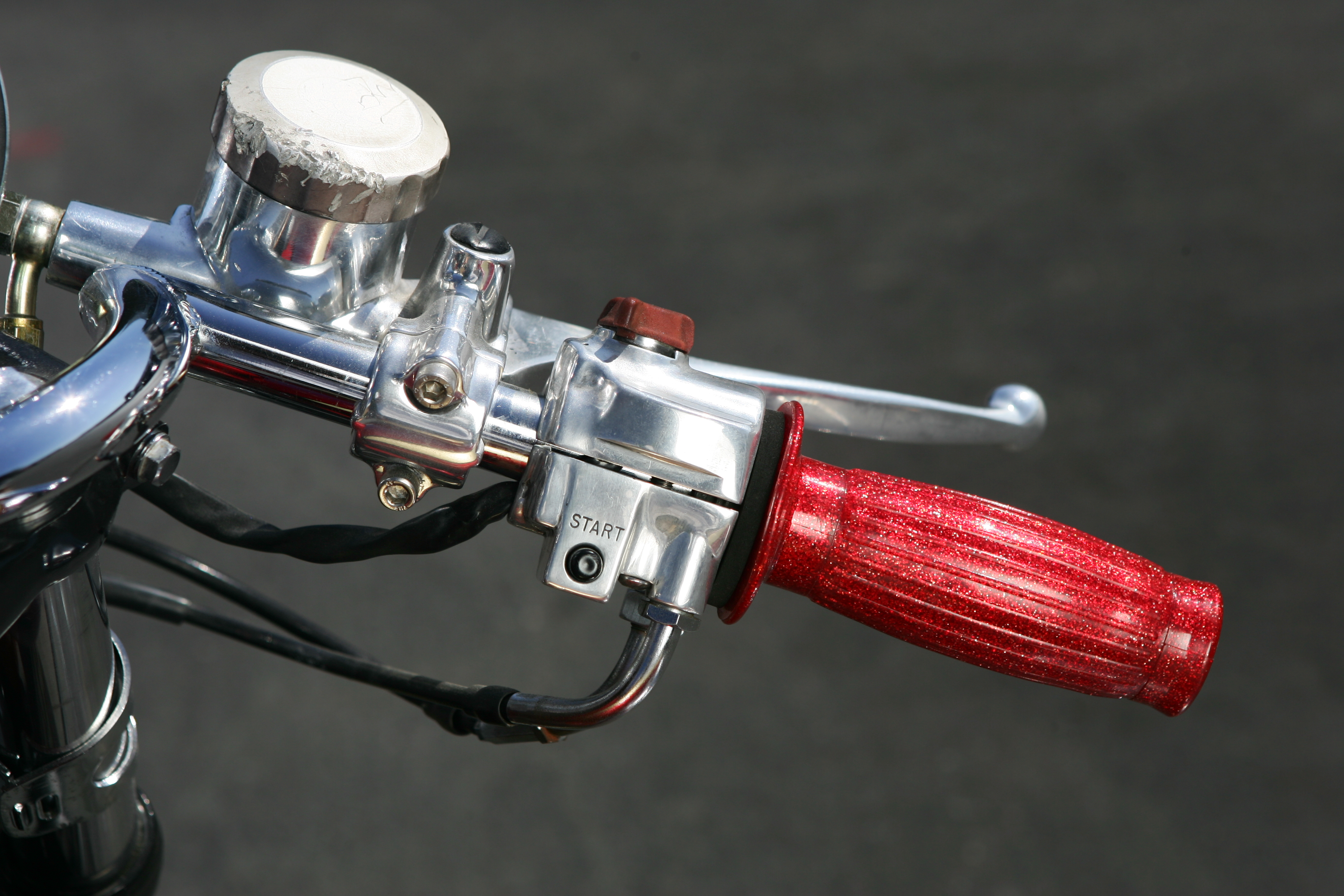 Next up was what the hell was I going to do about the Grips on the handle bars, as Black was just the wrong choice, but then I found some Original New Old Stock Red metal flake Grips from a friend of mine in Belgium and the deal was done, he shipped them out to me and they were just what I needed and was stoked at the condition of these.
 I entered the bike in the 60th grand National Roadster show and placed 2nd, i was stoked as first place went to me for my other Black cafe.
I love to create and this has been a fun journey and continues to be, I see so many cool bikes being built and I hope that just a little bit of the stuff I have done has steered people towards having fun in the garage.
My old Garage back in Orange where it all started here in the States in Feb 2000.
I will always be building motorcycles and cars, its just something that I grew up with.
Comments
comments