Just a quick tour of some Cafe Racer stuff I am doing.
Well, every now and again, people ask me about the Cafe Racer bikes I work on and sometimes the ones that I create etc.
So as today is windy as hell out side with Santa Ana winds and of course, a Sunday afternoon, I thought that before I close for the day, I would do a little video of the back of the shop on the Cafe Racer side and show you the stuff that I still work on, and yes, of course we sell all the Hot Rod parts etc but that video will be on the Hot Rod side and today I am working on My Cafe Racers.
So, the back of the shop we have a few machines in various stages of builds or service etc.
Some are just rolling projects that i have just sold on Ebay, others are some snotters I have had to pick up from mt neighbors back yard and they will remain snotters until such time as I need a donor machine for a New Cafe Racer build.
I have a couple that were in for a service, one just needed the air box removed, pod filters fitted and re-jetted, another also had a sticky throttle and one more wanted one of my gas tanks, my seat and rear fender, as well as the awesome sounding 4 into 1 exhaust system we have manufactured.
So, have a little look, the audio isn't all that as it is windy as hell today, but, you may get a rough idea whats going on today, and I thought that today you would like to see what we are up to this week and at least that way, you have some insight to how I tick these days.
This bike above is a Customers, we used our Rocket 6 Hinged seat base, I hammered the tank and fitted Clubman's and grips etc, along with new 2.5 Gauges and one of our best selling 4 into 1 exhaust systems.
This is a 1971 CB500 nobody wants, so I am going to strip this and maybe build a little street tracker later on, not right now as to be honest, I am sick of looking at it.
Just a couple of CB750F models, the Black one is for a cafe build for a chap on the East Coast and the other is a carburetor  job on a guys from Australia.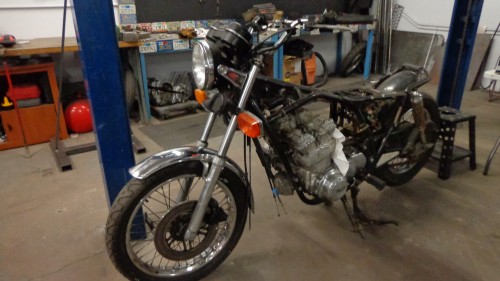 Above is a 1979 D.O.H.C. snotter, that we use for mock up of new exhausts and parts for these models, so stay tuned on the website for that.
This Bright Orange and Blue machine is going to be completely stripped down and turned into a Cool, classic Cafe Racer for a good friend of mine who designed my New Website that will be coming out very soon.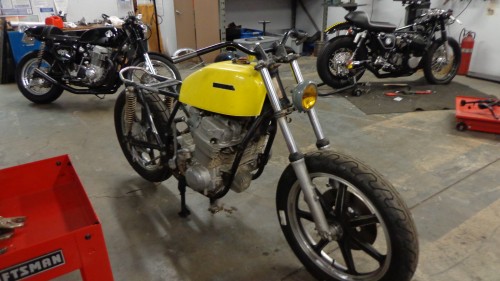 Something different for a change, so Me and my side kick ( Dakota ) are building this cool Street tracker style machine out of a 1978 CB750K model.
This was in rough stock condition, so we are now transforming it to a great looking ride, and yes you are indeed correct, they are Original Lester Rims I am going to be using on this ride.
The Black Stealthy Machine you see above is for a very good friend of mine that plays in a well known band, and I am almost completed but will still need to finish a few things this week on it and can deliver it to him, has a 915cc motor too.
Well, the ones you see above here is a bike I have almost completed, this bike has bitten me every day, it wants to fight, kick and scratch me with out fail, all the way, it has nearly beaten me on a few occasions , but I refuse to let this bugger beat me.
This has done everything you can think of to me, it cut me, it fell on me, it broke bolts, it refused to have things fit and then when I was 99% completed, it decided to catch fire on the battery and I had to take it all down to the frame and powder coat it again, so, this is and has been the hardest build of my life, although, after all of this, I believe the bike has come to terms with me and now is happy to be a Cafe Racer Motorcycle, rather than a snotty old stocker.
But boy what a trip and of course, when I have completed this build, I  will share it with you on the website.
Below is the video and it is about 8 minutes long, so if I start to bore you, just hit the mute button. Ha Ha.
Comments
comments