Fast Eddie, the little Legend on a Triumph
At the age of 94, WWII veteran and AMA Hall of Famer Ed Fisher still rides everyday, and even continues to race as an amateur. Ed has always had a throttle in hand, since he was 16 years old. He began his racing career as a factory rider for Indian Motorcycles, before representing Triumph as one of their first East Coast riders in 1952. Ed became one of the leading national road racers throughout the 1950s, his most notable win was the 1953 Laconia 100-mile National Championship. To this day it remains the closest race in the history of the event, Ed's victory wasn't determined until months later as the top four riders all finished within just three seconds of each other. The lore of his style and speed, in various racing disciplines, has without a doubt minted his status as a living racing legend. He's seen as a hero to many, because of how he lives with an unwavering virtue that can be seen each time he throws his leg over a motorcycle. Ed continues to eat, sleep and breathe motorcycles in the rural hills of Sullivan County, Pa

The 50s was an era of big wins for Triumph in America and Ed Fisher was the first factory sponsored Triumph rider in the U.S. At Laconia in 1953, Ed Fisher won the first AMA National 100-mile road race on a Triumph in America.
Original Source is from.
https://eatsleepride.com/c/36780/the_unstoppable_ed_fisher_american_motorcycle_racer
It was a race to remember! No one in the history of the event had seen a closer race – the top four riders finished within 3 seconds of each other. Harley's and Triumphs were two greats doing battle at tracks across America and this race was no exception. The win at Laconia was an amazing achievement. "I found out I officially won the race when I got the check in the mail,"
Fisher said, back then winning Laconia was worth $1000.
The 100-mile Laconia road race was a narrow, crowned, bumpy course with a short straight, a sharp left turn, then into the forest, and a run up the hill to a 90 degree left turn and a slight down hill, off camber and into another 90 degree left and then a plunge down the long hill hurtling by straw bales and trees before reaching a first gear left to cross the line.
That sounds a lot like the roads around Shunk, PA where you'll find Ed Fisher today.
Fisher started riding motorcycles in 1941
His first bike was an Indian Scout. A few weeks later he moved to Indian Chiefs and rode them until 1948. He raced Indian in 1947, then took a break to open a garage and didn't do much racing until 1950s. In 1952, he moved up the charts when Triumph offered him a factory bike to ride at Daytona.
In those days, the best way to get race parts to racers was to set them up as franchisees so that's what Triumph did. Fisher ran a Triumph dealership and raced factory bikes and Triumph shipped over special race kits from the UK for factory racers. Given Ed's passion for bikes and his welcoming nature, his business flourished and he grew to add Honda and Yamaha; Ed also sold Nisan and Datsun cars right up to the 1990s. All told, if you were from around the area, Ed probably sold you your first motorcycle.
In 2002, Ed Fisher was inducted in the AMA Motorcycle Museum Hall Of Fame.
Ed has always worked on motorcycles. Even today, he's a rider and a mechanic who doesn't disqualify himself from wrenching.
With over 50 bikes in his collection, Ed's favourite is this Triumph, which is almost exactly like the one he rode to victory on '53. "It's better today than when it left the factory," Ed tells me, "now with a 12-volt electronic ignition on it". No wonder it's the favourite, Ed placed second on this bike in the Vintage Class C racing in Daytona.
His Indian Scout 101 is bigger than the one Ed started out on. It's been called the best motorcycle Indian ever made but discontinued after WW II. It was popular with racers for it's handling, low seat hight, V-Twin motor and acclaimed as the pinnacle of Indian technology. If you look around, you'll find some Scouts modified for Hill climbing and some still used today in Wall of Death demonstrations.
A friend traded the Scout for Ed's original 61 cubic inch twin-cylinder 1912 Excelsior. "He wanted the Excelsior and I wanted the Scout so we just switched."
1917 Reading Standard V-Twin
The single-cylinder, three-speed V-Twin or R-S, as it was referred to, was produced in Reading Pennsylvania between 1903 and 1922. Reading's slogan "tested n the hills" was in fact true to the area in Pennsylvania. This 61 cubic inch (1000 cc) machine weighed in at over 400 pounds with disc wheel covers and very little suspension. Ed adds, "the clutch and shifter was the best of the era."
The motorcycle has a carbide headline and tail light. The carbide generator was placed under the seat; illumination was produced simply by using flammable acetylene gas with the combination of water and calcium carbide. The magneto model employs a high voltage ignition system to provide power to the spark plugs because there is no low-voltage electrical system available. The R-S produced about 8-9 hp and was capable of 60 mph. Ed still rides the bike from time to time.
Honda 1976 GL 1000
You can tell Ed has a soft spot for Gold Wings. This Windjammer hit North America in 1976, it was the second year Honda made the GL1000. Ed also has a 1975, first edition, further back in the garage – the serial number is 54.
The GL1000 was sold to Ed's customer in '76 and he just bought it back from that same gentleman a few weeks ago. "It has 26,000 original miles on it and hasn't seen pavement since 1989" Ed adds, "he had it stored in a good place but he never took the gasoline out of it, and the carburetor and the gas tank are really bad. I'm in the process of getting it squared away."
Ed regrets the motorcycle was stored with gas in the tank and he doesn't like all the after market accessories, but that's OK, Ed intends to make it look like new again.
Triumph Tiger Cubs
The Cub was a 200 cc single-cylinder motorcycle that held it's own against the two-strokes of the day. Otherwise known as the T20, it was designed by Edward Turner in 1954, he was Triumph's legendary designer who also drew up the Ariel Square Four.
"The 1960 T20 single is the one I done 90 miles-an-hour in a measured quarter mile drag strip…. 90 mph in 14 seconds" he repeats as if not believing it himself. The cub has now been restored to all it's factory race kit glory.
I asked Ed what it felt like at 90 mph, laughing he said, "yeah, it felt good, because I beat some Harley's with that little Cub."
In 1961 when the UK restricted learners to 250cc, the Tiger Cub became one of the most popular ways to get around on two wheels. In the 50's the T20 Triumph Cub held a land speed record earning it the title 'King of the 200cc Singles'.
The red Cub next to it was all parts when Ed acquired it 5 years ago. "It belonged to a friend in Columbus Ohio who I raced against in the early 60s. It's not been raced yet, but it's ready to go!"
1959 Ariel 250 Leader
The Ariel Leader is a 2-cylinder, 2-stroke with then radical design. It was fully enclosed and none of the working motorcycle parts were visible. The steel 'backbone' frame was welded in the middle for strength. The fuel tank was hidden and accessed by lifting the seat. The dummy gas tank was used for storage and could fit a spare helmet.
The Leader offered the comfort of a scooter with the performance of a motorcycle. Sound familiar? Every manufacture borrowed from Ariel. Ed couldn't find Ariel replacement pistons so he used Yamaha pistons, "they're exactly the same" he explained.
Model T Ford
Before we leave, Paul reminds us to ask Ed to show us his restored, original 1923 Model T Ford. Last year, Ed took, one of the guys out in the Model T for a ride. Alex tells the story of Ed tirelessly working every lever and every pedal in a graceful cacophony, mesmerizing to watch. The brakes aren't so good on the Model T so Ed skillfully used the uphill to stop.
Return to Racing at 89
Just this past winter, Ed was in Florida with some buddies, he took his Bergman 650 scooter down and managed to get in 4,000 miles!
It's been a few years since Ed raced track, after all, he had to take a break to do battle with Esophageal cancer – he beat that too. This year, with a clean bill of health, Ed Fisher intends to race vintage at Mid Ohio and New Jersey and maybe even at Barber this October.
"I'm going to be 95 soon and I enjoy racing motorcycles more now than I did back then. It's more fun than it used to be because, well… it's not as competitive."
Meeting Ed Fisher, you can't help but proclaim proof that the fountain of youth is, and has always been, motorcycling.
Long may you ride Mr. Ed Fisher; thanks for the inspiration and the honour of the visit! Team EatSleepRIDE.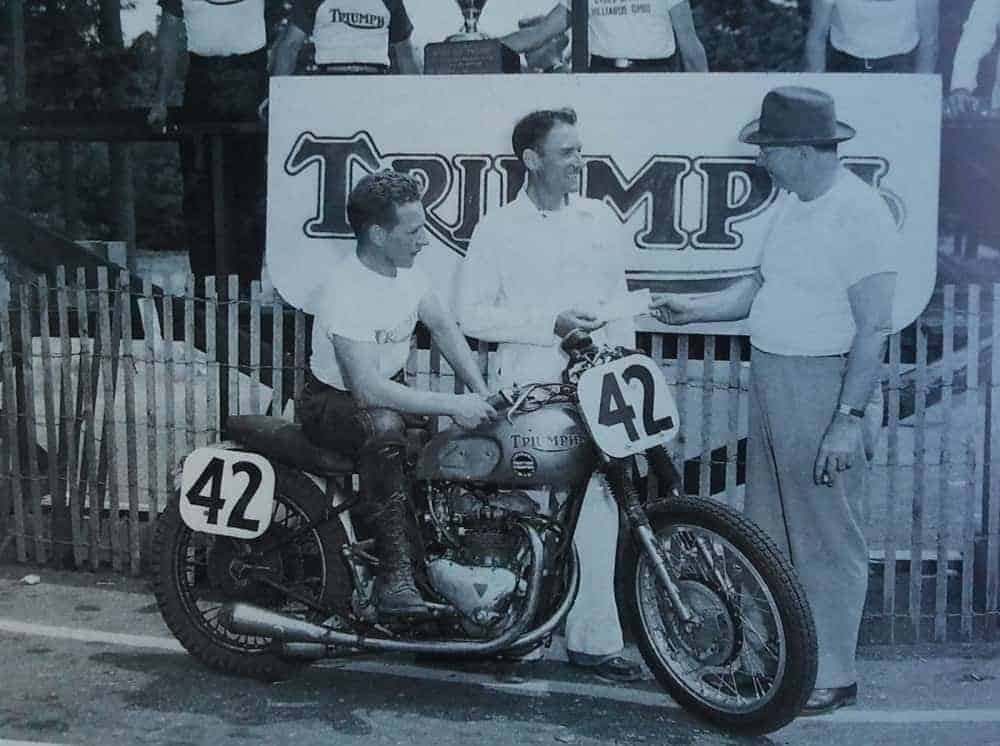 FILM CREDITS: HEYDAY UNION presents FAST EDDIE featuring the legend ED FISHER directed & produced by BRENNA ECKERSON director of photography KYLE PAHLOW edited by BRYAN ROBERTS music by PHIL COOK sound design AARON KEANE camera assistant DUSTIN RAYSIK motion design TEAGUE HAYES colorist MIKEY PEHANICH special thanks FRANK WATSON, SUZI FISHER, LIBERTY CAMERA CO., BRIAN CONNOR, THE MILL-CHICAGO Still photography Aldrich Photo Service & Supply, Erik H. Arctander, R.F. Finn, Eric M. Sanford Shot on Kodak Motion Picture film
Comments
comments