Making a Motorcycle Work Bench from Scraps of Timber
Some of you may know that we have had a Barn built now for my New workshop, and as you know, materials for building have literally gone through the roof- So I thought that whilst we are refurbishing the California Ranch house, I will try and repurpose some of the timber that we ripped out of the ceiling in the kitchen.
The timber is old but solid and of course, ceiling truss material is 9 inches deep, so, instead of sending the old timber that's in a pile outside, to the tip- What better way than to give that wood a new lease of life and of course, help me out along the way too.  So, I decided to use some of the scraps of timber laying about and see if I have enough to make myself a Motorcycle table/Workbench, as I like using timber and even the Harbor freight tables are $599 and last a couple of years.
Once I pulled some of the old Plater Board off the timber, then spent a bit of time removing the old nails that were in all the timber etc., I then cut the bad pieces off and see what I had, I figured that I would have just enough to assemble an 8 feet work bench for building or servicing Motorcycles and wanted it to be heavy enough to with stand a bit of hammering ad of course welding too.  And I am sure there are many of of you out there like me, that like to repurpose stuff, save your cash for other more important things in life, and feel a little proud of the fact that you made something out of just trash.
You decide what you want to make and then just get on with it, I had no real plan, just a few measurements, I measure the longest bike I have and said well lets say from tire to tire its 7 feet, so an 8 feet table will be just about right for securing a two wheeled machine of up to 800 pounds on this construction.  But, even though its waste material, I want it to be level as there is nothing worse than a wonky table right?
This timber is so thick I am super stoked that I could make use of the materials that were Original part of the Ceiling of the house, so I started to cut and then screw these pieces together and knew that this was going to be a cool set up for what I need here at the Barn.
To say the work bench is sturdy is very much an understatement, I wanted to make sure that this will last for many years, build it right from the get go and you will have something that will last probably your lifetime if done well. I cross braces the bench using the rest of the Rood truss material and this is now super rigid and I will have no issues mounting a motorcycle atop this set upo.
I used 3.5 inch screws to get into the timber with some bite, this thing isn't going anywhere and am happy with the way it is looking, the work bench will be invaluable for me and so stoked to be able to use up some scrap material that was going to the dump anyway.
I also used some thick MDF I had laying about from old storage racks and that sits across the subframe, giving a sturdy platform and will allow me to use some old wood sheeting that was an off cut. I am lucky to have a chop saw and a table saw, as well as battery screw guns, but this was quick a quick build and I must admit, very therapeutic for me as I enjoying making stuff. Better make sure you have a Vacuum cleaner too as more dust than the Sahara desert that's for sure.
I did have 5 tables at one point when I had the big shop, but they do take up a lot of space and had them in storage for ages, there is something about making your own workbench though and I will use it all the time, and if I don't need to, then I can push it over to my racking area and still have room for my Hot Rod to be parked inside so I can do some wrenching on that as well. Of course, I have a long way to go on fitting out my workshop and the fun is taking your time and putting stuff up then maybe changing it if it doesn't work how you want it, the good thing of now having your own workshop is there is no Landlord breathing down your neck.
As you can see, with an off cut of 1/2 inch Ply on top of the table, it really finishes it off, I have also fitted a Bump Stop on the end of the table for the wheel chock to sit up against tightly.
I shall clean this up as its been sat in the shed, then I shall secure this to the bench using some Coach bolts and a nut and washer underneath as I need this to be really secure, as when I run a Motorcycle up onto the table and into the chock, I need the wheel chock to hold the front end of the bike tightly, so these ones have holes in the legs and that means I can secure it to the platform.
Ready for Bolting down and you can see I have a strong bump Stop right on the end of the table, I will also use some Long Eye Bolts to fit to the sides of the Table, that means I can tie down the handlebars for even more Security when I am out of the workshop.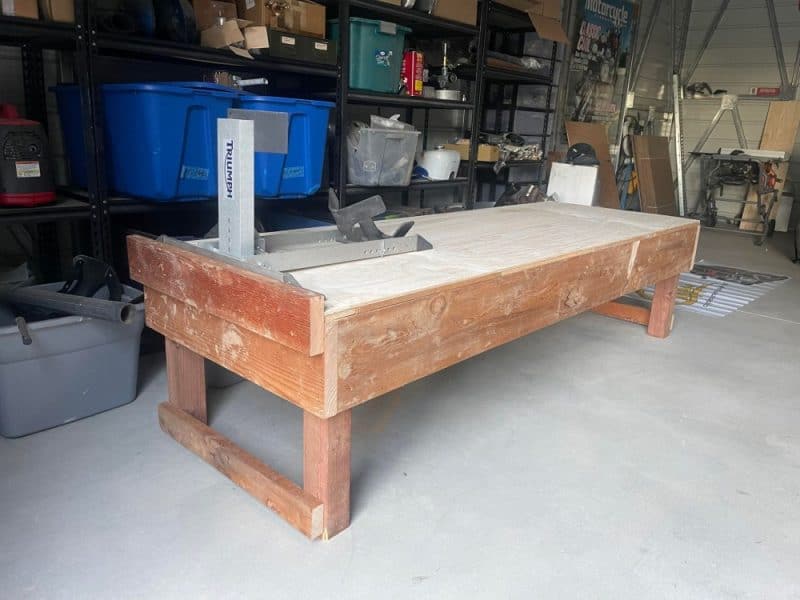 I am sure I will clean her up after everything is bolted down etc and not sure what I may add but as you can see, this is a super strong Motorcycle table and I simply use my Ramp to run the bike up and into the chock, then simply take ramp off and hang that up. No cost really at all, this heavy set up will last as long as Noah's Ark I think.
Super stoked to pull a Bike ramp out and Jenn gave me a hand and we loaded this project machine up on the work bench, it was great, sturdy and easy to put up there, the wheel chock holds it in place but I still need to add some hardware to be able to tie the front end down on case we have an earthquake etc.
As you can see, there is plenty of room behind the bike and a CB750 it 7 feet from tire to tire, and I am pleased I created an 8 foot work table so I can weld or grind and get some parts prototyped up at my own leisure.
This bike may take on a few guises until I am happy as to how I want it, thats the fun of doing your own stuff, but now I have a solid table, I feel much better when I have to belt away at a gas tank, as the metal tables you see, tend to flex about too much.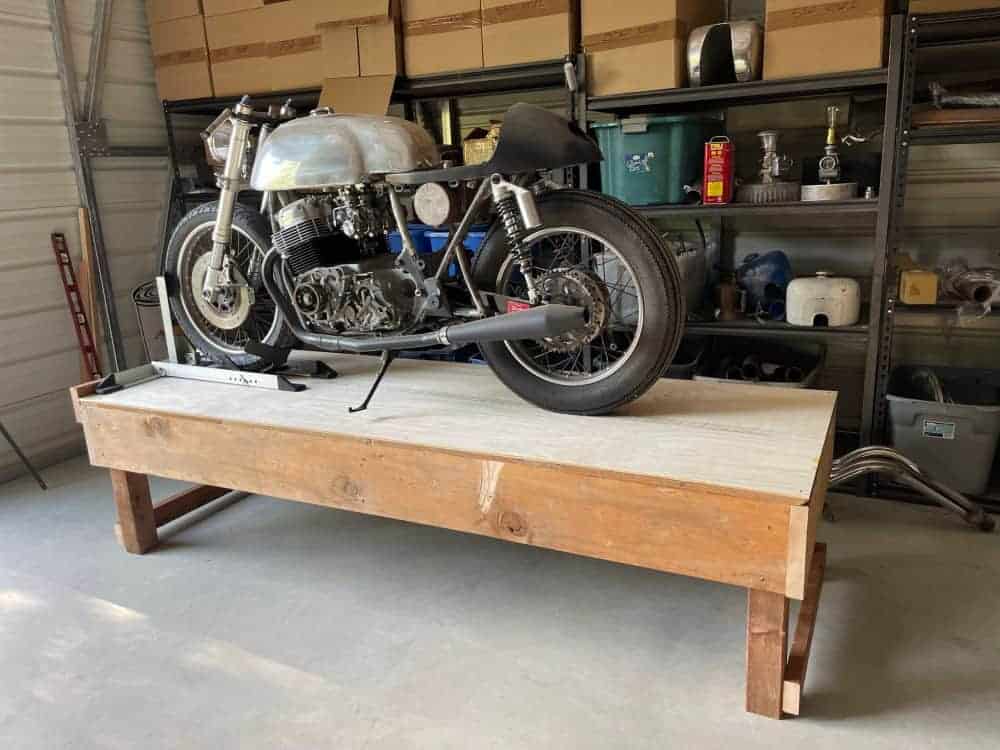 The other thing with this set up is I have the height where I want it, if I need to sit and do wiring, I can use a mechanics stool, I will finish the tie downs this week and maybe later I might paint it but right now I am happy how it is and hope you lot dig it too?
I have plenty to do on this project and a few Customers want me to create their builds, so I have every confidence in my work bench, way stronger than that Chinese crap that you see advertised out there.
I have much to do in the barn and more things to make, hang up or secure to the beams or the walls etc, but- when you get surplus second hand timber, well, you have to use it right away right?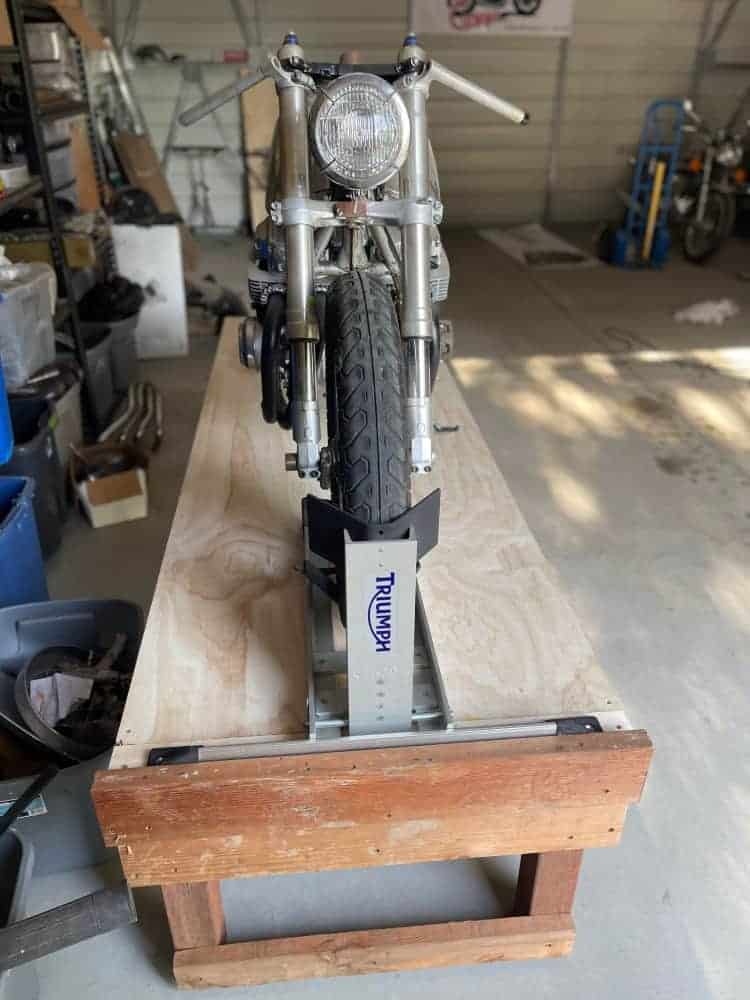 Maybe it will inspire you to get in the Shed, Barn, garage and bung some scraps of wood together, its fun building stuff and even more when it doesn't cost you anything.
Thanks for taking an interest in what I do, I love my job and enjoy building Motorcycles, servicing and of course, making new parts for these old Bone Shakers.
I will keep you posted as to how this Motorcycle and of course, any others that I work on in the Barn, I get many emails asking for pics of what I am up to, so now I can stop, take a pic and post it, that's what's fun about being your own boss. I have my Courier bike to finish too, so plenty of Irons in the Fire, so stay tuned……………….
Comments
comments