Gene Romero Memorial on Saturday was awesome.
It was with a little bit of a heavy heart as I rode my Scrambler to Triumph in Brea on Saturday morning, but, the Sun was out and as soon as I pulled into Southern California Motorcycles, I could feel the buzz of excitement, apprehension and sadness, all mixed into one.
I parked up the Triumph and walked up to where everyone was gathered, and a nice turn out to remember the Flat Track legend Gene Romero, most remembered him as the flying Burrito and he sure was, this guy  came from a humble background, always living in a small travel trailer and with his brothers, they all had a passion for 2 wheels.
Seeing the many early Racers, fans and of course Family in one place was something to behold and I was glad that Jennifer and I could make the trip to Triumph to honor such a great guy.
Here are a bunch of pics I took from the memorial on Saturday.
I was stunned at so Many original riders that turned up for the event and turned around and saw this little fella with a huge Cowboy hat, then realized it was king Kenny Roberts himself.
I couldn't believe I was seeing Kenny Roberts, the last time I saw him in real life was way back in 1975 at Snetterton Race track when I watched him Race my Hero Barry Sheene and Gene Romero in the Trans Atlantic Series, I shook his hand and said I last saw him 43 years ago.Kenny Replied- I had a Funny Accent and must be from the other side, I laughed and said Barry sends his regards.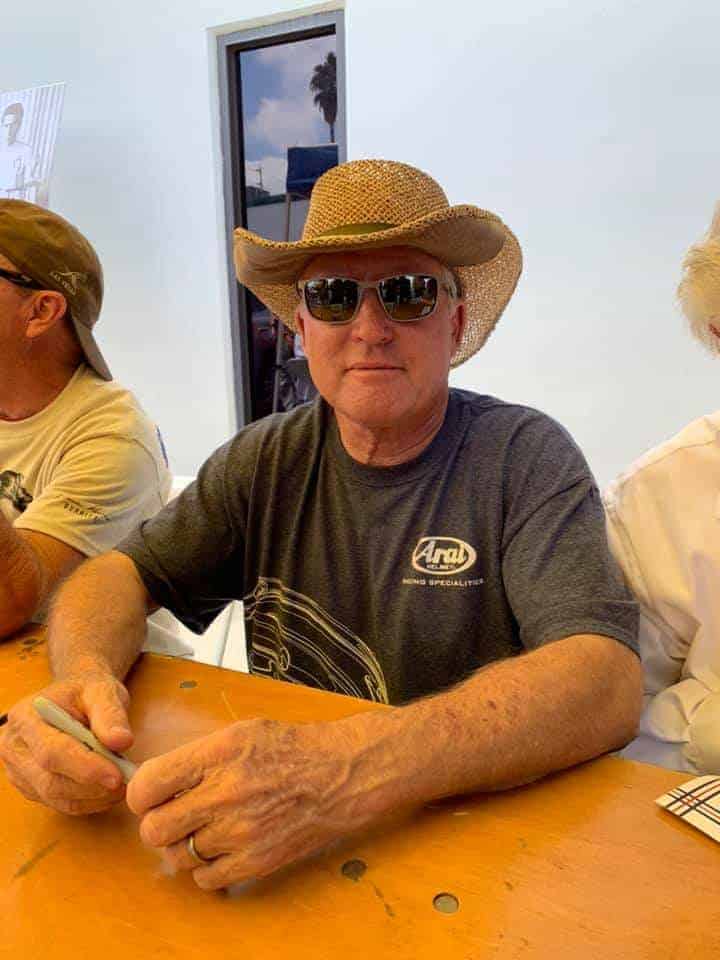 I was so stoked to meet Kenny and to see all the other Vintage Riders that raced against the Flying Burrito, what a super turn out. First pic is Ricky Johnson, what a Legend there too.
In the Triumph Motorcycle shop, they had made a great Gallery of some of gene's personal things, I loved all the riding gear, and the trophy that gene won back in 1975 when I saw him race at Snetterton. Meant a lot to me to attend this memorial, a hero of mine who ended up being a good friend and we hung out a lot at my shop with him telling me so many stories about the racing days.
Comments
comments