Mopeds in UK back in the 1970's when I owned them.
A look at the Classic 'Sixteener Specials' of the '70s
If, like me, you are now in your early fifties, and have had some passing interest in two wheels, then there's a pretty good chance you will have owned or knew someone who owned one of these bikes…let the memories flood back! The Bay City Rollers, Spangles, The Sweeney, platform soles and horrendous flares.
10. The Fantic Chopper
First imported to the UK in December 1972, the Fantic Chopper proved a success with young 16-year olds as it boasted a 6-speed gearbox and a top speed of 50 mph. Fuel economy was also impressive, regularly returning a hefty 110mpg. Handling was suprsingly good considering the long wheelbase. I personally knew a mate from school who got a lot of money from hurting his back in a motorcycle accident, went out and bought one of these cash, I was gutted, as being 16, you always wanted the coolest stuff. We had a kid at school who got a Bunch of money from a Motorcycle accident and he went out and purchased one of these Brand new and in Cash, I was so gutted.
Where the Fantic did fall flat on its face was the less-than-adequate electrical system. All in all though a good 'posing' machine for the young budding Peter Fonda. A restored example now will easily demand a price tag of £2000 upwards. I want one!! All donations will be gratefully accepted!
9. The Gilera Trial
Founded in 1909 on Italy, Gilera has always been recognised for its thoroughbred race machines but dipped its toe into the world of the sixteener specials in mid 1972. The first models the Touring and the Trial were joined in 1974 by the Gilera Enduro.
The UK specification machines were fitted with a pedal start system to comply with the UK laws at that time. The European models boased 'real' footpegs and a kick start. The machines were finished to a fairly high standard and boasted Ceriani front and rear suspension. The 4.2bhp 49cc engine returned a not so speedy 42mph. Pricewise the Touring cost a measly (in today's prices) £210 whilst the Trial in 1977 would set you back £285 and the Enduro £290. They were produced in a vivid red colour but a rare yellow version has also been sourced. I personally was never able to see one of these for sale anywhere as they were snapped up pretty fast.
8. The Puch Grand Prix Special
The Puch brand can be traced back to the late nineteenth century as part of Steyr Daimler Puch. In 1972 the Puch VS50 was probably the first serious attempt by a manufacturer to break into the sports moped market. Shortly afterwards they were overtaken by the more technically advanced Japanese manufacturers. In 1973 the M50 Sport was introduced with a respectable top speed of 46mph. This model gave way to the Grand Prix, then the Grand Prix Special. The special sported a black and gold paint scheme same as the JPS Lotus Formula One cars and a front hydraulic disc brake. it was not uncommon for this model to return a favourable 150 mpg if ridden carefully. But I never ever rode carefully, on these mopeds I owned I always hopped up and if I was lucky enough to have had one of these, I would of been in a lot of trouble with the Law- No Doubt.
The Puch Grand Prix had the looks and the feel of a 'real' motorcycle. In 1977 the Grand Prix Supreme was launched with a 5.2 bhp engine and a hefty price tag of £356. I only had one mate who owned one of these and he would never ride it, twat!
7. The Honda SS50
I really do love these bikes, but in the 30 years sice I last looked at one I have never seen another and I never actually owned one, which is such a shame as its one of my very favorites. Unfortunately the SS50 was let down by a disappointing measly 2.5bhp OHC four stroke engine making it one of the slowest mopeds.
Introduced in 1975 with a price tag of 270 pounds it offered reliability along with economy with an exhaust tone that wouldn't annoy the neighbours unlike those nasty two stokes with their Allspeed pipes!! The style was very much alike the Yamaha FS1-E with a slimline tank and pressed steel frame. The early model had drum front brake and a handlebar width of only 22 inches. In 1976 the SS50 B2 was released with a now uprated engine giving 4bhp coupled with a 5-speed gearbox; the newer version could reach the heady heights of 50MPH. A cable-operated front disc brake gave the bike a sportier feel, and you would be relieved of 259 quid if you (or your parents) bought one. A good moped, but let down by poor performance.
6. The Suzuki AP50
At number six, the Suzuki AP50; a bike derived from the early A50II model. This was a late entry into the marketplace arriving in late 1975. One advantage that this moped had over the others was the CCI lube system which meant no more mixing fuel and oil together on the garage forecourt. A separate oil tank pressure fed all moving parts requiring oil. The bike proved to be reliable and had a good working electrical system, unlike some of the others on the market. This was one of my First bikes, I did have the AS50 at first but got pulled over for speeding and I wasnt old enough to have it as they had just changed the riding laws to say if it had pedals I could have it, but if not, then it had to be governed to 30mph, and as i was doing 65 in a 30, I got my wrist slapped and had to trade it in for one of these Red AP50's.
Available in candy blue or red, the AP50 proved an instant hit with the teenagers, going head on in sales against the ever popular Yamaha FS1-E. Once again the bike was fitted with a pedal start system to comply with UK laws at the time. The 5-speed engine was relaible and torquey and more than a match for some of the other models. I felt that an immediate improvement to the look of the Suzuki would have been the addition of a front cradle to the frame then giving it the look of a 'proper' bike.  But I hopped mine up with a bigger Carb and pulled the old baffle out and cut it down to 2 inches and ran like a raped ape.
5. The Yamaha TY50P
The Yamaha TY5OP was introduced to the UK market in 1976 and was an immediate success with budding trial riders. The little Yamaha engine unit only kicked out 2.9bhp, but the bike's cool looks and capabilities off-road soon made up for it. Top speed was a disappointing 32mph, but the machine was high quality and featured the Yamaha autolube system oil lubrication system. Telescopic front forks and a good sturdy pair of rear shockers ensured a smooth ride even on the rough.
I used to stand Outside Bowers Motorcycle shop in Bury St Edmunds, eating my 15p worth of Chips and smudging the window with my nose in envy at this awesome machine, I couldnt afford the payments on this but really wanted it. Funny thing is , 40 years later out here in California I had TWO of the TY250's. ha ha.
Number 4: The Garelli Tiger Cross
I used to love these bikes: the style, the speed and the sheer street cred of having one of the fastest 50cc mopeds on the market. A mate of mine from years and years ago had one of these (as far as I know, 35 years down the line, he still has) and he was the envy of us all. Imported into the UK by Agrati (Sales) UK in 1972, it was an instant hit with the teenagers.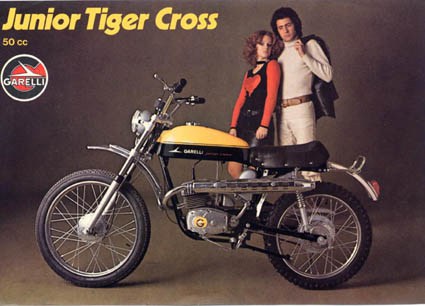 The 6 bhp engine returned a respectable 60mph top speed, no mean feat in those days. Available in black and yellow, or in a rarer version in red and black, it eventually evolved into the Tiger Cross Special, which was a UK-only bike but basically a facelift of the original bike. Great fun in its day and expect to pay over a grand for a running bike these days
3. Fantic Caballero
One of the first 'enduro' sports mopeds, introduced to a waiting UK audience in 1974, the Fantic soon gathered a loyal following. A 7.2 bhp two stroke Minarelli engine ensured a mean top speed of 55mph. Fuel consumption was a respectable 125mpg, not bad for a machine with such a good top end result. Probably a bonus having such good fuel results as the tank capacity was a meagre 1.1 gallon.
The downfall ( and there is always a downfall) was that the bike was plagued with poor electrics and a hefty price tag.
In 1977 Fantic introduced the Super Caballero with a whoppin 9bhp engine, but the lack of pedals meant that it failed to qualify for the UK's teenage market. A great bike with good all round performance. I once found one of these dumped at the side of the road 20 years ago. Obviously someone had dumped it because it was in such a state, looking like a refugee from the Titanic, but it still sold for £180.
2. The Fantic GT Super Six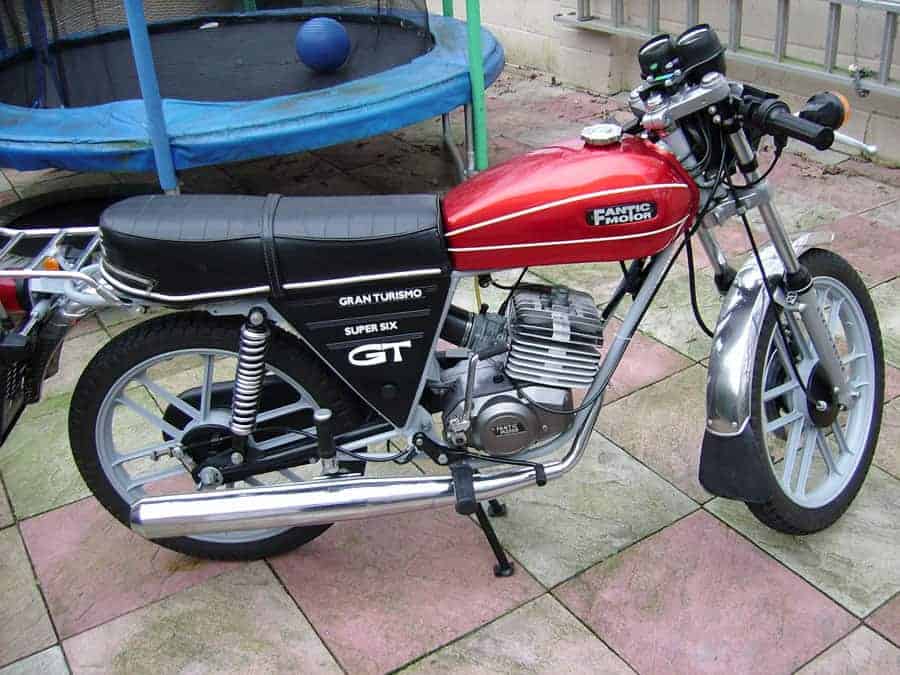 What a corker this bike was. I've never owned one, and never been able to afford one for that matter. From 1977 to '79 you would expect to pay £579 to own own one of these, so it put the bike off limits to most kids, unless of course they had super rich parents. The 9bhp engine gave you a whopping 65 mph.
If you had one of these you were the dog's reproductive organs! Finished to a very high standard and fitted with alloy wheels and electonic ignition plus the added bonus of a six speed gearbox. Disc brake as standard and a rev counter set this model apart from some of the less superior models. WHEN I have won the lottery this is the bike I am going to run out and buy!
1. The Yamaha FS1-E
Well here it is, the top dog,the Chief, the most favorite sports moped in the world ever and ever (a little over the top I know). Ahhh….the fantastic FIZZY.
It first appeared on UK shores in 1973 sporting sidepanels just bearing SS, which stood for 'Sixteener Special'. Unfortunately Honda complained because they already had a model on the market badged as an SS, so the later ones went to FS1. Available only initally in gold paintwork, more colours were added over the following years.
Within 3 months this bike became Yamaha's top selling bike in the UK. Indicators were an optional extra on the early models priced at a mere ten pounds per set. You could expect to get around 45mph top speed from this little beauty. I was one of the many 16-year olds to own one of these but it was the later FS1-E DX model shown at the top of this list. I paid £175 for it with 3000 miles showing and sold it 12 moths later for £165, not bad after a years hard thrashing. The FS1 has been known to fetch a hefty £3000 for a restored usable example. Wish I still had mine now, it's better than money in the bank. I had a White one and boy was it fast with an Expansion chamber on it, all us kids learned to wheelie on these and the AP50. such fun memories.
Thanks for reading and have a Great weekend.
BRAAAP!
Comments
comments