Well, here it is, my 1928 Roadster, with a Flatty hooked up to a 1939 Box. But, it needs some work and over the next few weeks, I hope to have this running well and driving down the road.
I shall be changing this to a more traditional AV8 Roadster of the era I really love and that's post WW2, I will be selling the top and making a lower version with chopped windshield too.
I am looking forward to changing the look and this is pretty good shape too, even though it is cool, there is a lot of re-work that has to be undertaken.
There is the beloved flathead, the very first V8 came from ole Henry Ford himself, but the Motor sits too far back so need to move an inch and half forward to make it right and no vibration.
Below is a list of things that this A-Bone already has. But the note to the side is what I am changing.,
1938 v8 motor late 24 stud
39 rebuilt trans
40 ford juice brakes front and back
40 ford master cylinder
New hoses and plumbing
New shoes and cylinders
Edelbrock polished intake
Edelbrock Aluminum heads
Original A radiator modified – Changing to a Original 1932 deuce grill shell and insert later.
Rebuilt generator – Its junk so I have purchased a Powergen.
New Distributor
New battery – Battery is only 6 volt, so converting to 12 volt. And repositioning .
Original model A dropped axle
Original banjo rearend- been gone through- The Banjo is going to be changed for a Columbia rear end I have.
Rear drum locks
Original model A Steering column- Pulling that out and fitting an F1 steering box.
Stromberg 97 carbs only one hooked up
Electric fuel pump
6volt – Am changing over to 12 volt.
New cloth spark plug wires with rajah ends
1935 Wire wheels
New 1934 v8 caps
New Firestone bias plys
Original unsplit bones – Rears will be getting 1936 Radius Rods.
Slanted windshield- Will be replacing with a 2 inched chopped windhsield.
New Smithys dual mufflers- Replacing with Race headers and New pipes.
Original Points ignition
Limeworks 40 Ford steering wheel.
New X member and re worked pedal assembly.
The electrical is a disaster, the guy who had it did a terrible job and I am having many power issues now and am trying to source the issue as this is still a 6 volt system, so nothing wants to turn over long else the battery will die. This is all going to change as I shall have it converted to 12 volt as it makes for far more easier starting and can see at night with no dim Glow from 6 Volt bulbs.
This will still need a ton of work and I hope I can get there soon as I want to be able to drive it in the next month or so as I love the look, just mechanicals need sorting.
I shall be fitting a 2 inch chopped windshield and later get a chopped top for it and of course I will lower the seat a few inches to allow for that.
Above will be the New X member that will be going in place of the shoddy one some fella attempted at welding in with some cheap stick welder, so this is going to be gone through and make sure all is safe and strong, as my Girlfriend will drive it too and need it to be roadworthy, right now I have a few issues to get ironed out but will get there bit by bit.
The Motor is now going to be moved forward, as well as the rest of the running gear, the Muppet who originally fitted the flatty put it back too far and the motor was pushed against the firewall.
Takes time, Money and Patience but I shall be keeping the Roadster in memory of my dear MUM.
I will run with No bumpers later and will also be taking the A-Bone Radiator and Shell out, and replace with a genuine 1932 Grill shell and insert as I have always loved that look.
This will be such a fun Hot Rod and dream of the day I take it for a run across El Mirage dry lake later on, as thats been a dream for so many years.
Above, 1936 Rear Radius Rods, these will be fitted to my Model A to give it much added strength for the V8 Flatty Motor.
Later on I shall be making this 1936 Ford Dashboard, fit the 29 Model A Gas tank, as I love this Post war style that was popular in Southern California back in the day and will simply swap out once painted and gauges fitted etc, but that's a little later on down the road, but exciting stuff none the less.
I want to make sure this A Bone is safe and with a X member I know the chassis wont be flexing as much, as I have seen so many crack over the years on the shitty roads we have here in California as the freeway beats Hot Rods up for sure.
As you can see, the body had to come off for a number of reasons, and one was to move the engine forward and secondly to be able to fit the X member and over riders correctly, glad we have got to this point,
A better solution than the crap that was one there before, and also Bungs were welded in chassis to make fitting Roadster body easier.
Up in the air and soon to be laced back on the strengthened frame and I will be feeling a lot happier for that.
Flatty Motor is a 24 stud 1939 Era with Edelbrock heads and intake with three 97 Strombergs, The Radiator fan is now replaced with new bearings too, and the 6 volt system has been removed and 12 volt system now lives there with a one wire powergen to make sure I have plenty of electrical Voltage.
My 28 Roadster Body is in pretty good shape, Later on i shall be replacing the gas tank with another as I will be fitting a 1936 Dash in the old gas tank area.
Looking forward to when she is sat back on the rails and can get on with a few other things as she will be having 1936 Ford wish Bones on the rear and I have a 2 inch chopped stainless steel windshield to fit, along with a 1948 F1 steering box with a Limeworks 40 Ford style steering wheel.
The 1936 Rear Bones were cut and shortened and the welded and will make a big difference in the Rigidity on the rear end for sure, as this is a proven Formula from back in the day.
The complete X member kit is now in place with Boxing plates and this really is a good thing for me as I will feel a lot safer, I have seen many stock Model A frames that have stress cracks as they fitted a Flathead and the power does cause a lot more stress on the chassis, this was a Hot Rod Fab back in the day too.
Well, the stock winshield posts have gone and now a 2 inch chopped Stainless Steel set up is in place, looks way better now and am stoked to have it on the Roadster.
The Body is about to be plopped back onto the rails, all the old nuts that sat under the frame have now been replaced with threaded bungs, so no more struggling to hold the nut with a wrench under the chassis.
Now I have the 1936 Ford rear Radius Rods in and the Handbrake cable from 40 ford to Model A in Place, things are getting closer to be finished.
Slave cylinders are all good , as is the brake shoes etc, bit of adjusting to do but on step closer to getting her ready for a road test.
New fuel line will be added to the pump, filter and to the Strombergs.
New OEM 1939 Fan assembly but with New bearing and to help with Battery, a New Powergen, this goes from a 6 volt ride to a 12 volt.
Limeworks 1940 Ford steering wheel will be fitted to the F1 Column I have and wil be smooth to turn now, before, the notchy A Bone Column was a nightmare.
I shall keep the Model A Grill shell for a little while but have a genuine 32 one to replace it.
Reworked Model A pedal assembly will be fitted today, then the handbrake will be made to fit the 39 gearbox and a New floor to be added too.
Bit by Bit she will get stuff done, wont look much different but will handle so much better than it did when I first got iy.
Hope you like how she is turning out, this is something I shall keep as it is in memory of my Dear Mum!
Steering Column is in, just needs the tube cover to go on but it looks the right height, although I want to lower the seat somewhat.
I am glad how everything is working out as this needed a lot of work that someone had thrown together badly.
I have a Limeworks Steering wheel on that F1 Column and it looks great, great value for money. Also fitted 40 Ford pedal tops to Model A pedals.
Looks great in Black and White photo and wont be too long now before I can have a test drive.
Next up was to make a handbrake for the Rod, as there was not one in it at all, so a hunt for a few parts was needed as this A Bone now had Juice brake, lucky for me I located the handbrake, the wires and attachments as I need to be able to have a handbrake in this Jalopy.
Sat back on the floor for some more work, wiring needs to be addressed and as she is now 12 volt, make sure the bulbs are changed in the 6V lamps etc.
Bit more done but the battery will be repositioned, then, new wiring as well as securing the F1 steering box and fitting new switches for fuel pump and ignition etc.
Up next was some floor work that needed to be rectified , as the original is just wooden and I did not want that, this body is now sturdy to the chassis since the X member kit was added, and the doors will not pop open like many stock version do when the Ford goes up a drive way hill or a dropped kerb etc.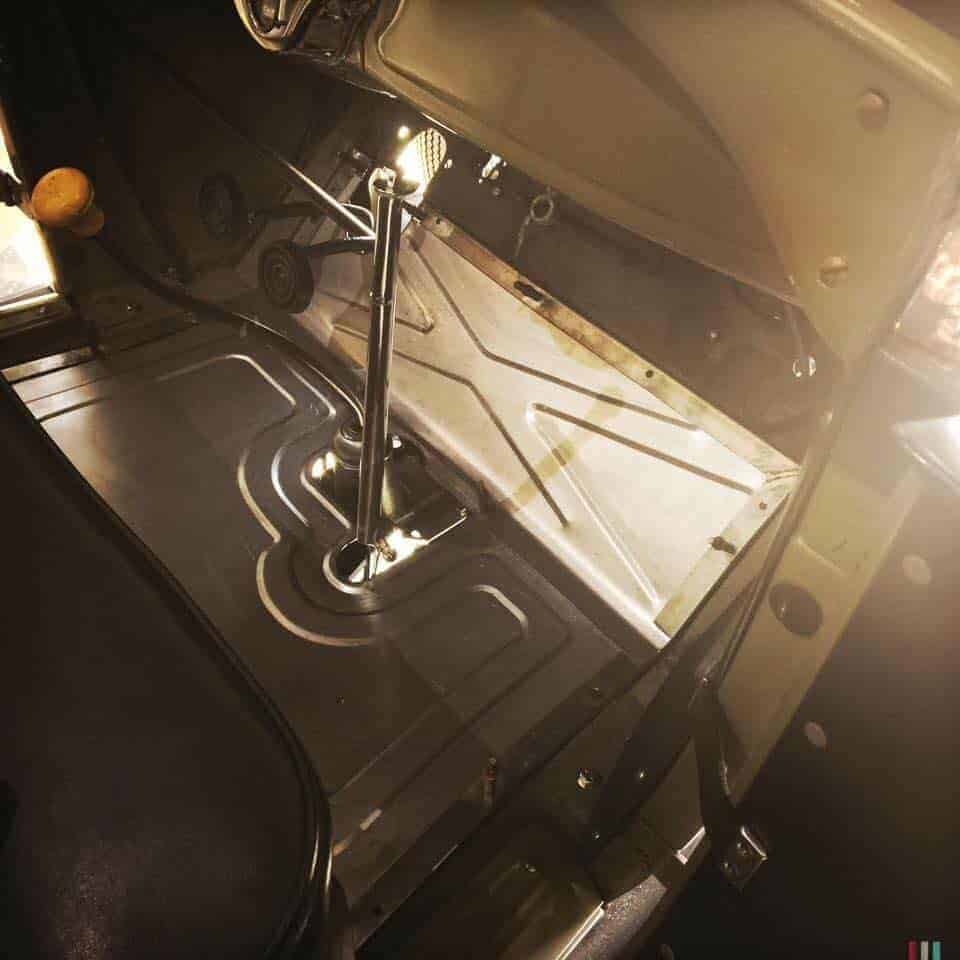 These are hand rolled and sure look nice in steel rather than ugly timber.
You can see that the Model A pedals have been reconfigured and now have 40 Ford tops on them.
Feels more like a Hot Rod now, rather than a Resto and will not be long until I can test drive her.
The Motor now runs and is smooth, only running the middle Stromberg right now but hope to use all Three later on once all the bugs have been worked out, straight through pipes for now until later in the year when I remove the fenders and run as a high boy and will use 1936 Torque Tubes for the headers like they did back in the Dry lakes days.
I am so glad that she is running Now, sounds quite smooth now that is fitted with a New Old stock fan and as she is turned from 6 Volt to 12 volt, she will fire up a lot easier and no more dim headlights.
Well, time has just tocked on a few days and I am glad to say I at last got the chance to drive it for the first time yesterday, mind you it was 100 degree's outside.
Sitting pretty, this was a big moment for me, I dreamt of having my own Roadster in California for ions, and now here I am and its great.
She sits well but have to tell you, the rear shocks are shot to bits, so I will need to find some slightly longer and robust versions, maybe Pete & Jakes, but have to weld on shock mounts as the person before set these up for standard car shocks with no clevis at the top, but that's all repairable and even though it bumps pretty hard, its so much fun.
I am happy at the style right now as I parked it outside my Motorcycle shop in Anaheim, it was 100 degree's but I still drove it around and smiled all the way.
I will eventually remove the fenders and grill and fit a Genuine 1932 Grill shell and change lights and that is what Hot Rodding is all about.
Looks way better with the 2 inch Windshield chop and eventually I will get a retractable top but not just yet, but- I do need to cut the seat riser down about 4-6 inches I think.
The seat is Bone stock Model A and I sit too high, but I will try and locate another seat Riser and channel it a few inches to sit lower and have that early look too.
The flatty runs pretty good and right now, just on the middle 97 Stromberg but hope to hook the other two up at a later stage, once I have worked all the bumps out.
Having a bit of fun with a 1956 Flying Cloud Airstream,as these are the coolest trailers and easy to tow because they are so light and balanced well.
Yes- reverse does work and had to get used to the old style clutch pedal and it worked really well indeed on this AV8 Roadster of mine.
This looks like back in the day as I put it in Black and white, Classic lines and thought I would share with you.
Eventually I will locate a 1940's trailer and be able to tow it to the dry lakes.
My Girlfriend loved it, it was fun driving it on the road for the first time, albeit 100 degree's out and I live about 13 miles from the shop, so as I pulled into our street the radiator started to puke hot water out of the top cap, but that's to be expected from the summer heat. All was good later on in the evening when I drove it around the block with Jen to try it out.
I have more plans for the Roadster, I will change the Radiator and the grill shell for a 1932 version and will remove the fenders too, then use 1936 Torque Tubes for headers and run them out the sides for an older style of Hot Rod, the car is always an on going challenge but that's what Hot Rodding is all about.
So stay tuned for more on my 1928 Roadster…………………..
So now its time to get a few miles on her and work all the bugs out of it, that all takes time, money and patience.
Comments
comments