There is so many Iconic Builders, designers and owners or creators of Vintage Hot Rodding, it would take so many volumes to fill, but I am going to do a few of my own personal favourites of Hot Rod Royalty that inspired me when I was a kid and, 9000 miles away on a little Island you call Great Britain.
I was lucky enough to get my hands on Hot Rodding magazines in the UK in the late 1970's and, living nearby all the old ww2 Bomber and Fighter Airfields, I felt a strange Euphora over WW2 American planes, Post war Belly tanks and of course Hot Rods.
I had my own 1932 Three window coupe in England and lived the American lifestyle and yearned to make that crossing to the United States and actually live my Dream, and here I am and live it every day.
So, one of my Early influences to this crazy Hot Rod fraternity was this Bloke- Dick Scritchfield.
THE DICK SCRITCHFIELD ERA
Dick Scritchfield has had a long and illustrious career in hot rodding. Yes, that's right–career, being involved most of his adult life, both as professional (speed shop owner, the first NHRA Regional Rep, and Safety Safari participant, Associate Editor of Car Craft, and Advertising Manger at Rod & Custom), just to name a few, all the while actively participating as a hobbyist as well.
In 1944, as a lad of 14 living in Missouri, Dick purchased his first car, a '29 Model A coupe, and was granted a valid driver's license. Other cars would follow, with his first Deuce (a Sport Coupe) acquired in Washington, D.C., while he was stationed there as a drummer in the Navy, which he joined in 1948 (Dick is still a percussion instrument kind of guy). Dick went on to be stationed in Puerto Rico, where he cruised in another Deuce, this time a five-window, which was the only hot rod on the island. As Dick was one of those "hot rodders," he was asked by the base brass to organize a drag race to keep the sports car guys (both enlisted and locals) from racing on the streets, where there had unfortunately been a few fatalities. Can you imagine for a moment that it was the sports car boys who were the ones they were trying to get off the streets? Dick eagerly complied, then promptly kicked some serious sporty car butt with his fender-free and channeled Deuce coupe. It was also while in Puerto Rico that Dick became a partner in a garage where he honed his bodyworking and painting skills during off-duty hours. He would later return to the island after his tour of duty, where he and his partner imported speed equipment from the States and performed engine swaps. However, as he was already an NHRA rep by this time, he returned to his new rodding career Stateside, moving to SoCal in '56 to work at NHRA headquarters. One day Dick chanced to see a great looking yellow Deuce highboy roadster for sale in a gas station and acquired same forthwith. Now if you guessed it was Bob McGee's roadster, you're correct.
If the roadster had been both daily driver and race car to Bob, Dick added yet another element–movie and TV star. The "B" movie producers were always on the lookout for prop cars that screamed "HOT ROD!" and were willing to pay good money to rodders who wished to supplement their incomes by renting them to the studios, as evidenced by Norm Grabowski, Tommy Ivo, and numerous others. This concept wasn't lost on seminal L.A. Roadsters member Dick, and soon the Deuce was involved in all kinds of socially inappropriate automotive hijinks on the silver screen. Dick, Tex Smith, Tony LaMesa, and other roadster owners decided a club dedicated to topless motoring would not only be fun, but give owners of such cars a responsible, public image as well. So, on one fateful Spring day in 1957 (A Sunday afternoon to be exact) the first formative meeting was held at Weiand Equipment Co., where Dick was voted President, and awarded membership card number one! His roadster went on to appear in such flicks as Hot Rod Gang, Hot Rod Rock, and other, more forgettable films as well. The now Scritchfield roadster (he owned it for some three and a half decades, 1956-90), also appeared on movie posters and lobby cards, album covers, and in many magazine how-to articles as well, making it one of the most visible public representations of the hot rod esthetic of its day. It also appeared on television shows like Dragnet, The Many Loves of Dobie Gillis, The Real McCoys, 77 Sunset Strip, and of all things, The Lawrence Welk Show, serving as a hot rod stage prop for the Lennon Sisters, which showed rodding's more acceptable side to the "Geritol Generation."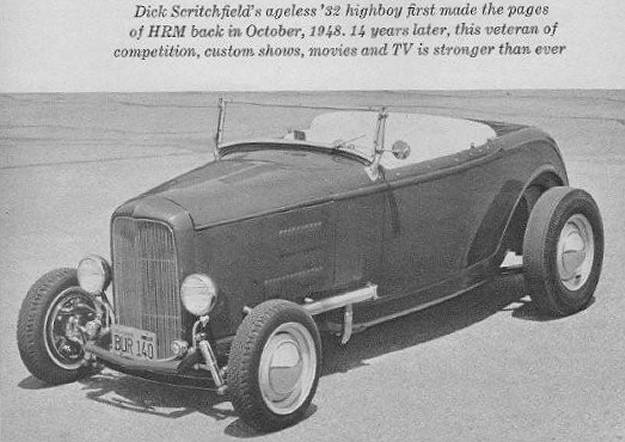 Over the years the '32 was subject to many mechanical changes (flathead exchanged for 283 Chevy small-block, etc.) and cosmetic changes (first non experimental Metalflake paint job in 1960, which was the subject for a breakthrough article in Hot Rod, inspiring a young Jerry Weesner to do likewise with his own set of wheels, a '48 Ford convertible). Dick would then build, with Dave Carpenter's help, a 350cid small-block Chevy that would carry the roadster to a two-way average of 167.212 mph at Bonneville in 1971, with full street equipment. He not only set a record (C/STR) that would stand for a number of years, but the car was given the enviable title of The World's Fastest Street Roadster as well. In a recent conversation with Dick (who now resides in Hawaii), he disclosed that he would drive the roadster on the street equipped just as it had run on the slat, so the title was both legitimate and well earned. And by the way, those over-the-frame headers that Dick ran and nobody could ever quite seem to identify, were Sanderson Chevy marine items turned upside down.
To backtrack just a scoach, in 1964 Scritch had it made, sharing a bachelor pad with fellow L.A. Roadsters' member Sam Conrad, had a garage full of roadsters and parts, and a new position with his then employer, the Auto Club, where he had been transferred to the Claims Division. When our boy was introduced to his new secretary, one Marian Wilson, that was it–love at first sight! So what did our young couple drive on their honeymoon? If you guessed the Deuce, you're still in the ballpark.
When Scritch finally retired to Hawaii around a decade ago, Marian restricted him to only taking some half-dozen vehicles with him. So, with all kinds of motorized transport to choose from, including a Deuce Phaeton he built while at Car Craft (and which he still regularly drives), the roadster was put on the block, as Hawaii still had those pesky fender laws (which varies from island to island), which had caused Bob McGee to sell the roadster all those many years before as well.
An Icon and always will be.
Photos taken from Internet from Rod & Custom, HAMB and google, please let us know any other credits so we can show the people who took these wonderful shots.
Comments
comments