With speculation rife that everyone from Harley-Davidson to Triumph to various Indian two wheeled giants, are lining up to buy Ducatifrom the beleaguered post-Dieselgate Volkswagen Group – we shouldn't forget that the really important news is the imminent arrival of their new V4 superbike.
Driven by the firm's desire to recapture their World Superbike domination, and in support of their recent renewed focus and resurgent success in MotoGP, the new V4 will be a road bike evolved from the track – rather than a road bike turned racer.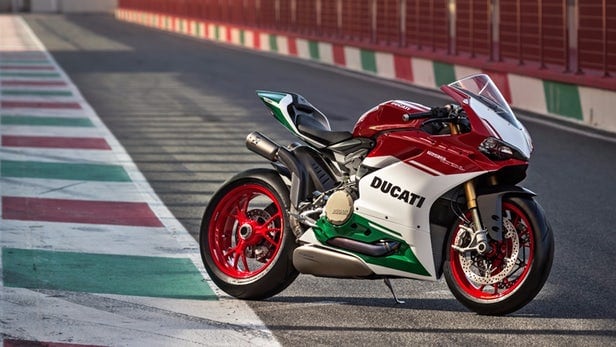 The firm's Panigale has been a rampant success in showrooms, and no slouch on the track in the hands of Shane Byrne and Chaz Davies, but the race department needs access to more than the current 1198cc V-twin Panigale R can muster. With that bike already developing an impressive 193bhp in road trim – and a claimed 215-plus bhp race-ready – the firm has to be chasing a tangible step-up, which can't come from weight loss, so has to come from power and control.
The likelihood is that we'll see more like 205-210bhp in road trim, but over 230bhp for race teams. With the Panigale R's enormous 112mm pistons slapping away at 11,750rpm (116mm in the stocker, redlining at 10,500rpm), the Superquadro is already at its outer limits for bore and rev ceiling harmony. More revs mean more power, and that's far more achievable with multi-cylinder engines – but an inline four is too ordinary for Ducati, hence the move to a V4.
One version, or two?
All the indications suggest that we'll get two engine versions across a three-bike range. The current R is 1198cc, while the base and S models are 1285cc – and we expect Ducati to continue this tried and tested route. What is beyond any doubt is that there will have to be a 1000cc version in order to comply with racing regulations for four cylinder bikes, and that those same regulations will force the release of a road-going homologation version.
Further still, this means that the new R model will have to cost less than 40,000 Euros (circa £35,500) to comply with World Superbike rulings. The race teams may force another significant point of difference, too. While all three test mules spied so far have featured the single-sided swingarm we've come to expect on Ducati's flagship (ever since the massive 1098 climb-down in a post-999 world)– there's a chance the R will boast a twin-spar item.
Why? Race teams want it; the V4's power will be considerably increased over the Panigale which is harder to tame with a single-sided swingarm; and both the MotoGP bike and the original Desmosedici road bike also had conventional swingarms. The fact that we've seen two different test mules, each with different exhausts and shock positions, suggests this is very likely to happen.
Race teams want more torsional control and tuning flexibility, and the weight of a single-sided swingarm that's beefy enough to cope with 225+bhp could well give them some sleepless nights. In contrast, road bike buyers want the single-sided look that has come to define Ducati's flagship superbike. Add this to the move back towards a more substantial frame knitting the engine to the headstock, and the new bike looks set to mark a return to more conventional control.
Chicken or egg?
The base road bike and the S model are expected to be unveiled at the Milan show this Autumn, while the R model homologation special could be as much as a year later. Ducati's WSB racing boss Paolo Ciabatti confirmed: "We will race with the Panigale in 2017 and 2018," while Ducati CEO Claudio Domenicali confirmed that theV4 "would absolutely race in WSB"
Comments
comments