The Nickle Pickle CB550 Brat Bike
Many people ask me if I have a favorite build, and to be honest- They are All my Favorites and I cannot really separate one from all the creations that I have completed over the years, as they all make me smile when I see them, many of them I have not seen for 10-15 years and then it will pop up on the internet with a New owner and the bike still looks as cool as it did, the day it rolled out of my workshop.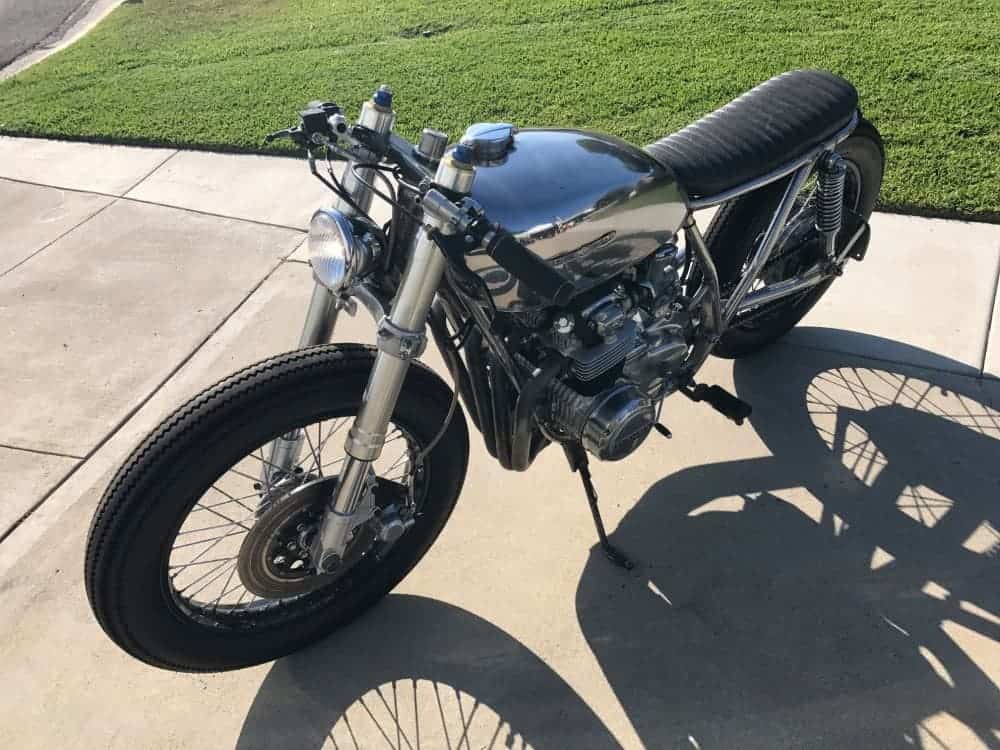 So, the bike you see here is a great looking tough machine, this is called the " Nickle Pickle " it sure is a head turning machine and many have been created in this style since it hit the tarmac a number of years ago.
The 550 is a nice compact bike right from the factory but it has so much more potential in other guises, and this one as you see here is now quite Muscular and sits very well upon the driveway.
This Baby inline Four is nothing to be scoffed at to be honest, as it handles like a dream, believe it or not, the trail and rake have been changed but the geometry is now so good, I can ride this around the block with no hands if I so chose to and it would track perfectly. I know that this build may not be your Cup of Tea, but not everyone drinks Tea and hope that you can find something cool on my wqebsite that may get you out of your chair and into the shed, garage or shop and start to turn a wrench on your own 2 wheeled steed.
A tough little Rice Burner and fires up first Kick every time, as the Motor is rebuilt and runs hard all day, carbs are completely rebuilt, synchronized and flow really smoothly. The throttle response is snappy indeed and a pure joy to actually ride- I was super impressed with the whole feel to this Brat style machine that has become quite popular globally now, so this was something that I often look back on with a huge smile.
The 4 into 1 Yoshi style exhaust system is of course one of mine and it has plenty of power, all through the curve, it barks very well in deed and has a nice over run crackle that I love so much, it fits tight into the Cylinder head and does not require a stabilizer bracket on the muffler, the lines are clean and the flow of my system follows the bikes chassis so well, it almost disappears.
I took all the paint off the stock tank, the tank was pretty clean and not dented, so I removed the paint with some good old Jasco stripper, I used the best part of a gallon to get 40 years of old paint and grime off the thing, then once that was done I washed it with lacquer thinner, then acetone and then set about hand sanding the tank with a sponge and some wet n dry. it took many hours, but as you can see, the tank does indeed look like it was Nickle plated.  The steel came up really good when I buffed it ands then it was clear coated over to keep that Old School look.
I sell so many of these 4 into 1 systems, over 1500 units so far and still going strongly all over the globe, I also offer Cerakote Ceramic Coating in Black, Silver, Burnt Bronze and a Titanium Color for everybody's tastes etc. But I also offer a Stainless Steel version, not cheap as materials have jumped up over the years but a good look too.
Yes, I did use the Firestone tires and they held up pretty good all around where we are and in town etc, But, I will tell you on California Freeways, they will track on any of the lines in the road, I guess the price that you have to pay for coolness. Personally, I prefer the Coker Diamond treaded tires but its all what ever you like and can budget for.
The "Open" frame look is a cool style and a minimalistic approach paid off I believe,, yes, if I had more time there would be a few other cool touches I would of added but money restraints can always crop up and I think this came out really well for the cash that was invested.
Yes, I do sell the Rims you see on this bike but I powder coated these black and they are 2 rear rims, spoked to rebuilt hubs, rims are 2.15X18 and 40 spoke and really look the part.
Comments
comments