I was reading my MCN today and at Last Norton are contemplating creating a 650 Scrambler and I think this will be a great opportunity for Back home and worldwide.
I'd love to hve a Norton Dual Sport, a very fun and ergonomic machine that would be something to see for sure, so keep your eyes peeled at the Motorcycle expos and Show circuits for this to pop up, I think it will be a real winner.
MCN report below:
Norton will reveal their intention to build a new family of 650cc parallel-twins at this weekend's Motorcycle Live, showing renderings of a new scrambler model to canvass input from potential owners.
The desire is to launch two scrambler-styled bikes, one more road focussed, the other a more serious dual-purpose option for riders who want to get their kicks in the dirt – and ride home afterwards.
"It started off life as half of the V4," says Norton head of design Simon Skinner. "We always knew we wanted to do a 650 parallel-twin to create a new range of bikes with a retro engine platform, and a high-performance platform, and a high-volume platform. And that would cover everything we want to do for the foreseeable future as a brand.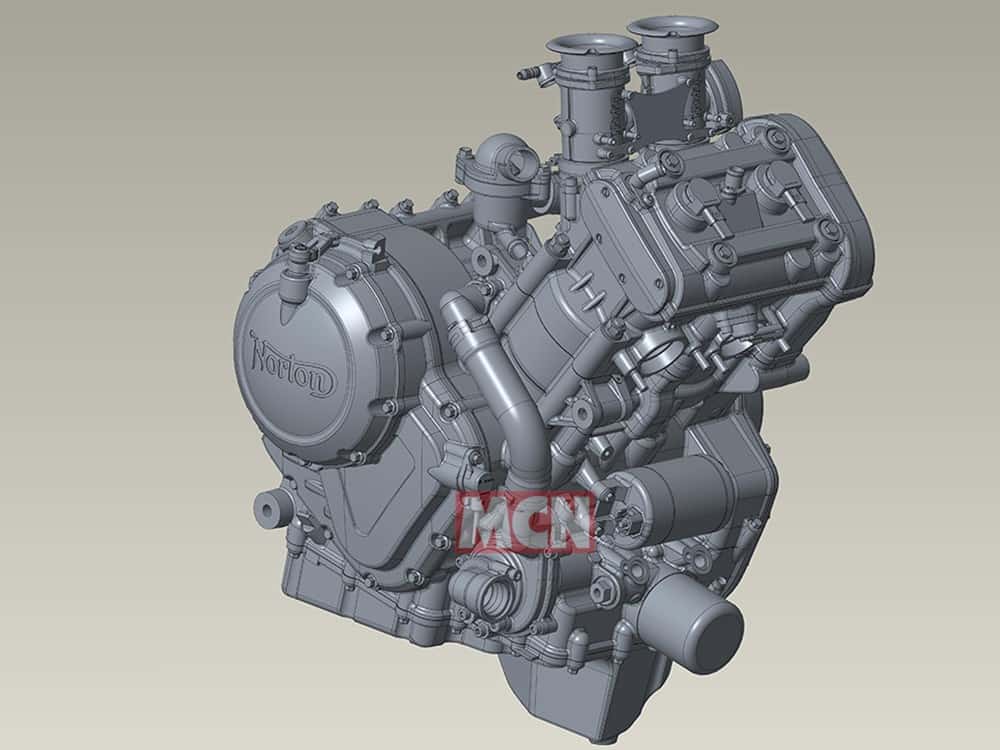 "The first bike that the 650 will appear in is a Scrambler type bike. The engine has been designed to have three power levels, with the top-end high-spec 175bhp supercharged version, then a normally aspirated high-performance version at 100bhp, the a low-powered one with just under 70bhp. It's the same core 650cc parallel-twin engine with a 270-degree crank, which give it nice drive characteristic, a nice sound and a nice vibe – and matches the firing order of the Commando engine.
"It's a very lightweight, modern parallel-twin, so it's not like a BMW or Kawasaki mid-capacity parallel-twin. This is literally half the V4, and by losing the rear bank of cylinders we can make the bike very short, very compact. It shares a lot of architecture with the V4 engine, the cylinderhead and valvetrain are all common. The engine is very versatile with what we can do with it, and has been designed to work across a range of applications and both steel and aluminium chassis.
"The first bike will be the Scrambler version, and that will use a steel trellis frame some aluminium bolt-on sections to give it more rigidity and stiffness. It still needs to be a lightweight bike, and a Norton, but I looked back at what Norton used to with P11s and other models back in the day, and the performance was always a step up from the competition, and that's our goal. It need to be a proper Scrambler, not something that just looks the part. It needs to be capable, and it should be a proper giggle. This is about rideability, not trying to make an adventure tourer.
"It's not going to be a cheap bike, but you've got to be able to ride it through mud, bash it about, drop it, and pick it up and carry on. It's got to be a pure and honest bike that can do what it looks like it's capable of doing.
"One of the stipulations for the design," says Garner, "is that if I'm out greenlining or in a gravel pit mucking about and I drop it, I want to be easily able to pick it back up on my own and carry on with my ride. It has to be durable. It'll all be honest, with items like the bash guard being able to do the job, rather than just being there for show. The bike should last a long time, because it'll be made with proper components."
"The chassis and geometry is all our own," says Skinner. "The more off-road focussed version will get a longer swingarm for more capability off-road. We're certainly intended to offer both versions from birth, a street scrambler version, then a more off-road capable desert racer. The rears will be 17in on both models, and the more road biased bike will get an 18 in front, while the more off-road bias one will get a 19in.
"The tricky part is getting the styling right. I've looked back through the old Norton models, and penned some designs with a lot of those traditional styling cues, and they just don't look right on this. The hard part is paying homage to the heritage, without being old-fashioned, or retro – it's got to be an authentic Norton, but it's got to be modern.
"This is an everyday Norton," says Garner. "It's honest and faithful, and the sort of bike I'd use as an all-year-round ride. You can imagine someone buying the V4, then having this as their everyday bike – with switchable ABS and traction control – and that's what it's for. In volume terms, we expect this to be our biggest seller, and we're targeting a £10k target for the base model and around £12k for the higher-spec version. And if this bike is a success, it'll enable us to build the 650 sportsbike – hopefully within a year of the scrambler going on sale."
Norton 650 supersport in development
Even more exciting for those who yearn for a V4 RR, but are unlikely to ever raise the funds needed to buy one, Norton also confirmed that the Scrambler model will be followed into production by a sportsbike version using the same 650 parallel-twin. But don't' start thinking this is a budget clone of a Ninja 650, this is a proper TT lightweight destroyer.
Weighing in at a projected 140kg, and developing over 100bhp in standard trim – with the possibility of a supercharged version even further in the future that could see the output rise to 175bhp – it will redefine how we think about parallel-twin 650 sportsbikes forever – and should they choose to campaign it in the TT Lightweight, it's nice to dream that we might see a Norton winner on the island at its debut.
But faired sportbike versions are still a long way off, so there's no point putting one on this year's Christmas list. Save it for 2018's letter to Santa, for a 2019 delivery.
Norton thinking big
A little while back Norton struck a deal with Zongshen to licence their new 650cc engine platform, which also enabled Zongshen to distribute the bikes in China. As part of the deal Zongshen would be producing new bikes using the Norton engine, but nothing would be branded Norton. Now Norton have set their international sights even further by singing a joint venture agreement with Motoroyale, the motorcycle arm of Indian business group Kinetic.
Unlike the deal with Zongshen, the new joint venture will build the current range of Nortons and any future models in at Kinetic's plant in Ahmednagar, India. These models will then be sold in India and all over Asia by 2018, although bikes destined for other markets will still be built in the UK. Kinetic have been producing motorcycles in India since 1972 and current import MV Agusta and SWM to the region.
SO- Lets wait and see what happens, I for one and very eager to sling my leg over this steed and see what it has to offer, be great to see the Noton again, I mean hey, they started in 1898 for Gods Sake.
The 1898 James Lansdowne Norton (known to all as 'Pa') founded Norton as a manufacturer of "fittings and parts for the two-wheel trade." By 1902 the first Norton motorcycles were being produced using French and Swiss engines. … By the mid 1930sNorton was producing over 4,000 road bikes annually.
Comments
comments