One of my Old Custom Cafe Racers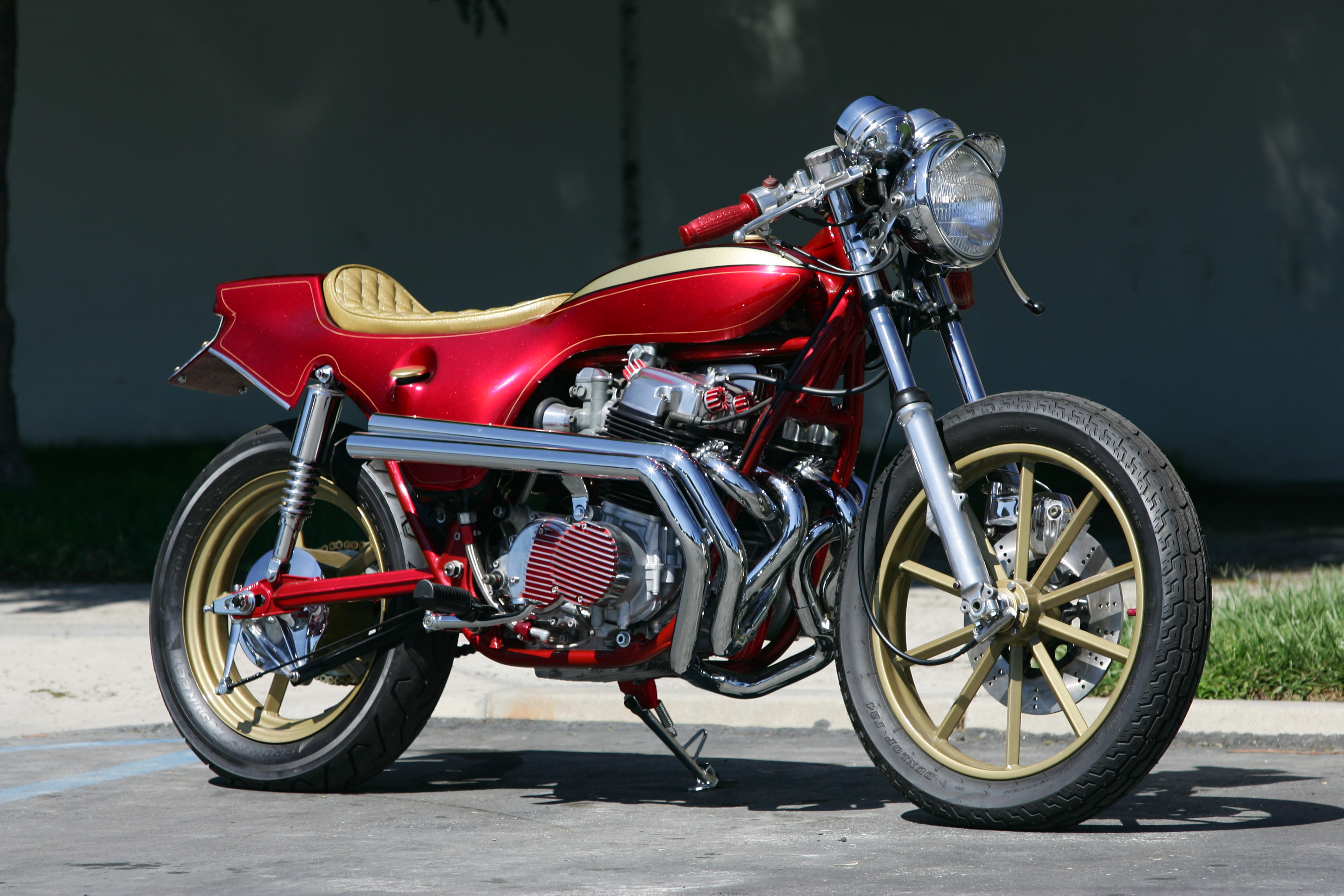 Sometimes I like to put a few pictures of some bikes I have built and this one I created in 2006 and just used a bunch of old parts that literally were laying around in the corners of the garage, I thought that I could build a little Custom Cafe Racer for fun.
So, I had all sorts of years of parts and the first thing I did was powder coat the frame rich Candy Apple Red, this was a 3 stage set up and I thought the color looked deeper than a new watering well.
I drilled the front rotor in my garage , just using my drill press, and then by hand, polished the front forks as well as the brake caliper.
So, with a hankering of just going with a look from back in the 1970's, I thought I would just keep going and see where it took me.
I had an original Tracy body and it was an early model, I actually had Tracy call me from Guatemala, to say he saw the bike in a magazine and that was one of his earliest bodies, so was great to hear that.
I did a ton of fun stuff to that bike, the motor was rebuilt and I added all the cool custom stuff that I knew was around back then.
The Diamond quilting was original 1970's flake that I purchased in an old shop in Santa Ana.
My very good friend Rudy Martinez laid the stitches.
I had some old heavy square tubed Invader rims from a chopper project and new I would make use of these some day and chose to powder coat them a Gold color.
These are all period pieces and I knew if I built a Cafe and a Custom, I could enter them in the Grand National Roadster show.
I hand polished the brake caliper, no easy task I assure you, as well as the control switches too.
So, with just Harbor freight tools and a lot of time,I went ahead and created this Candy Red, California Custom Cafe Racer.
I made the relocation bracket and the gauge faces to clean the top end up a wee bit more.
This was just a fun project and was not quite sure where I was going, but wanted to try and incorporate my Hot Rod interest too, as i love all the creativity with Hot Rods, and of course Custom cars, so this was my little platform where I could at least have a go and see what happens at the end of it.
I really had fun with this bike but wanted to at least push the proverbial envelope on the motor area, so with a pencil and paper I kinda drew out how I wanted the exhaust as I wanted something that looked like Spaghetti, and it had to be unusual, Custom and eventually chromed.
And Yes, it turned out pretty darn crazy, plus once I had it apart and chromed, it took me some time to try and put the dam thing back together again as all the bends looked the same.
The other parts I finished and fitted were the cool Original Finned clutch cover, the points cover and the stator cover, I also used an Early BSA rear tail light to give it some Vintage flavor, as well as some early 1974 Metalflake GT handlebar grips, of which I think worked very well with the style I was seeking.
I loved the Shotgun exhausts and the bike got a  lot of notice at the GNRS, I actually took 2nd place with it, I couldn't get first as my Black cafe Racer I built at the same time took that trophy, so had a great weekend and the FIRST Cafe Racer ever to be at the Roadster show too.
Comments
comments