Santa Margarita Ranch Hot Rods at RPM NATIONALS Part 3
Here we are with the last lot of photos that I took whilst at the RPM Nationals on the weekend, with my Girlfriend Jennifer.
Fantastic ambiance and just the commeraderie of the people that attended this event was something I wont forget in a hurry, what I liked about it was that there was no attitude, no Look at me, just fun people having a fun time.
Sure hope that this becomes an annual event as I really did like this and wanted to take my own Model A, but its a little ways off of running correctly, but at least we got to ride our Motorcycles here and check out what was going on.
Located in the foothills of the Santa Lucia Mountains, it is one of the most rural communities in San Luis Obispo Counties, this makes for such a grand event as the RPM NATIONALS and with an 1/8th mile of drag strip at the ready as its actually a runway, well, just makes sense to have this event really eh?
I wanted to try and take some cool shots, I'm not one of those Professional chaps, I just hit the button on the camera and hope I get the shot I was after.
I loved the Belly Tanks as they are so Post World War 2 Hot Rodding, and I had a P-38 Drop tank myself with a V8-60 Motor, so I was stoked to see 2 of these racing here.
Amazing place and the weather was already warm and people were smiling as we could see all sorts of great Hot Rods enter onto the Tarmac to Battle it out between each other.
Just breath taking countryside for as far as the eye can see, little has changed since the late 1940's, so it felt like back in the day for me.
Oh yeah, there was of course some Classic steeds there, sat right by the drag strip and loved seeing these, all part of that era, when the drags were on Bikes would turn up to, the need for speed is for all machines back then.
Old Crow Speed Shop had their Flat Head powered 5 window Coupe attend and boy did that sound great, it was quick off the line, this Coupe sits so well, a very Period piece indeed.
Lighting the Tires up as he leaves the line, Flathead V8  Motors sound unique as they Braaap on through the gears and I was so glad I was there to be able to share the moment, I took a few photos and this will be a long blog, but mostly all photos.
Our friend from the Pasadena area Diane Branch  takes her 1929 Roadster out on the strip and does really well, I am all for Girl power and she put the steel to the floor and had a blast.
Old Crow's 32 Coupe lines up with Steve Caballero's 36 Three window, both very cool Period rides and both gave it all they had on the 1/8th mile, it was awesome to watch these go.
Miles of smiles is what could be seen all day, a great event at the RPM Nationals, Jennifer and I really loved the whole set up and you could not of asked for a better day to be honest.
Come in number 59, your times up, this 5 window Model A gets set as he approaches the starting line.
Grinning from ear to ear, that just shows how this event was received, a really fun event, even with no front brakes.
The T & the A line up and await the Flag start, the old school way of racing and one I prefer as I would be terrible on a Tree.
He we are with some more Classic Tin, this time a 1934 5 Window, against a Model T Roadster, Dont let Mr Bunny ears fool you, this was fast all day long.
I loved this Roadster, the Flatty just sounded so torquey, sits well and is really a time capsul of coolness from back in the day.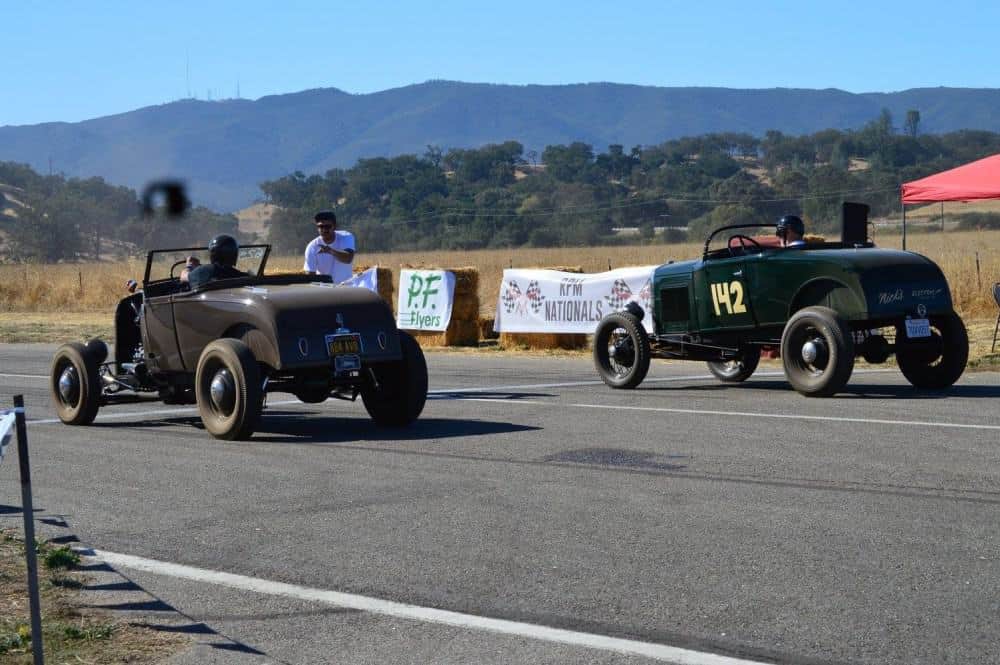 These 2 Roadsters were Bloody awesome, check out the windshield on 142 now thats unique and two great Vintage machines have a go down the Tarmac.
Above, Jay Dean of Nostalgia Ranch Calif- Gets all set in his Hop Up T Modified, Another mate of ours having fun and builds some serious machines too.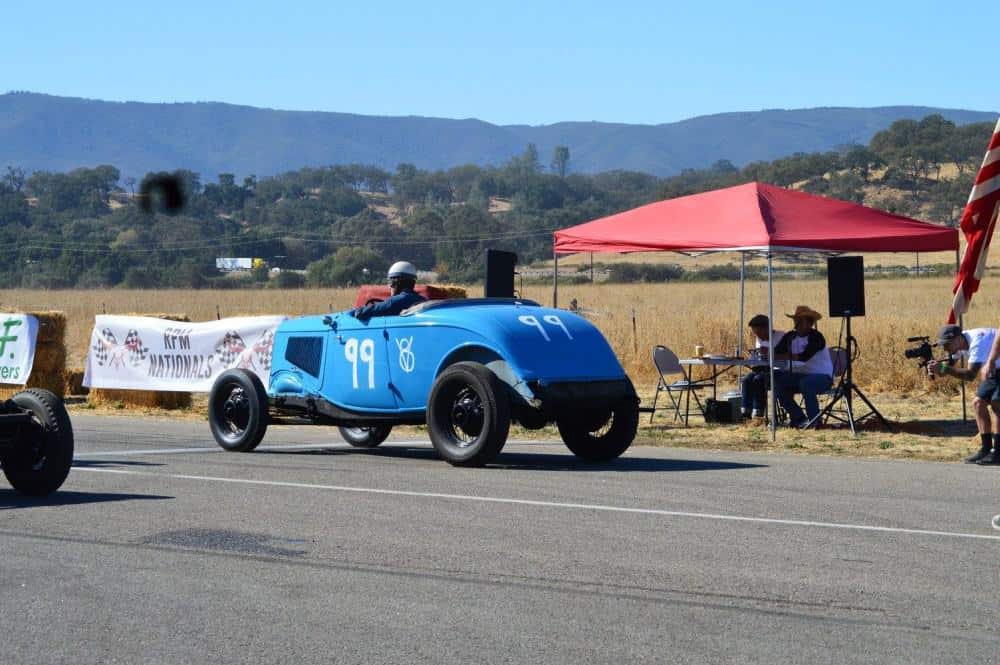 This 1934 Roadster sits high and dry with No windshield and ready to lay some rubber down as he sits and awaits the Flag man for the off.
Mr Chin in this Period T- Roadster, this was built back in the 1950's and ran strong all day long without a pop or backfire, this was a dialed in Hot Rod and loved seeing this run.
Friendly rivalry is the best and what a day, just look at the scenery and it is just a timeless feeling sat out there in the countryside.
I took this to show the area, this is the return lane from the Drag strip, perfect scenery.
Great to see these two Model A's. one stock and the Other Chopped, both very cool and rare to see these days.
I would love any of these rides, the 36 was great and ran with old Hollywood flippers too, a hard item to locate these days.
Diane Branch's 29 Roadster is pulling out to enter the track against a 5 Window Coupe of the same year.
Getting ready to run the Gaunlet, Diane Branch in her trusty 1929 Model A Roadster, a great Hot Rod and so great to see Girls racing and there were a few too.
Old Crow up against the 36 Coupe and 2 very rare cars to locate anywhere in the world these days, so it made it even more fun to be able to watch these compete with each other.
Bunny Ears gets set, this was a fast machine and ran really consistently too.
All day long these Hot Rods ran and they turned many heads, these were quickly getting through the staging lanes, no hanging about like you get at other shows, so this was super cool for the spectators as there was always some action going on for them.
Another cool 28-29 Roadster, fully fendered of the El Vinos car Club, getting sorted out to run with a 34 Ford.
At the line and ready to hit the loud pedal as the 34 Sedan sits patiently too.
OLD CROW SPEED SHOP got a Ton of Runs in, never tire of looking at this period Piece, very cool and envious in a good way, have had a soft spot on that model, I had a Three window but the 5 Window Coupe was always more appealing to me but, we all have our favorites right?
I loved this 5 window 1930 Model A, complete with Cowl lights and ran well, he must of had a ball driving this Coupe on the Track.
The PF Flyers Roadster put down some quick times and this is another great ride, well they all are in their own way, I loved every Hot Rod out here and was so cool to see people wearing Old Coveralls and Helmets too, just to get the theme of the event bang on.
Diane Branch of the Immortal car club is from Pasadena and she loves to race, Fabian of Vintage Hammer Garage is a great friend of mine too and helped build this ride, super people.
Winner Winner Chicken Dinner, so stoked for Diane to grab the win against the very fast and consistent Roadster she ran against here on the 1/8th mile track.
Jenn and I taking it all in and hopefully Next year can run my Model A, Jennifer is Itching to drive it too, will be so stoked seeing her behind the wheel of our Roadster.
Mr Chin does it again, this originally built Hot Rod just Banged out run after Run and the 24 stud Motor sounded so sweet.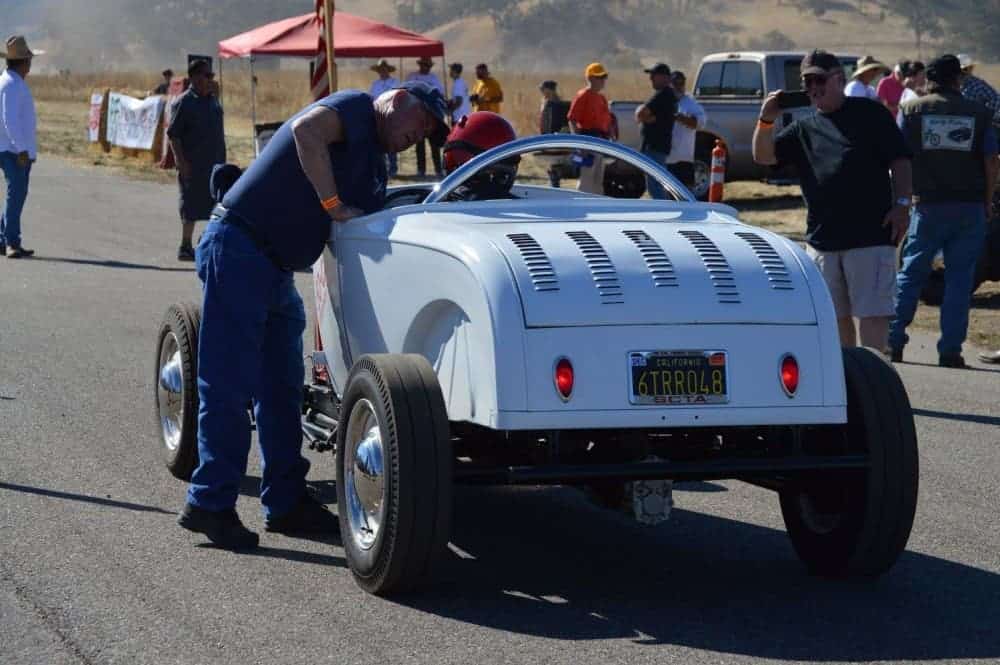 How freaking cool is it to see a So-Cal Speed Shop Roadster Hitting the Track and No spring Chicken at the wheel.
Love this, this is Hot Rodding of all years and this fella was here when it all began and to watch him go down the Tarmac was really something else.
Such a sweet A-Bone too, Dago front end and Cleaner than a cats Arse too.
Just love all the Nostalgia that was at this show, sure hope that this will continue to be an annual event as I really think that it was received very well indeed.
Five window Model A is cruising in the countryside on the return road from the end of the Drag Strip, just looks so cool with this Rustic contrast.
More Rustic Scenery that i thought I would share that were parked out in the sticks, what a cool line up too.
This is another really cool Coupes that was parked up, loved the whole set up, those E&J headlights aint cheap no more.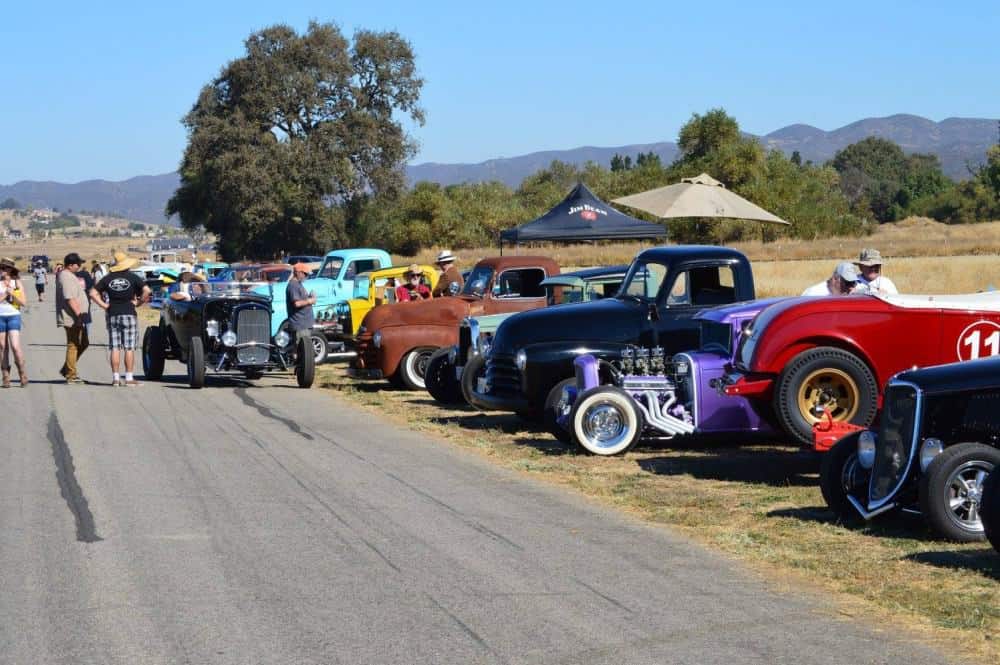 The other end of the old Runway was the pits as well as the vendors and people parked to watch the races in their Nostalgic machines.
here is the other side of the Runway, with 4 Roadsters in a Row, awaiting their turn to race as others return from the track in the distance.
Such a well built Roadster and she sounded just right with straight through pipes.
Above is the Best shot I took, such great lines, and the background is so timeless, just blow the pic up and have a long hard stare, its a wicked Model A Roadster for sure.
This time a cool Old School 30/31 Roadster sits on the side of the track, just waiting its turn to stretch its 4 Banger legs out, these were remarkably fast, some quicker than the V8's too!
The quincicential Hot Rod right there, Reminds me of my buddy Steve Dennish's Roadster over our way, sits right and well Is right, wicked Hot Rod full stop!
28/29 Parked up, on Deuce Rails, Tri power and 32 grill shell looks epic, loved the shot gun exhaust position.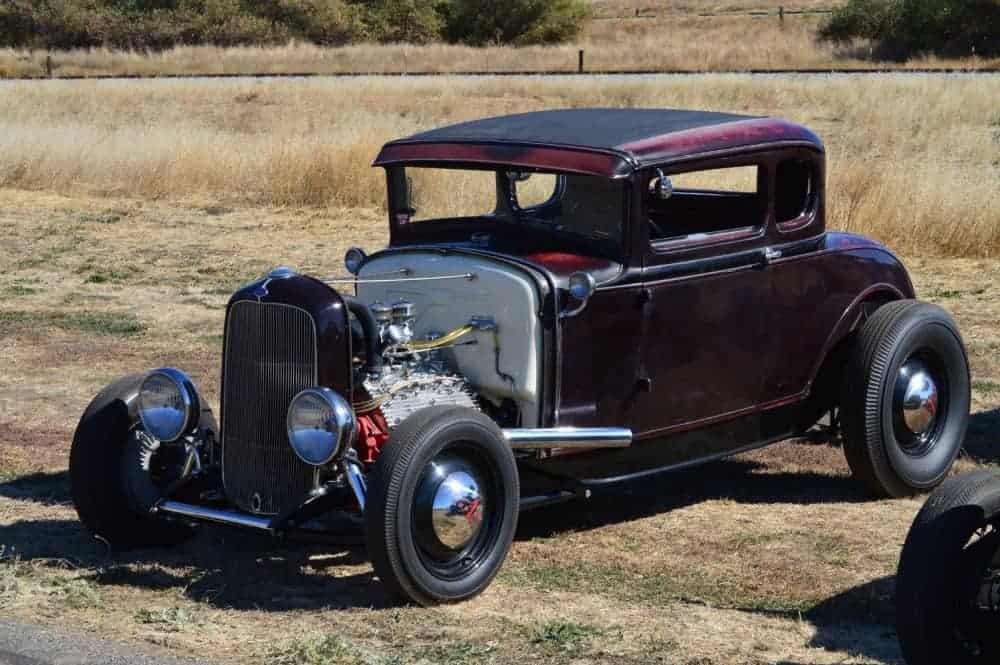 This 5 Window Coupe sits so well, 36 Torque tube headers, check out the Front brakes too.
Looks like an Old coupe with the roof cut off and I love it, no rules in Hot Rodding and look how the swage lines still line up, this is a tight body and check out the v-Grooved headlight bar with Commercial BLC's, Wickedly cool.
There is something really appealing the way this 5 Window A-Bone is sat almost Majestically on the side of the race track, maybe it was enjoying the Vitamin D as the Sun shined on.
Jenn and I loved this as the kids playing in Mom or dads 4 Banger Roadster, thats what it is all about right there, the next generation of Hot Rodders who hopefully will keep this flame alight.
This 1940 Panel was an awesome speed shop Parts Getter, hard to find anywhere these days and loved the whole ride, nice one my friend.
Taking in the Pits as these 2 cruise around in this Roadster, a very Period looking ride that I am sure could tell a few stories. yeah the youngster is on his cell phone but most probably saying "Mom!- This is so cool, I love this style of event, sell my hatch back I want a HOT ROD"!
What is NOT to like on this fully fendered Roadster, even the stance is bang on the money.
How about this, Young and Old meet in the middle, Brilliant stuff.
Here is a nice Black 5 window, complete with Rumble seat, sat in the Pits, is that a Blower I see perched on that Flathead.?
Sweet lines on the T-Roadster from the Rear to the front- it is a really well thought out Hot Rod and with E&J headlights, 32 Grille shell, this really looks like a time capsule, nice job.
Edelbrock 24 stud aluminum heads, Dropped headlight bar, Deuce rails, Juice brakes on Vintage style Firestones, made this a real head turner, me included.
How sweet is this 4 Banger Model A Coupe, a timeless Hot Rod that looks great anywhere but so glad I got to see so many in one place.
I watched this 32 cruise past me, the rumble of the flathead, the 50's stance, and as it approached Steve Cabellero's 36 Coupe I just stood there gobsmacked, in total awe!
Raked windshield, cool flathead motor with Lakester Headers on Black steelies with Bias ply Firestones, 39 tear drop tail lights and 40 ford steering wheel was bang on the money for me, loved it.
H&H were showing their very sweet Turtle Deck Model T Roadster off in fine fashion and a very period looking machine it was too, loved the Kelseys on front and steelies out back.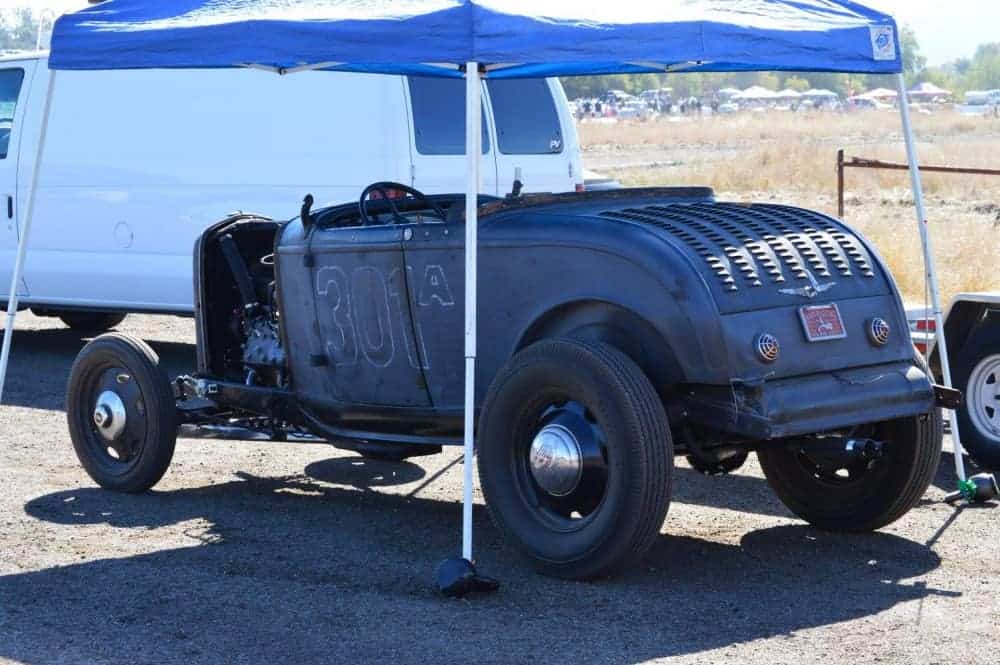 Check out this 32, Milk Truck steelies, No windshield and flatty powered, this Hot Rod was built very well indeed.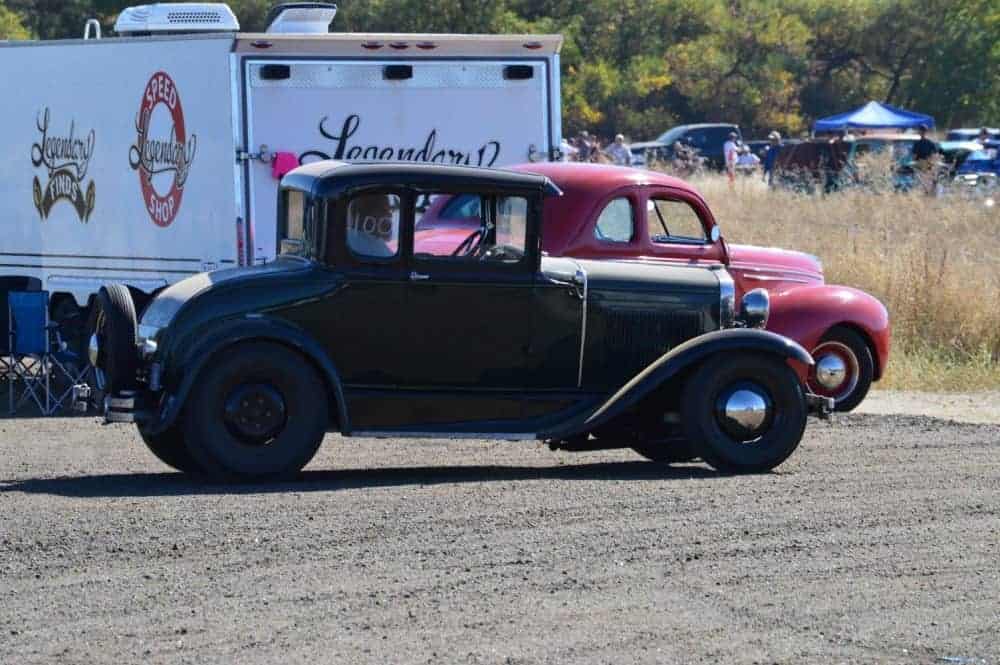 This Model T looked superb in its mostly stock guise , loves the 40 Ford steelies and wide Blackwalls, the Spare wheel kit and stock bumpers make this a neat Resto Ride.
Talk about stepping back in time, even Doctor Who would have trouble locating something as cool as this, look at the patina, even has a Culver City Q/C in the rear end.
I took a photo of the H&H Special from the front, a real Jalopy and I bet its a real Blast to drive?
OOH, that Coupe again, standing with my gob open isn't a good thing but you just could not help it, Loved everything about this fender-less Thirty Four Ford, how could you not?
I saw this sat in the corner of the Pit area and had to walk over and take a snap, as the Old Tree behind gave this a Back in the day feel to it, the scenery here is just so nice.
This guys Coupe was Killer, he didn't mind me chirping in asking where he got this and that, nice to chat too and boy just look at this, complete with Schroeder steering too.
One of the best Hot Rods in the 4 Banger class there, I loved them all but this was artwork, look how clean this Model A is, it ran well and steamed up the track with no problems.
A lot of time and effort went into the build, this 1931 Model A Roadster is great from any angle, from the 32 grill up front, to the Quick change rear end, loved the Banjo steering wheel too.
How low can you go, this 5 window ran very well on the Saturday, very well built and sits nice and stout, nice job there matey!
This Geezer had a real blast All day, the Four Cylinder Powered Model T just ran and ran and a well put together Hot Rod too, it was fun watching you race my friend, well done.
I wanted to take this in Black & White as with the old 1940's Westcraft travel trailer behind, it just looked like it was 1949 and knew it would make a great Nostalgic Photograph.
This is how I have my Splash Aprons on my Hot Rod, looks pretty cool, and this is unusual to see a chopped model A like this, nice job and glad to see this at the RPM Nationals.
Diane and Tom Branch are a Hot Rodding Family, I have known them for many years and they continue to have fun and build cool Hot Rods, love these people and this Roadster ran all day, of which she fought off tough opposition on the drag strip, great Job Diane, it was a pleasure to watch you and we rooted for you too!
One of the Oldest Hot Rod Clubs in existence, The Bean Bandits, had their Rail at the event, I didn't see it run but there was so much going on it would be easy to miss.
Blown Flatty Looked great, wasn't liking the fan and shroud but guess it was the only way to keep it cool, but a well built Hot Rod none the less and unchopped too.
Yes, that will make you stop and look, how sweet is this Roadster, a Gleaming example of pure love and attention to detail, I wonder how many hours were spent wrenching on this ride?
Love seeing when Girls have their Hot Rods, we need more for sure and it was so nice to see this as the Girl was just Blapping about in the Pits, thats one tough A-Bone, great job.
Where did this Gem of a Roadster come from? Looks like it was a barn find, other than a painted firewall and New Chopped Windshield, this Hot Rod was amazing to me.
As straight as the Proverbial Arrow, this 1930  A-Bone sat so right and rode around all day, in the Pits and on the track.
This 29 has had some Major work on its 4 banger mill and didnt hang about either, a lot of time and dedication went into this fantastic machine, Kudos my friend.
Coupes and Roadster a plenty, it was great to be able to take this all in and have a superb setting to watch these machines against each other on the Drag Strip.
How is this for a super shot? I loved all the countryside almost engulfing these Vintage Hot Rods, a taste of Yester Year and something that is warm to look at.
This is a Local Hot Rod to us and what a peach of a ride, this is set back in the Rustic Area of Santa margarita Ranch, the Roadster belongs to Joe Leroux of Hillco Fastener Company.
I am looking forward to taking a Photo of My Roadster in this setting next year, a fantastic part of California Gold and hopefully the weather will be as nice as this weekend was.
Need parts anyone? There was a lot of cool second hand parts and speed equipment for your Hot Rod here, I wanted to buy a couple of things but held off, kicking my self now.
This was a great Cruiser, couldnt fit it onto the back of my Triumph Motorcycle though.
Thats some nice sign writing right there.
Billy of the Shifters had a couple of his buddies over from his Home country, they too are Hot Rodders and they loved this unique event as much as I did.
This sweet 5 window had a few teething problems with the front end, that Hot Rod is so nice too, am sure he got it sorted out in the end, but did see it there all day though.
A tasty Coupe that screams back to the day of this type of event, pull the fenders off and go racing.
Chopped 50 Coupe was Sat so right, nice lines and Loved the fender skirts, lakes pipes and shaved appearance, nice job mate.
Plenty of things going on by the staging lanes, you can see the Bean Bandits getting a few things organised etc.
How nice is this to watch, cruising the strip in hos Roadster and taking it all in, you can see the Oak Tree's line some of this great Countryside.
There is the finish line and what a feeling that must be as you cross that section.
Now that was a close finish and a superb Drag race, I am sure they had a few happy words after to egg each other on.
I took a few shots of this Model A, I really liked the windshield, reminded me of the Elvis Roadster and the little 4 banger was quite Happy gunning it at the line and held strong all the way.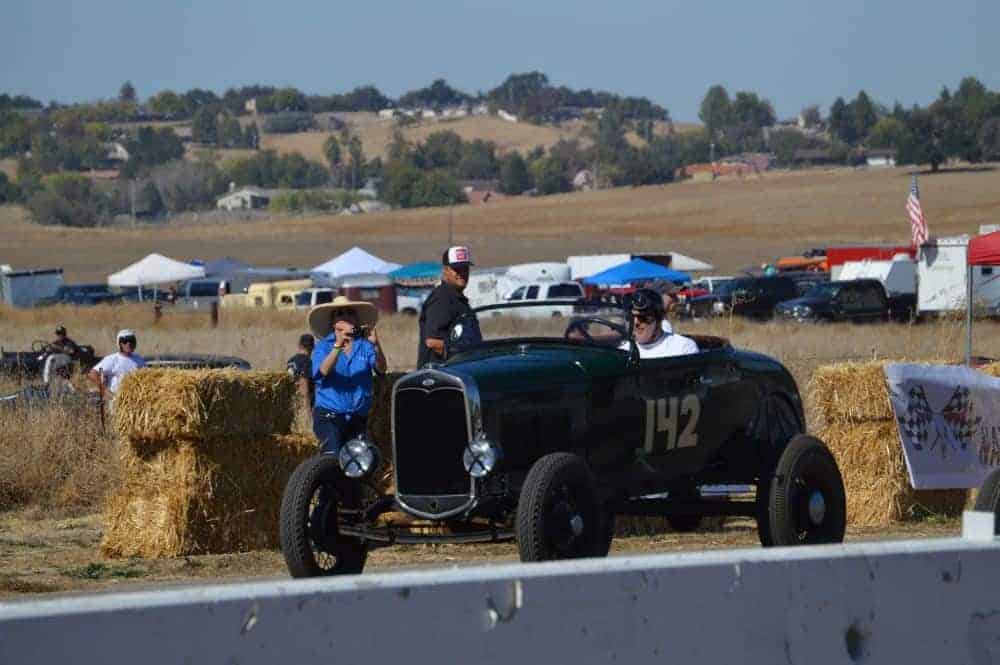 The paint work was so clean, the Model A sat so right and enjoyed watching this Bloke race all day long.
Two Model A's having a go, this was a close race and always fantastic to watch, unless you are here, it is hard to explain but I was rotting for them both.
Just look at the stance of this Model A, this was at Mid track so he is in 2nd gear and on his way.
Hope to race this chap next year at the RPM NATIONALS.
Coupe and Roadster go at it on the 1/8th, loved hearing the Flathead V8 Motors chirp along.
Chilling at the strip, people get their machines ready for the big off.
This was stunning, how cool would this be to drive home?
This Coupe ran all day long with out a hic cup and sure looks like a period ride, I am so surprised how fast some of these 4 Cylinder machines were.
At the start line and awaiting the flag to drop so they can go toe to toe up the 1/8 th mile.
Out of state Turtle Deck was sure consistent and fun as he gets ready to launch once more.
It was so much fun watching all these machines and when you see something pretty much stock, it raises your eyebrows for a second but, they ran them out and Hard too, great stuff.
As these 2 set off into the sunset, I wandered around the place just taking this all in, a real eye opener for me as this is something I have always wanted to see in California.
Check out the Headers on this 4 banger, thats Passion right there, a seriously cool Ride and lush Deep rolled seats too.
Wow is all I can say, I wasnt sure if this Bloke was going to race his Roadster as it was so nice, but he proved me wrong and I am so stoked that he did, look at this awesome ride.
Staging lanes was a buzz of activity and the commeraderie was unsurpassed.
Another Period machine takes to the drag strip and this is right out of one of Don Montgomery's books, the essence of Hot Rodding right there on the tarmac.
I love belly Tanks, I had one like this and with a V8-60 like this Drop tank, so cool to see it race another one and against other rides, true Hot Rodding inspired after WW2.
Great photo of two Iconic Hot Rods and I am glad that we were able to watch these 2 race each other.
Checking to see if his competitor is still hard on the pedal as this 29 Roadster Pick Up cruises home.
Look at this Mobil oil Racer, loved it, complete with Dirt track Firestone's and Tube Axle, as well as a Bell Auto parts Fuel pump.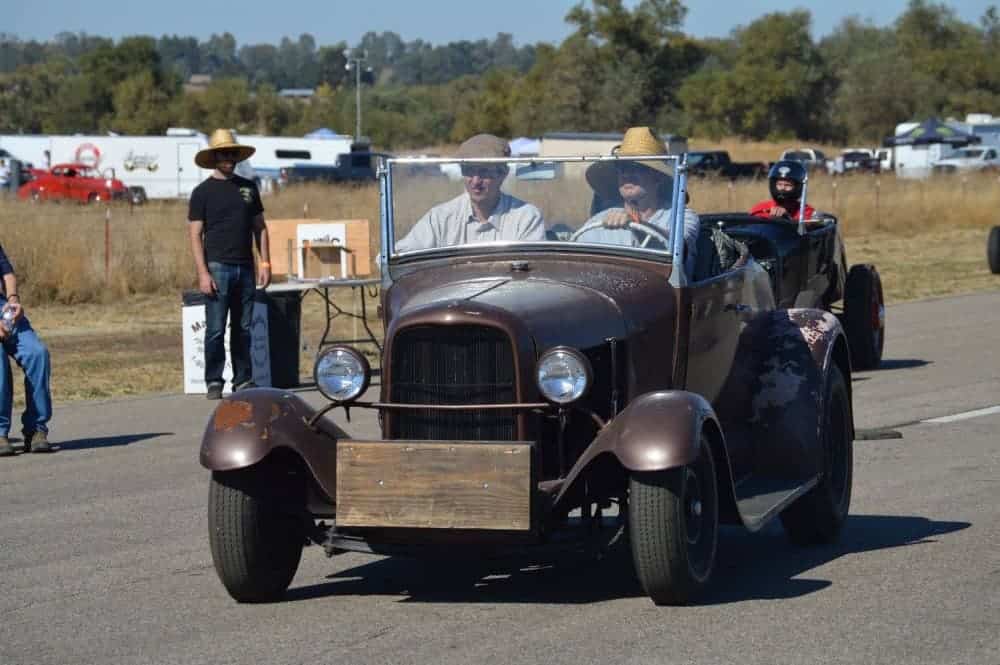 Loved seeing this 1929 Model A Push Truck, just as they were back in the day,and running a 32 grill shell and Radiator, really makes it a sweet set up.
Look how clean this Roadster is, Kelseys, Drilled I Beam, Juice Brakes, 32 grill,Pete and Jake shocks, Firestone tires, king Bee headlights and Removed Windshield, Lakester style header,love it.
I can not get enough of this Roadster at all and will post a few more below that I took as this 4 Banger machine trotted by me, a super cool build that cries out Hot Rod at its finest.
I loved every part about the Roadster, I would like a Tonneau Cover for mine one of these days.
Culver City Quick Change rear end would not be cheap, but that is indeed one fine Model A Roadster.
Two Model A's both with 4 bangers and both with Quick Change rear ends head off down the strip to the start line, these were 2 very Nostalgic looking rides that must of taken ages to piece together, I am sure glad I got to see these two run.
On his way to the Win, a High boy of awesome Proportion.
Shifters had their Lincoln Powered Roadster there and that Mill sounded bloody great, good job. Track Nose, nerf bar, Steelies, Hand made hood with scoop, timeless.
And off he goes, as you watch the 39 tail lights disappear down the track. Loved the rear Nerf bar too.
Mr Chin, awaiting another call, his Roadster ran very strong, right up to the semi Finals and only just lost out on that one.
I am sure by next year there will be many more Hot Rods as cool as this entering, hope it doesnt get too big as that can take a little away from this unique atmosphere.
Goggles on and set for Business, a reliable Hot Rod and a piece of Hot Rod History too.
One of our Mates Jay Dean of Nostalgia Ranch racing his Quick Change T Roadster and what a neat machine too.
Lighting the rears up as Jay makes for the off and heads on down the 1/8th mile, he had a real blast today and really enjoyed it.
It is so nice to see the Big Coupes come out and complete, I also love the friendliness that these people have even when racing, its fun and should be, no ego's just smiles.
Staging lanes were busy getting their machines tweaked whilst one guy is expecting rain!
Hang onto your hat, this chap in his converted Coupe gets all set, I have to laugh at the guy behind dressed as a bunny.
The air was filled with fumes of Hot Rodding, nothing like it.
The Big guns are out and both have the Pedal to the floor, how cool is it to see a sight like this these days?
Seeing this 3 window was simply breathtaking, a rare car, this has old Hollywood Flippers on and skirted, bet the restorer's are gasping right now. LOL.
Getting towards the end of the day as the last of the races are almost completed.
Too big a motor for this meet but down the 1/4 this Model A would almost fly I should think.
Joe from Hillco Fasteners in his Road Devil's Roadster had a Blast here and is from Just down the road from where we live.
Getting ready for the last few races, it was fast and furious pace and thats what made this event so exciting.
Quick get us to the line.!!!!!
This Young lady whooped some Butt today, good on her, looking forward to watch my girl race ours next time.
Model A has his last effort at having a go on the Drag Strip, this looks like a Barn find for sure.
These 2 give it their all as they let the clutches go at the RPM NATIONALS.
Look at the concentration on Diane Branches face as she gives it her all in the race.
Didnt quite make it this time but she sure had fun trying and a gallant effort, Great Job Diane.
Here is a great race and a Blown Flatty edges out to the lead.
Well he gave it all and won but a close second was the other Roadster with no Blower, so cool to hear them engines wind up, great race guys.
So there you go, a fantastic weekend, Loved it all, the weather, the event, the people, the Vendors, the RPM team, Hop Up magazine, PF Flyers, loved everything, and sure hope this will continue to carry on next year. I will of course keep you informed as to ANY cool event anyway but I would love to take my Roadster there next year. Until then, I hope you enjoyed my Blog over the last few days.  Plenty to look and hear on there eh?
Comments
comments