Stromberg 97 Hot Rod Desk Lamp 110 Volt SOLD
A Perfect gift for the Petrol Head in your family, Simply Plug in and enjoy.
I like to recycle stuff that I don't use or have things just laying about in the garage etc and this time I thought that I would make another Lamp, this time using some Hot Rod stuff. As you can see in the video, its pretty cool and would make a great gift for the petrol head in your family.
This was just a pile off old bits and bobs I had in the garage at home ad I really am happy how this turned out and this would look pretty darn cool on someones desk, table or shelf at a Speed Shop, Gallery or just at home, if you are a Hot Rodder, then you will appreciate this lamp that I have created. Unique is an understatement and not often you will find anything like this around.
This weighs in about 6 pounds and has a 10 inch Round solid polished Aluminum Base, that sits the lamp proudly on any flat surface that you want to place this Lamp on. it is something that I love to do and I am certain others will like this in the fraternity of gas heads around the globe.
As you can see, this has an old Frogmouth air intake scoop as the Lamp shade, with an Edison style Vintage bulb for that warm glow when you turn this on at the switch. This screams Hot Rod and I hope that it makes you smile when you see this as much as I did when I completed it here in my garage.
The on/off switch is located on the rear of the Stromberg float bowl and is a great talking point if you had this in your abode, you wont see any at your buddies house like this I am sure?
On the base of the polished Alloy Round base, is an original 1957 Trophy Top Roadster, complete with Hilborn injection, open headers and cool tuck n roll upholstery, the dirt tracker tires are a neat addition too. What a cool Roadster with tons of appeal, you can almost smell the gas just looking at it.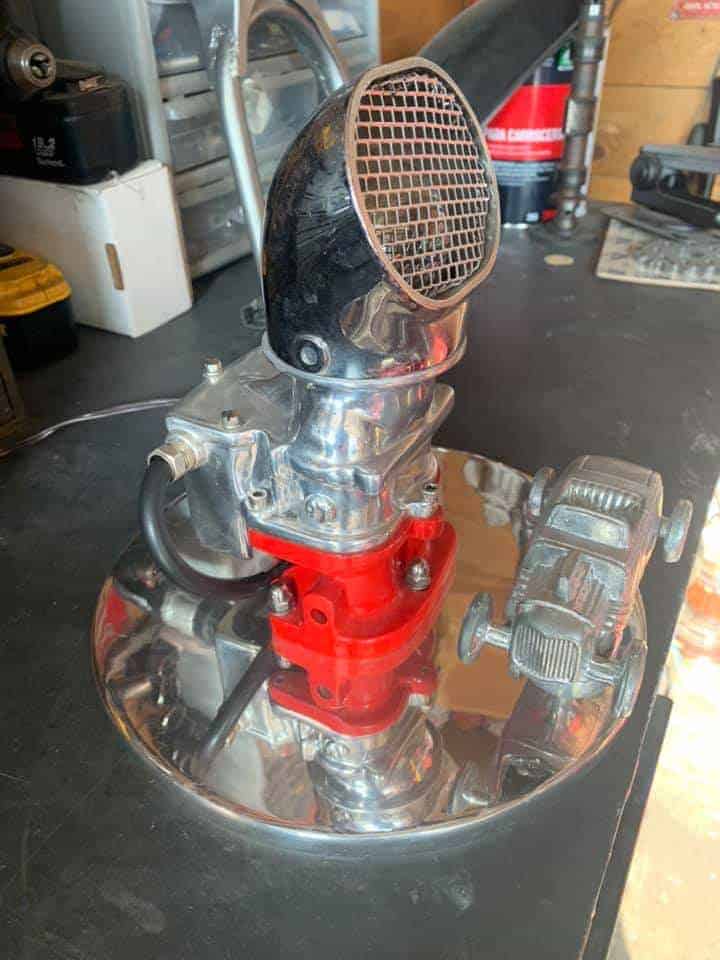 I have hidden the wiring in fuel pipe, just to give it a little more Nostalgia and it sits about 8-10 inches high and will be the center point of any place that you put this Lamp. The Frog Mouth Air scoop used to be on my Model A Roadster, so a real part thats has been re-purposed into something else.
A 97 Stromberg alloy Mold and sat on a red Moon Base that is secured with stainless Acorn nuts etc, this is a great mechanical Lamp that I am very proud of putting together.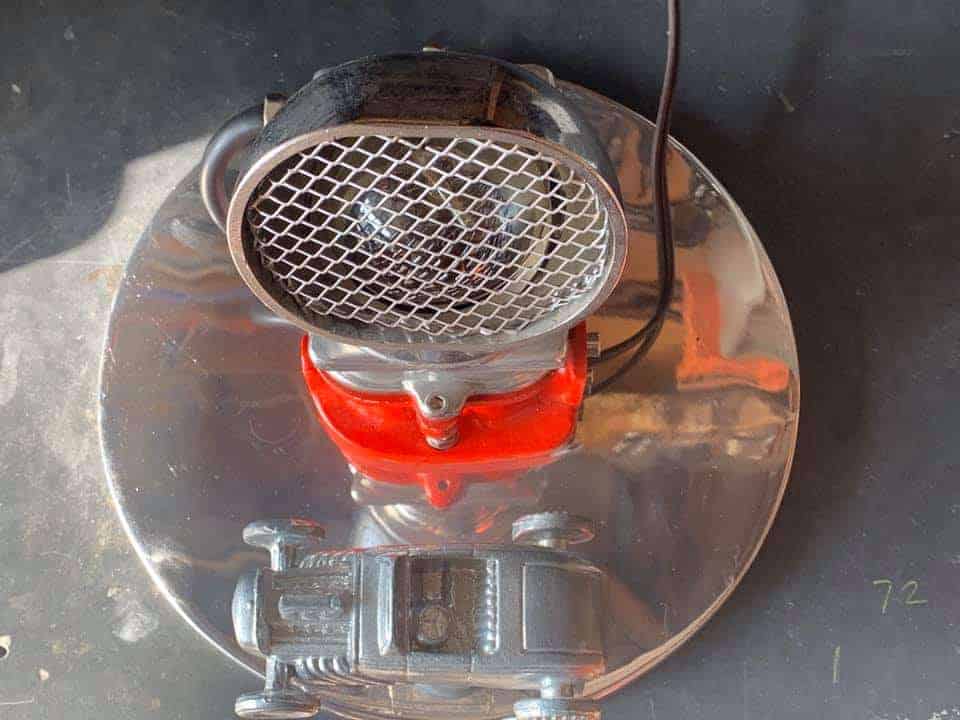 This is wired as a 110V so will simply plug into any outlet and hit the toggle switch and she will glow like a warm fire, how can you not like it to be honest.
Another aspect of this Hot Rod Lamp is you wont see anything like this in shops etc, as I have made it out of parts, its now recycled and hope to bring someone many hours of enjoyment and conversations too. This is a Unique hand made Mechanical Lamp that I am proud to offer on my website.
A fun gift for Birthday or Christmas etc that will get plenty of use I am sure of, I will ship World wide too and I thank you all for taking some of your time out of today to view this Desk Lamp that I have put together.
Thank you for looking and pass this on if you have some friends that may like this Stromberg Lamp for their place, if they are a collector of cool Hot rod memorabilia, this would look great in their place.
Comments
comments
| | |
| --- | --- |
| Weight | 8 lbs |
| Dimensions | 10 x 10 x 10 in |
---