TRIUMPH THRUXTON EXHAUST LAMP
Don't get too Exhausted looking at this super cool mechanical Triumph Thruxton Lamp.
OK, Here we are with another of my Lamp designs, this time, I removed a Brand New megaphone from a 2014 Triumph Thruxton, and fitted some Monarchs, and seeing as these are too quiet and heavy. Well, I thought I would make something out of it and put together this great Lamp.
I used an old Honda front Brake Rotor as the base, then wired the exhaust through the body, incorporating the switch into the exhaust hanger, then I attached an Original 1957 mid century Wagon Stitched Two Three Tiered lampshade for that Nostalgic look.
I also used copper piping to hide the electrical cord and give it that Steampunk styling that's popular and to be honest, I am super stoked to how this has come out.
It is 32 inches high and 19 inches wide at the Lampshade, almost 20 pounds and boy what a great Lamp and a super conversation piece.
If you have a Gear head in your family, this would make an awesome gift, you cannot help but notice it and I love to recycle stuff and give it a new life and this certainly does have a new life.
So now instead of this Triumph Exhaust Lighting up the Tarmac, it will be lighting up your room and it sure has a healthy glow about it when switched on anywhere.
Have a good long look and see what you think as this would look great in a shop, a bar, a gallery, Man cave heck, even a Barber shop, and will always make some comment on its uniqueness.
Thanks for looking, I can ship this anywhere across the globe, I ship 6 days a week to and help on the Customs forms and write small value so you dont get hammered with Duty fees.
Drop me a line at carpy@carpyscaferacers.com if you need more photos or anything else for that matter.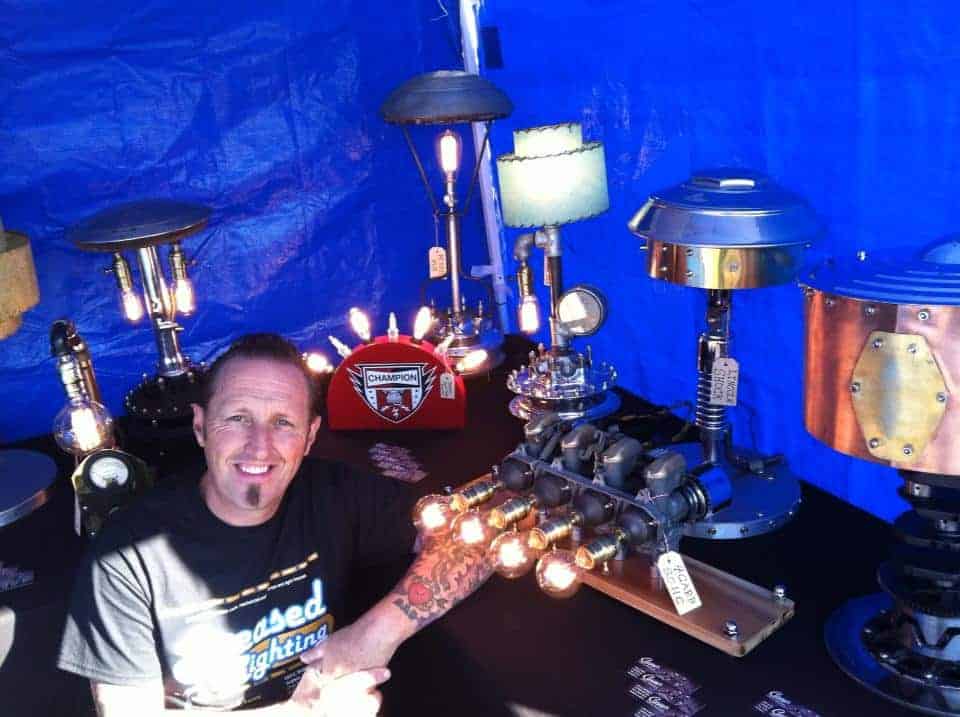 I build lamps all the time as a hobby.
Comments
comments
| | |
| --- | --- |
| Weight | 19.0 lbs |
| Dimensions | 32 x 19 x 19 in |
---