Bobbed Rear Fender
A quick and easy way to have that Custom look, with No welding.
This is my Bobbed rear fender, I have made this to fit many of my machines over the years and some people have even fitted these to their CB550 bikes. But This was made initially for the CB750 SOHC machines.
Below is a very cool ride with our fender on the back and it sure looks swell.
Here we are, and have yet another cool product now available to you, the Cafe Racer builder.
Yep, if your old chrome one is as rusty as a light house exterior door, then its time for a change, and – what a better change than this set up.
This is easy to fit and you will really like the shorter look and style of this, many stock fenders are too rusty to cut, shorten and dechrome, so i have simply saved you time and effort and you can just paint it and fit and off you go.
I have shipped allover the globe and still do 6 days a week to help you lot out.
Use what ever light you want, this makes the rear of the bike look a lot cooler now.
I have sold maybe 1000 of this and only one person was not happy as it wasn't perfectly finished to fit, what can I tell you? if I did that, they would be $199.
But I have used many and they paint really well. So, no more welding and bashing and swearing, have a go with my stuff, it is the dogs wobblies mate
.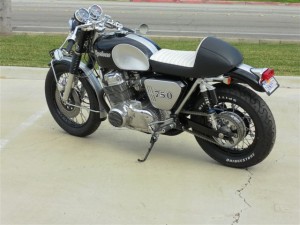 Thanks for looking.
So easy to fit and change the whole look of your machine.
Comments
comments
| | |
| --- | --- |
| Weight | 2.0 lbs |
| Dimensions | 12 x 12 x 12 in |
---