Brake Line front Braided Stainless Steel – One Piece HONDA CB750K CB750F SOHC
Stainless Steel braided front brake hose- One piece, for that Custom look and stronger stopping power for your CB750 HONDA.
Braking is obviously paramount in the field of riding a motorcycle and many people hop up their engine and do nothing with their braking system, something that I find mind boggling.
So, when I create Motorcycles, I always fit My own Braided Stainless Steel brake hoses and use Aircraft Quality Hose and expensive Quality fittings, to make sure that things not only look custom but function better then they did stock.
So, here we have Aircraft grade braided hose with stainless steel fittings that simply screw into your Master Cylinder, then route down through your Triple Tree and into your caliper.
This version has no need for Banjo fittings- I have made this version a One- Piece because I want a more positive front brake and also, I do not want to use the brake switch and clean the front end of the motorcycle up, but I do offer a two piece kit now so you can use your switch, just horses for courses.
This is a Quality set up and is ready to fit and then simply bleed the caliper to master cylinder and you will be good to go, really easy and I know that you will be happy with the end result.
Probably 10 minutes to do the whole job and what a difference afterwards, I love the parts I make and stand by them and am offering these to you now as I have done many miles on my previous ones with no issues what so ever.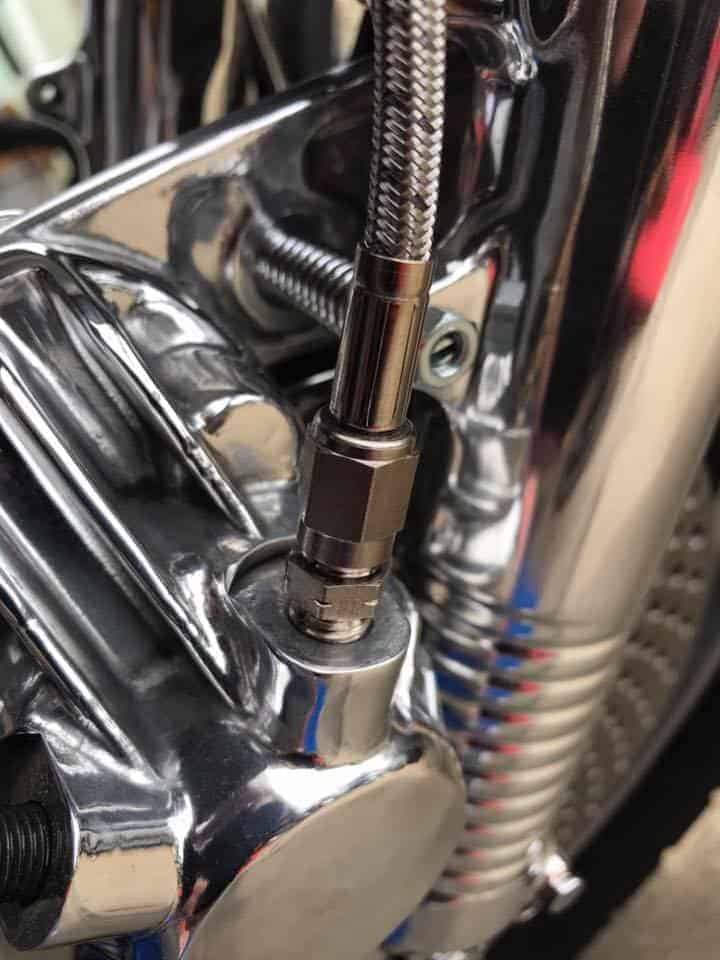 A nice professional and a custom look to your machine and it cleans up the front end too, I shall also offer a 2 piece set up if you want to use your stock brake switch, they wil be on the website too.
Thanks for looking and appreciate all your interest over the years, I look after my Customers and continue to push hard on quality and service.
Comments
comments
---