Finned "Cafe Racer" Stabilizer Bar
Custom Machined Finned Stabilizer bar . fits 69-78 CB750 HONDA
This is for my New stabilizer bar for the CB750 K series from 1969-1978.
This is a great and easy part to fit on your ride and will change the look right out of the gate.
Made out of 6061, this is a thick solid bar that I have machined and then polished to look like chrome, no expense has been spared and I do know you will like the look of this.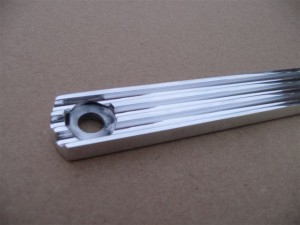 I was the FIRST to make all these parts here in the USA and am continuing to now step it up and make many more cool parts for the SOHC and the DOHC models, so keep checking the website for more great products.
Also, I do listen to you all and spend quite some time in R&D and get this stuff to fit pretty easily and from the feedback I have had, I seem to be doing pretty good, as I have many return customers.
This is a direct replacement for you old rusty and bent up stabilizer bar and I know you will like e look of these, and they come in polished alloy, but so easy to mask and pint the inside of the fins to make it really stand out.
If you like something that screams Nostalgia, then this is right up your alley.
Just use a stainless flange nut to tighten until the threads show all the way out.
I have sold a 100 of these to people building their machines all over the globe, and this is definatly a great set up to add to your motorcycle.
I know that I have made the right choice with this set up, its a bit of work and time to machine and then polish, but the end result just shows the coolness of this stabilizer bar.
Comments
comments
---