Frame Hoop Kit, Steel Tubing for HONDA CB750 CB550 CB500
Easy Flat Hoop kit for your Machine.
Well, it was time that I started to make a few Hoop frame kits as many people ask me for them, so what I did was purchase a Die and then used a buddy of mines workshop where ha a tube bender and made these Frame hoops to make your life so much easier .
These are a real nice set up for that Custom look or Brat style Motorcycle Project that you are working on and am pleased to have sold over 300 sets of these to many people throughout the globe. The One below is a snotty old bike that I cut the rear frame and added one of my hoop kits and changed the look of the ride totally.
Below is the same bike as thew pic above and only 4 weeks later too, as I was on a time crunch to build this at home in my own Garage.
These are Made here, not over seas in China, hand bent here in California and ready for you to use and cut to the length that you require for your special ride.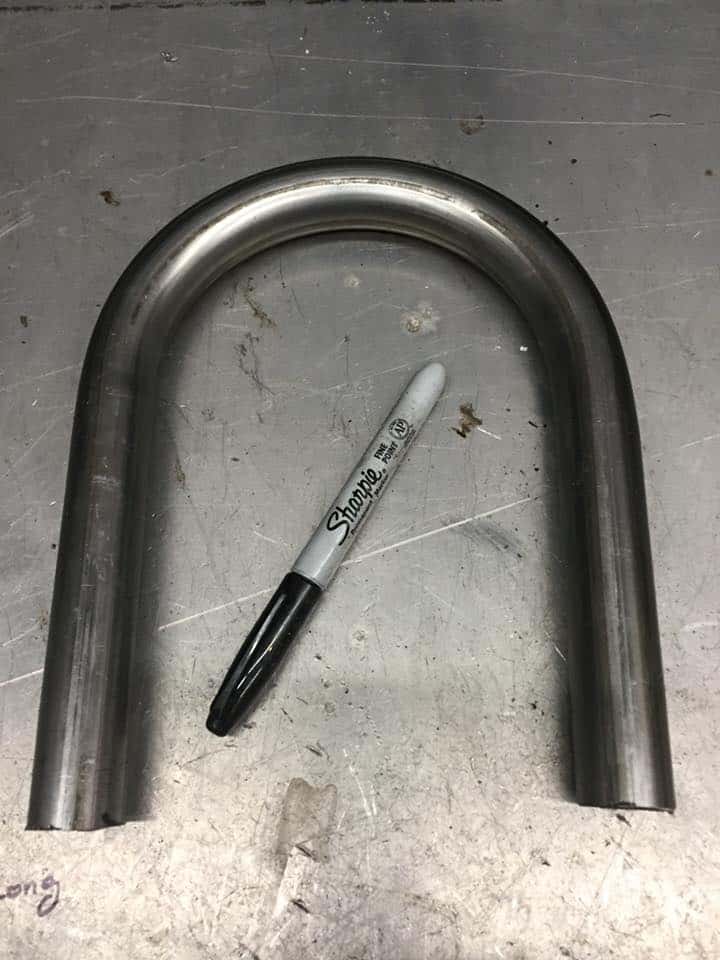 And will be making a couple of styles, so you can chose what you want your machine to look like.
Have a good look as these are my set up and I tested these to a bike I am building at my shop right now.
If you want a clean look for your Brat- Custom or tracker, then look no further, I have taken all the hard work out of it and helps you create your machine way faster.
Simply cut the end of the frame off where you want it, remembering to clean the inside of the frame tubes up, I use a de-burring tool as its so much easier and faster with an air line.
I make sure that the inside is smooth to allow the slugs to slide in to halfway and later once Butted up, you can weld the small line to secure.
Simply add the inserts into the tubes to help line up and give a good solid area to weld and then grind smooth, you choose the length, as you can always shorten the hoop bit by bit.
Slide them to about halfway inside the frame rails and then it is just a s case of cutting the hoop to the length you require and push fitting them on.
Once happy with the feel and the fit of your hoop kit, push her all the way home until she is tight. Then just weld her up, but also I drill a hole through the frame tube and the hoop and spot weld too for extra strength and rigidity. The hoop is 12 inches long so plenty of length to cut and try until you are happy where you want it.
I even made one for the Supercharged Honda years ago, way before it was popular and loved the way it looked.
This is 9 and 1/8  from Outer Diameter to Outer Diameter and perfect for the CB750 and the CB550 and I know that you will be happy with this set up.
Yes, this is 1 inch tubing or 25.4mm if you like with a 7/8 ID, and these work so well, leave them long if you are carrying passengers or cut them short and have that aggressive Bratster styling for not a lot of money.
Almost 12 inches in length gives you plenty of options as to how you want your project to look.
These are the best out there and now I have them made on a Big press, available as a straight and also with a kick up too. Below I fitted to a 1978 CB750F.
All you do is decide what length that you require and cut to fit, as easy as that as I make them 12 inches long to allow for this.
I cut the hoop down quite a bit to get the length I needed and this Custom creation I made turned out so nice, I wish I could of kept it to be honest.
All depends on how long or short you want your seat to look, Customer did his CB550 above with our Flat hoop kit.
Another bike Below we did and came out really nice, and has a LED strip on the back of Hoop to show brake light and signals.
So an easy job really but sure does make a difference in the end.
I offer the Flat version as you see on this page and on another page I offer a hoop with a kick up, your choice, but I do like the flat style and My ride was pretty comfortable as I used memory foam on the upholstery.
Have a look and see what you think, but these come with the slugs that fit inside the hoop and your frame and simply tap together once you have cut hoop to length you require and just weld the butt joints and you are done, so easy.
Thank you for taking your time to check out my Hoops that I manufacture, I love what I do and also love seeing some of the great machines that you lot have created.
I look forward to hearing from you, also you can email at carpy@carpyscaferacers.com or Text me on 714-598-8392 I am here to help.
Comments
comments
| | |
| --- | --- |
| Weight | 4.0 lbs |
| Dimensions | 12 x 10 x 10 in |
---