EXHAUST HONDA CB750 SOHC The Gunslinger 4 into 1 Stainless Steel
A Stainless 4 into Exhaust System for your CB750 Honda 1969-1978 SOHC The GUNSLINGER
Here we are back playing with 2 wheeled machines, this is my own ride that I am taking my time in building, it will be torn apart a few times until I am happy with it and then it will be taken to Sturgis in 2021 to the Heavy Mettle Bike Exhibit.
But this is the Gunslinger system that will be loud, aggressive but suited to this style of machine, it does have a baffle and later on when all things are running, I can add a sound byte or two of this system, so you can hear how she sounds coming from an inline Four Motor.
It is aptly names the Gunslinger do to the way the Tail pipe kicks out at a curved angle, like the handle of a Colt 45 on the Cowboys of the day and thought it was a good name for the system that you see here.
Its a neat look, works well and fits easy, plus you can wrap the baffle with Exhaust packing if you so wish to keep the rumble to a lower tone, but- I like the sound of her right now to be honest.
OK-it may not be for everyone and I do make a few different style but style are for just that- and if you like this looks like I do, then I know that you will be happy with this system on your bike.
This will look Great when I have finished my build but, I am a long way away from that right now and have many other things going on at the shop, but when I get spare time, I work on my own stuff and this will indeed be a tough looking ride to hopefully turn some heads later at the show next year.
If you want, you can still run your Main stand but I prefer not too, as they are big heavy things and I would rather get rid of unwanted weight on my ride.
It hugs the frame well and has that Drag Race stance that the old Uncorked headers had back in the day at the 1/4 strip, the Baffle is removable too.
I ship Globally as you know but with COVID, I have no idea how long it will take to arrive at your destination outside the USA to be honest, as systems to Europe are taking a while right now. This will be about 15 pounds packed and will be in a 18-16-16 Box, I will also help Oversea's Customers on the Custom forms too.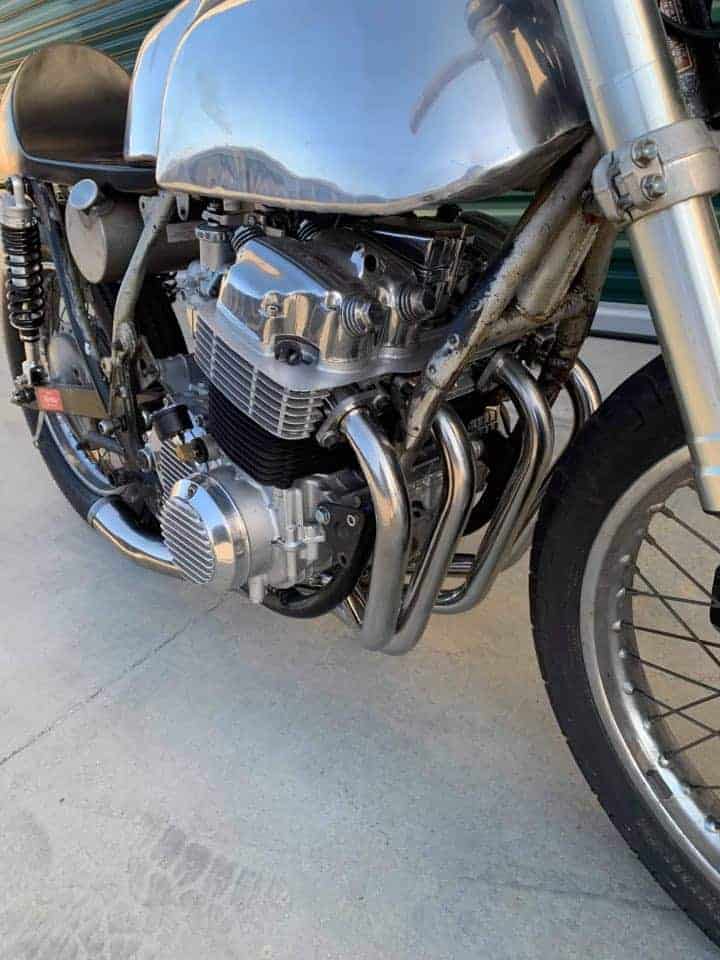 This also gives you enough room to have access to the Finned Oil Filter and will take more photos as I go along with this build so you can see.
Uses Floating Flanges that are Machine stamped, so no need for shims or clamps, like the originals have, or the split shims like the later 77 and 78 models needed. Also come with speed Springs for fast fit or removal.
A good exhaust and a tough look that will transform your inline Four 750 K or F into a Get Noticed Motorcycle, this will be a fun bike when I am done with it and look forward to showing it off, but I wanted to show this New system and see what you think.
I will also measure the decibel amount later, I am trying to keep it under 100 so Mr. Plod doesn't stop you LOL!
Comments
comments
| | |
| --- | --- |
| Weight | 15.0 lbs |
| Dimensions | 18 x 16 x 16 in |
---