EXHAUST 4 into 1 HOT ROD SHORTY HONDA CB500 CB550 and Wrap kit available too
This HOT ROD shorty exhaust is the perfect set up to get you noticed!
Well, as many of you know, we are the main source for all your Cafe, brat and custom needs for your motorcycle but this time I wanted to push the envelope a little more with some new styles of exhausts that Builders have been asking me to develop.
I listen, I hear, I take note, and so here we are with yet another great Exhaust system that is very unique, as well as fun and above all, easy to fit too.
This is my New 4 into 1 system aptly named the HOT ROD, I originally designed it for the big Brother CB750 Honda and many asked me to make these available the the 500 and 550 inline four.
So, here it is, in all its Glory, it is so easy to fit and the Tail pipe has a great Turn out, just like some of the old Hot Rods of the day, now, this is no quiet Sunday school pipe, this is quiye Loud, just like Hot Rods but will be offering a Baffle for it so you can tame the decibels if you so wish.
This system is my Own design and flows so well, take a look at the header, and the way the gases exit the system, very Old school and this will give you a little more Pep too.
Other advantages of this system is that you can use your original center stand if you so wish, many do not offer that.
So have a look and see what you think, I have another CB500 CB550 system too I shall be offering and thats the Side-Winder, another cool set up, so now you will have a choice of 3 different exhaust systems and I sure hope you like them as much as I do.
I am so stoked to say that I have been in Business over 17 years now and this is my life, not just a job and love what I do.
These are made right here in California by a professional Drag racing company, they make sure the system is to my specs as I made the first one and then they make the Jig off of that.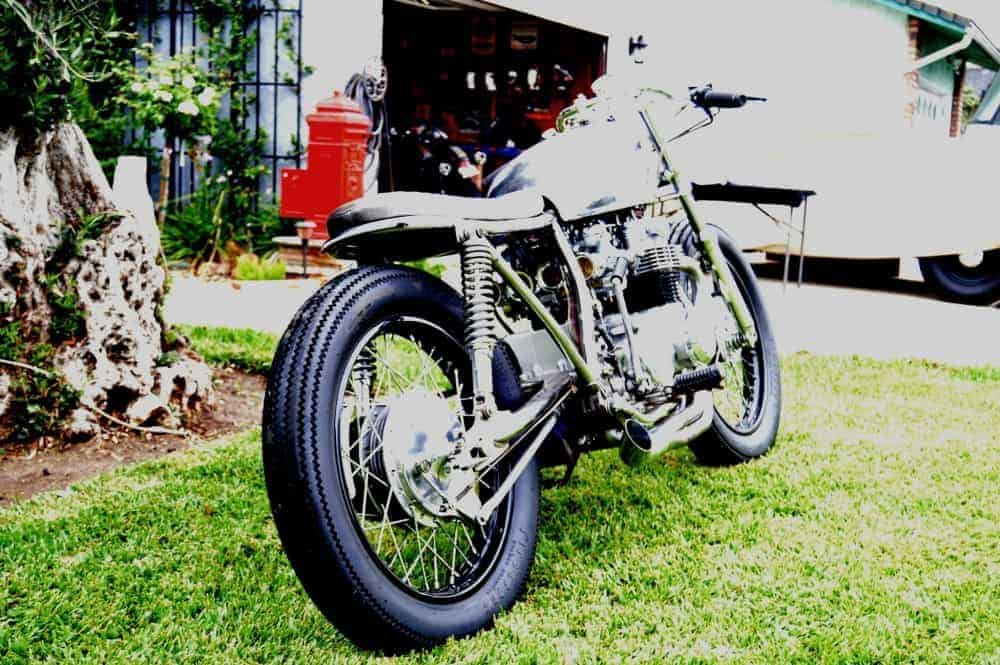 I like to tell people that these are MADE IN AMERICA and am proud of that fact and support other businesses locally too, its a brotherly thing right?
there are other systems out there, all made oversea's in sweat shops, I offer American made products and love to develop new parts all the time.
I keep the prices right and I have great after sales service.
Another thing I am noted for and that is shipping, I get it to you as fast as I can too.
You will also have a 3 Option deal on this exhaust system.
You can have 1. Raw Steel.2 .Ceramic Coated Black. and 3. Ceramic Coated Silver.
I do not keep the Ceramic in stock, we live in Earthquake country so dont want any scratches if we get a shaker, but I have a week turn around on the coating and I ship 6 days a week as well as all over the globe, where- I do ALL the packaging and Shipping and I fill the Customs forms out, so you have NO DUTY to pay.
Lastly, I have a reply service many do not offer.
I am the real deal, so if you need ANY help, you can TEXT me on 714-598-8392 and I shall reply FAST to anything you may need to know from shipping to tuning.
Of course you can Always contact me via email at: carpy@carpyscaferacers.com and I WILL reply.
Many thanks for looking, I shall add more photos when Customers finish their rides and send me some high quality snaps of their 2 wheeled machines.
I also offer DEI TITANIUM Heat Wrap for your headers too, in Tan or Black and 50 feet will do that for your machine.
Check the drop down box as you can purchase the heat Wrap kit to do your own Custom look, available in Tan or Black and 2 inches wide, covers great and actually is more efficient than a stock exhaust covering, this is a great set up for your own system or to use on mine.
Comments
comments
| | |
| --- | --- |
| Weight | 15.4 lbs |
| Dimensions | 21 x 16 x 16 in |
---