Exhaust Stainless Steel 4 into 2 into 1 " The Y Block " HONDA CB750K
Many people have asked about my Custom Stainless steel exhaust system that I have named the "Y Block" this is a unique and Custom look that helps the Motor breathe way easier, produces power and gives the bike a great style with all the bends and sweeps.
Not easy to make and look right, this Stainless is made from 049 and is fully tig welded with slip joints and loaded tension springs for ease in fitting and removal.
This is made for the HONDA CB750K 1969-1978 SOHC Model and comes complete in a brushed Stainless finish.
Hand made right here in California, the "Y Block" is a very Custom system that takes a lot of patience in Tig welding and bending, using the up to date hydraulic mandrels, these are a made to fit system that you will enjoy on your inline four machine.
Not cheap to make but a great Quality hand fabricated system that will turn heads when they feast their eyes on the 4 into 2 into 1 set up.
I have cheaper alternatives but this is a Custom made to order system that is a real jewel to behold and this is a breeze to fit onto your Honda Motor and sits tight into the Cylinder head.
The floating Flanges are nice thick stamped pieces and are sturdy, not like the over sea's stuff to see everywhere, a strong fit and reliable as hell is the name of the game.
This take some time to fabricate but they are made in a fixture and are ready to fit right out of the box onto your SOHC CB750K Honda Motorcycle.
They have an aggressive look and the 2.5 end cap Baffle is the same as the ones I use in the Yoshimura style systems, these sound pretty wicked and you will need to up jet.
These are a unique set up and I am proud to offer them to you and will ship all over the world, they are a great look, they sound epic and easy to fit into the inline Four Motor.
An Old School System with a modern twist and these are so much lighter than regular steel and, of course wont rust away in colder climates.
These are a great look but you cannot use the center stand on this system, just like the 4 into 1's I make but I do make the Sidewinders that allows you to use a enter stand if you require it.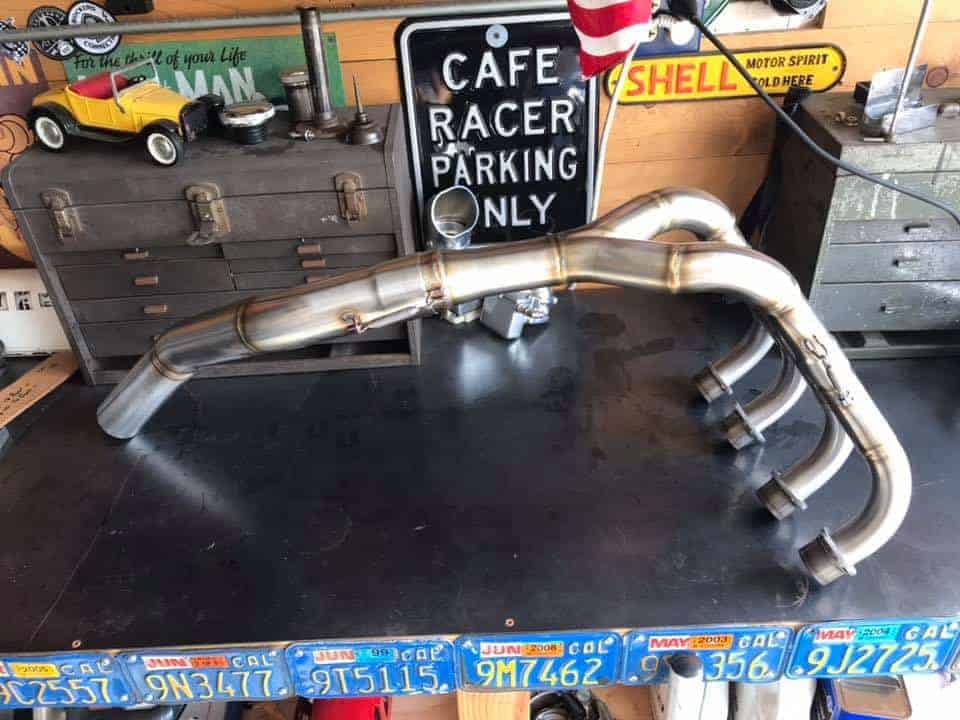 So have a look at the pics and see if you like these, now, you can keep them brushed by using a scotch pad every now and again or like me I like it when they Bronze when you use the system for what it is but as I said, a quick wipe with a green Scotch pad will bring it back to the brushed look.
So, if you want a fine example of Custom pipes, look no further, these are exclusively my design and take 4 weeks from order as they are hand bent and welded but boy are the cool.
Comments
comments
| | |
| --- | --- |
| Weight | 16.0 lbs |
| Dimensions | 13 x 16 x 16 in |
---