EXHAUST Tail Pipe Chrome Muffler for 2.5 Header The Scorcher with Removable Baffle for 4 into 1 systems.
Out of stock
For over 17 years I have been making these Custom Chromed 9 inch Tail sections that has a Yoshimura style internal Baffle that is removable.  Some owners have a good Exhaust header but want a custom tail section and I designed this to fit any 2.5 exhaust header, this is so easy to fit, simply slide onto the collector and screw the self tapers into the header, this fits tight and snug.
The whole thing is Chrome too and dresses your exhaust up no end You may want to keep your existing tail pipe but want to dress that up and slip this over you Original tail section and if its 2.5 inches OD, then this will work fine.
So easy to fit and you will be glad that you went this route as this cleans that header pipe up and makes the exhaust look completed, a nice affordable Custom look and with the Baffle in place this has a deep roar of which I know you will enjoy.
I have shipped these all over the globe and sold over 1000 of these slip on sets, people seem to like the way they fit sound and of course cost, stick with a real shop not some over sea's factory that do not even have motorcycles. These are baffled and resonate to give you that bark you are looking for.
Have a look at these and see what you think, comes in a 9X5X3 Box and ships by Priority mail all over the world and you simply fit and use  Self tapers to hold onto your Header sleeve.
The length of the thing from tip to toe is 9 inches with a rolled edge and the Custom look is great, Dress your exhaust up Today!!!
I have these in stock and ready to ship to you where ever you are located. Need any more information? You can email me at carpy@carpyscaferacers.com or even text me on 714-598-8392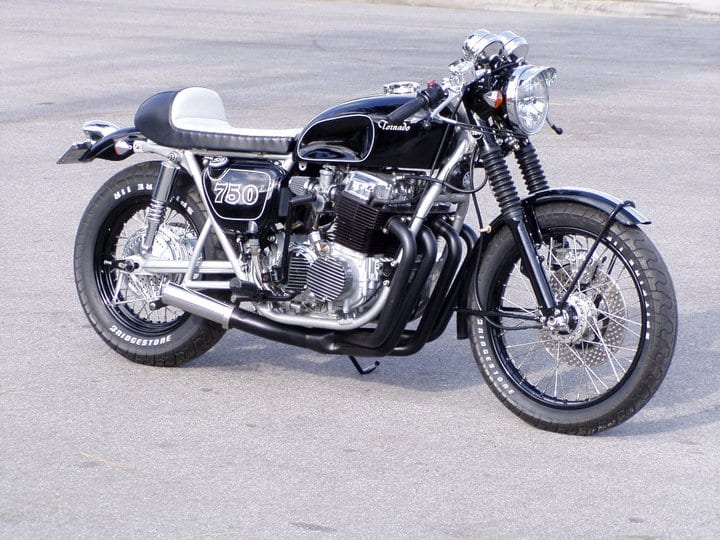 So have a look and see what you think, the Baffle that I fit is the same one that I use in my Yoshimura style 4 into 1 so expect about 90-95 Decibels from it.
Makes a great gift too for the Gear head in your life.
Below is Mike Dirnt's Café Racer I built for him Bass player in Greenday. and he had the First Muffler set up like this and still has it today.
A deep Roar that makes sure you are noticed when you are on the road, Loud Pipes Saves Lives.
I have sold hundreds of these over the years and they hold up very well indeed, and thank you for spending your time looking at this set up.
Thanks for looking and I look forward to shipping your Chrome Scorcher tail pipe very soon. Fits CB750-650,550 and 500 Model headers.
You can drop a Dime at 714-598-8392 and even Text me on this for more info, how is that?
A great product thats has helped so many people out over the years and made right here by me.
Comments
comments
| | |
| --- | --- |
| Weight | 1.4 lbs |
| Dimensions | 9 x 5 x 3 in |
---