Chrome Muffler for 2.5 Header The Scorcher
Many of you likes my early series style of 4 into 1 and wanted the rear muffler, back then I was stuck in my little garage at home and had a hard time making stuff for people and mainly fabbed them for when I needed them on my machines.
Well a lot has happened since then and now I have my special rear muffler named the Scorcher.
This set up is simple to be honest, as if you have a collector that is a 2.5 inch O.D. then this is for you as this is ready to go.
I have made the silencer inside and of course, it is removable etc.
The whole thing is Chrome too and dresses your exhaust up no end.
So easy to fit and you will be glad that you went this route as this cleans that header pipe up and makes the exhaust look completed.
I have shipped these all over the globe abd sold over 500 of these slip on sets up and an glad that people continue to purchase from me.
The length of the thing from tip to toe is 9 inches
It is also 2.5 inches on the I.D.
And I am sure you will like the way this looks and sounds.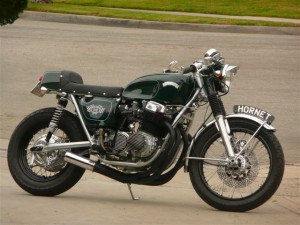 So have a look and see what you think, the Baffle that I fit is the same one that I use in my Yoshimura style 4 into 1 so expect about 90-95 Decibels from it.
This is a small sound clip that I took with my phone. I use these quite a lot on some of the older bikes than do not need a new complete exhaust system and that way you can use your 4 into 1 header and fit this to your bike and ready to go.
Below is Mike Dirnts café Racer I built for him and he had the First Muffler set up like this and still has it today.
I have sold hundreds of these over the years and they hold up very well indeed.
See how it transforms the ride from the stock silencer, this not only looks good but sounds awesome,  hope that you like it as much as we do.
Comments
comments
| | |
| --- | --- |
| Weight | 1.4 lbs |
| Dimensions | 9 x 5 x 3 in |
---