EXHAUST "The Sidewinder" CB750 SOHC 4-into-1
These "Sidewinders" are a serious piece of kit.
Here is another of our Power house exhaust systems that we offer to you here at Carpys Cafe Racers, these are made here right in Anaheim not Taiwan like so many you see out there.
Here it is in Raw steel on a old CB750 that has not run in over 20 years.
Listen to how Crisp my systems are, you will love that old style of sound thats not matched anywhere these days and ALL made right here in the USA not over sea's like a lot of junk you see.
Turn your Volume up as you are in for a TREAT!!!!!!
This is my "Sidewinder" 4 into 1 system for the good old inline Four HONDA S.O.H.C. Model and will fit all years from the first in 1969, right up to the last in 1978 and I am sure you will like this set up.
If you look at this you can see that we have made sure to kick the exhaust out to the Right side, this is a great looking and sounding exhaust system that also comes with a removable Baffle and the other cool think is it fits all those models abovHave a look and see if you like these Nostalgic looking systems, as I am pretty stoked with them to be honest and they fitted right up.
I have a video here of a bike with the side winder header and a shorty Hot rod Turn out but you can hear how they sound, and they sound crisp and responsive.
The good thing about this is it is a 2 piece deal and makes it easy as pie to fit, the second is that you can if you chose to, run your main stand still.
Just have a look and see what you think as I spent a lot of time to make sure that these look pretty darn good.
Here it is with heat Wrap applied.
I ship 6 days a week and all over the World, I also make sure that the Customs forms are filled in correctly, so you do not get hammered with duty costs as so many companies never bother to do that, but customer service is what I like to be on top of and i help you all the way.
These Side winders are something I wanted to try and make and I have another 2 new styles on the website to go with all the other models that I now offer, so- take your time and look through them all.
https://www.facebook.com/carpycaferacer/videos/10155448979641760/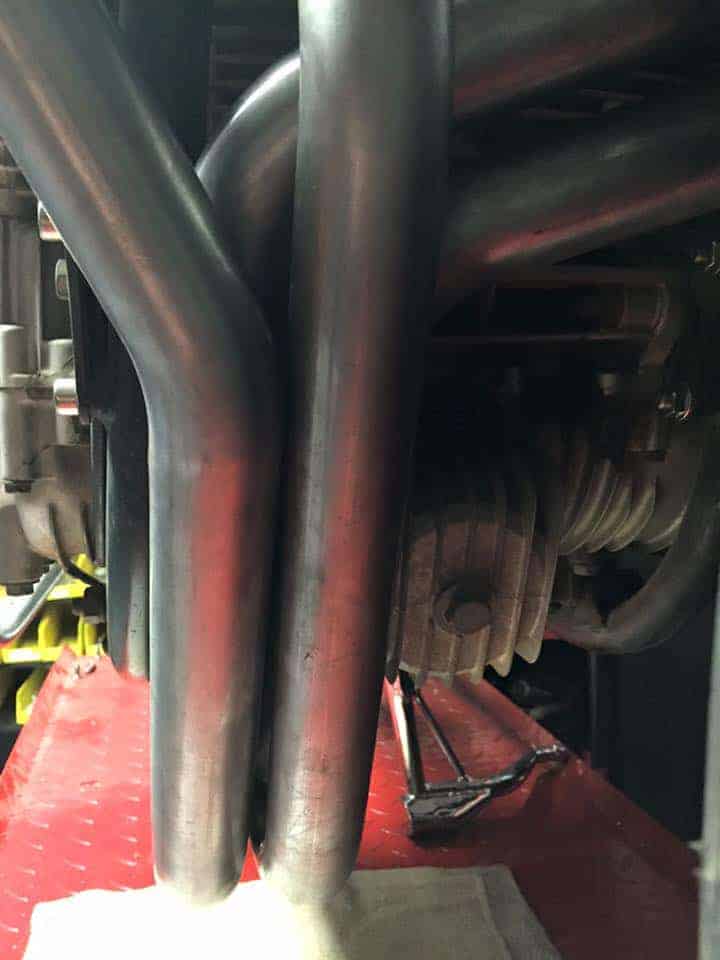 This makes a super gift for the gear head in your family too.
I will try and get some sound bytes up later on so you can hear how each one of my models howls Below is the same exhaust but I chromed the tail pipe and wrapped the header.
Available in Raw Steel-ceramic Coated Black or Silver- and also in  Stainless Steel.
Comments
comments
| | |
| --- | --- |
| Weight | 17 lbs |
| Dimensions | 22 x 16 x 16 in |
---