Universal Headlight With or with out 2.5 inch Speedo
SKU:

N/A
Categories: Honda CB500, CB550, CB750 Parts & Upgrades, Lighting / Electrical
Tags: bmw, Cafe Racer, caferacer, cb360, cb400, cb500, cb530, cb550, cb650, cb750, cb900, custom, honda, kawasaki, rockers, sohc, Ton Up, vintage motorcycle, virago, yamaha. suzuki
UNIVERSAL HEADLIGHT ASSEMBLY
How Universal is this set up of ours, well, how about this little CB350 HONDA, it looks right at home sat in between the forks and sets the style off nicely.
We have sold many of these over the years and as its a Universal fit, the range of motorcycles is just up to you, as this will fit pretty much everything out there that's bigger than a 125.
 People use these all over the globe from us and on many different brands of machines.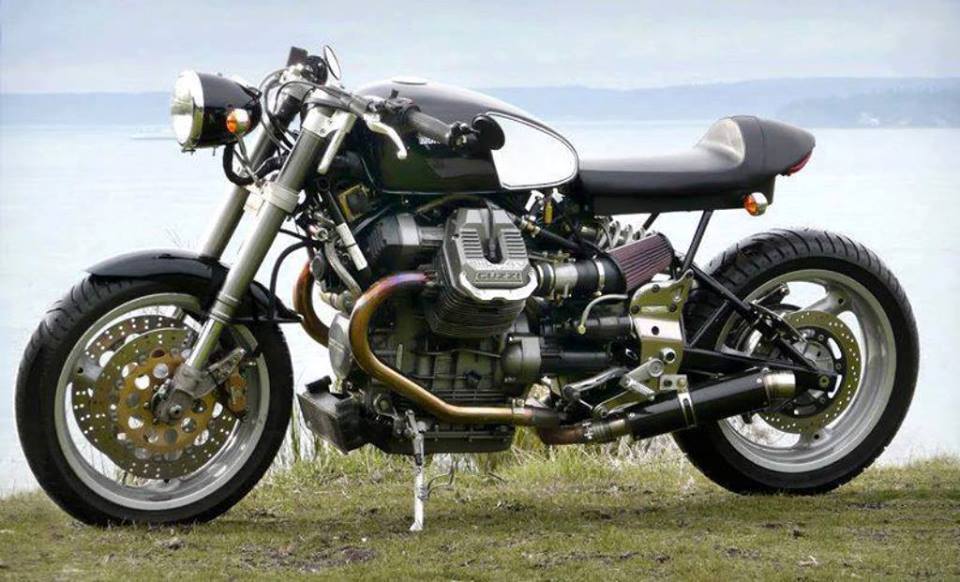 This is as we said- A Universal fitting headlight and here is the proof of the pudding.
Now available with SPEEDOMETER OR TACHOMETER, you just let me know when you order this.
I have now designed a Retro looking Headlight, complete with bucket and speedometer already attached, all you do is fit this set up on your bike, put your original wiring inside it, and hook it up the same as your original. This is made from Sturdy Fiberglass and is all a gel coat finish when you receive it, buff it or paint it, up to you.
Look above and there is :
Tom Grunwalds awesome 1976 CB360 CAFE RACER he created using some of my parts and his own fabrication.
This changes the look of your ride and Tom thrashes around up there on the East Coast on his Green machine.
This is a Generic headlight, so is not the same diameter as your stock 7 inch one though. this is about 6 .1/4 inches in width.
I shall add the dimensions on here so  you can see if this is for you.
The Depth of the buck from the point at rear to the opening for the chrome bezel is about 7.5/8ths deep.
The Hole for the speedometer or Tach is 2.5 inches.
The Hole underneath for wiring etc is 2 inches.
The ears are about 6.5 inches apart from each other.
I wanted an old timey looking headlight bucket and had to cut three head light buckets up to get the style I liked.
The Speedometer or the Tachometer is the correct thread for the 750 Honda and a 4-1 Ratio for the Tach, this is an easy fit as we made a Stainless Steel bracket that hooks into the bottom of the Gauage and secures it snugly.
A very cool looking set up that will change the look of the front end of your ride, and the good thing is that you need minimal tools, just drill the side of the headlight bucket and thats where the headlight will take your bolts to go through your fork ears.
Took me some time to get this to look how I want it, many people have them out there but they just look dead ugly or out of proportion. I have tested this and she seems to be right there, and I am more than happy with the end result.
Have a look around and see what else is out there, this assembly of mine is made from 3 molds, I took a long time until I was happy with the look and now this is exactly how I wanted it to look.
This has a Chrome Bezel ring, a Nostalgic looking Glass lens and to make this bright, I have a halogen bulb and the socket is already attached to the bulb and for added bonus is correctly color coded for the 750 Honda, White, Blue and Green.
I am happy with this set up and am going to use it on some of my machines.
You may have to use a spacer if you are using different ears etc but not a hard thing to do, as it would be impossible for me to cater for all models with spacers. Now Available without the Speedometer…. for $30 less, but still has the 2.5 hole in it…… Call for details.  714-996-4597.  You can see that the customer above even went ahead and fitted his ignition system into the bucket and still had room for the wiring etc.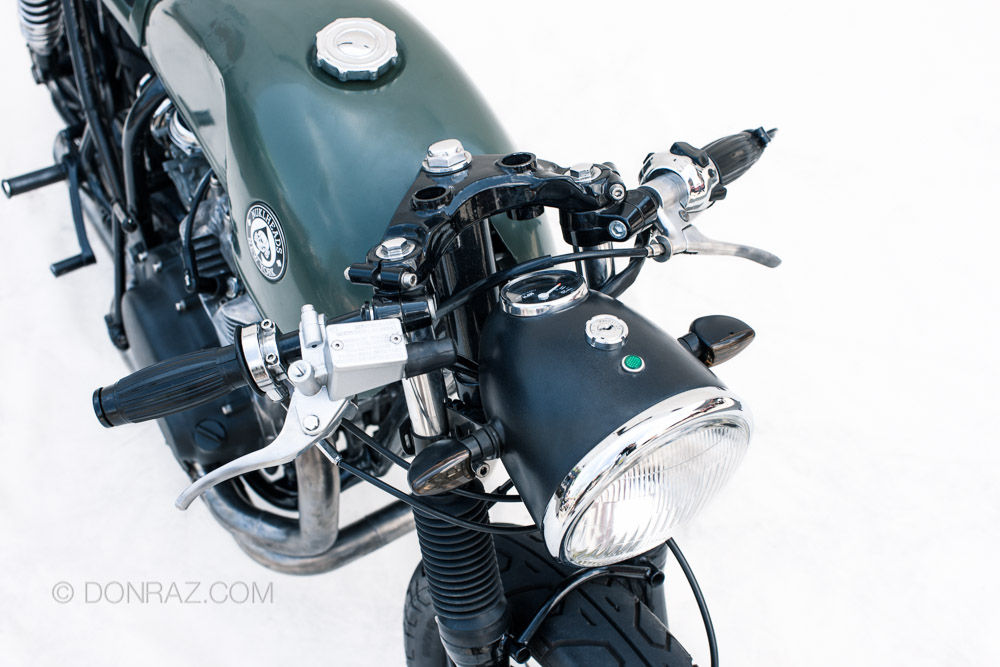 This is also made here in the good old US of A, so we ship out way faster than other companies that are not in the country.
.
Comments
comments
| | |
| --- | --- |
| Weight | 4 lbs |
| Dimensions | 10 x 10 x 10 in |
| Headlight Diameter | 6.25″ |
| Bucket Depth | 7.625″ |
| Gauge Hole Diameter | 2.5″ |
| Gauge Hole Depth | 2″ |
| Distance Between Ears | 6.5″ |
| Bucket Material | Fiberglass |
| Includes | Chrome Bezel Ring, Nostalgic-looking Glass Lens, Halogen Bulb |
---