Fairing and headlight assembly 6 inch headlight
This Fairing and headlight assembly screams Cafe Racer !
Well here we are, a great Cafe Racer front fairing assembly for the Royal Enfield GT Continental 535 EFI motorcycle and boy is it a good looking set up when you fit this gem.
I designed this my self and the fairing is hand laid Fiberglass and very sturdy indeed, it also holds the Chrome 6″ headlight assembly and gives that Cafe Racer look right away.
.
If you want to trick your Royal Enfield out, then how about my Cafe kit here, not only does it look cool, it will keep the bugs off you and help with some much needed streamlining too.
.
You can paint this as soon as you have finished fitting the headlight and I shall be painting mine Red to match the bike, but you may have a Yellow or  Gloss Black Continental?
So easy to fit, you will be glad that you went this route, I am going to be using smaller gauges too, so keep checking back on my website for more parts for the Royal Enfield.
This fairing is different to others as I took the time to make sure of a few things that help the bike, longer ears on the fairing wraps the forks better and the top is nice and high. And Below is the Chrome 6 " headlight unit with a H4 bulb too.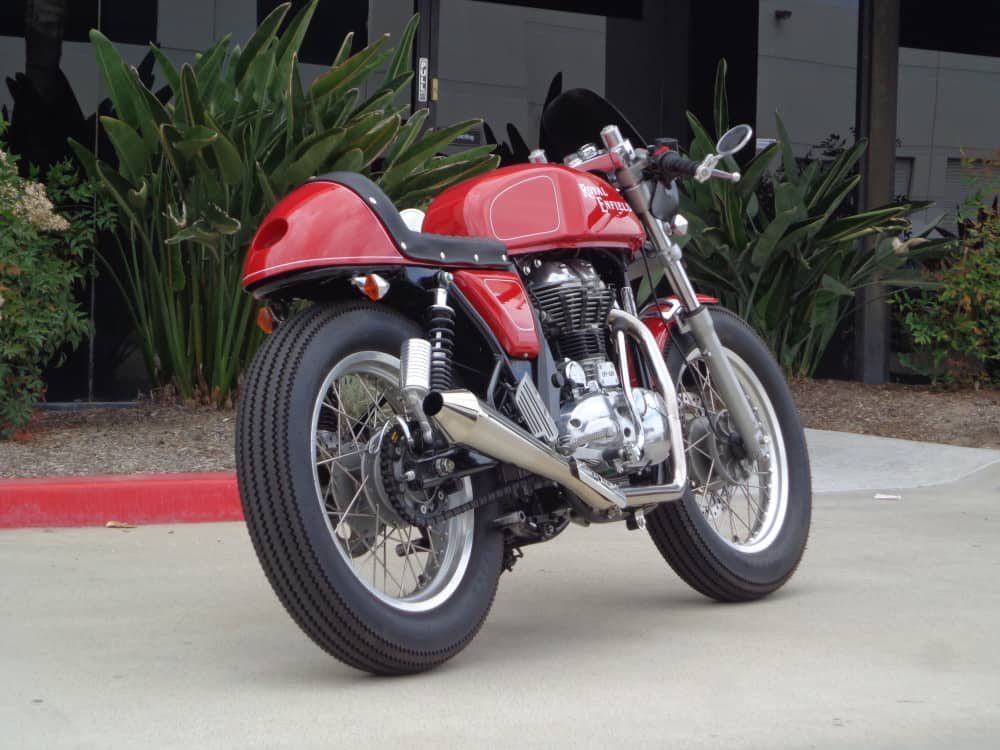 As you can see from my Royal Enfield, this islao has my Custom Seat Base assembly and my Stainless steel exhaust system that really makes this bike stand out in a crowd.
.
I get many comments on my machine and have sent parts all over the globe, I help with the Customs form too so you don't get hammered on duty as so many forget to do.
Have a look and see if this is the look that you would like on your Royal Enfield Continental GT as this really is a unique and Classic style that I am very proud of.
I am making many more parts for the good old 535 EFI Machine, so keep checking back on the parts page for new updates and featres, as I like to show them right away!
.I also offer the turn signals for sale on my parts page too, so have a look and see if there are more parts that you would like for your 535 EFI Continental as they are a fun Motorcycle.
If you want to change the look of your stock machine, then there is no better than stoping here and changing your Royal Enfield into a full Blown Cafe Racer overnight !
The headlight unit is fully chromed and is fitted with a Quarts Unit lamp and a H4 Bulb, so you are ready to go and ride as soon as you fit this kit onto your bike.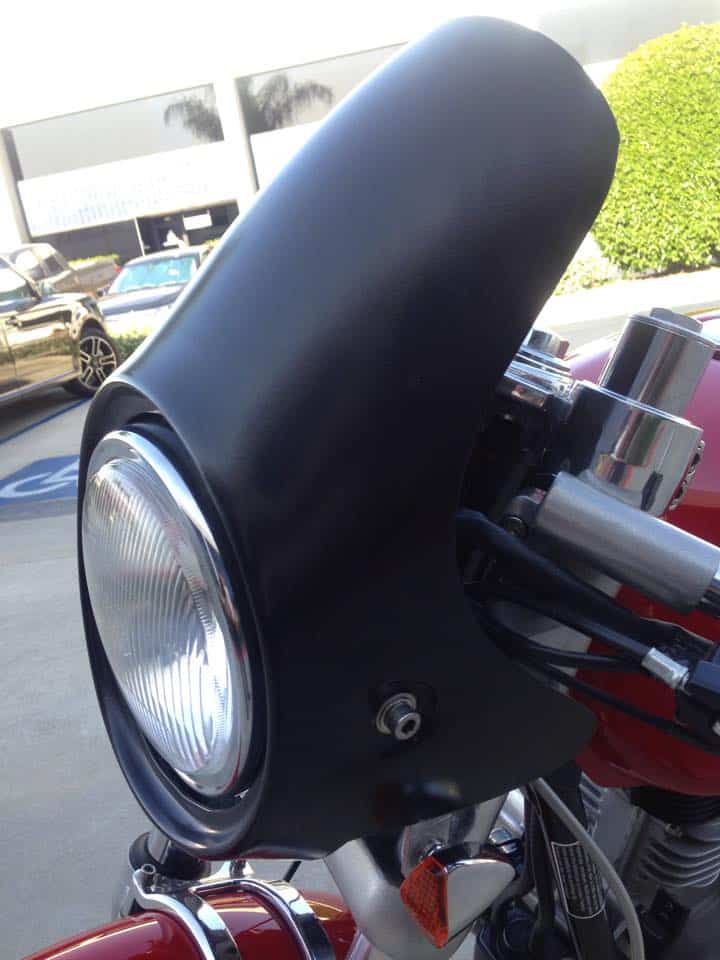 The Bolts are also supplied and are Stainless Steel and high grade too, not rust going on here, so great for any cold country and nothing to worry about in the winter time.
I have tried to take as many photos as possible, so that I can show you how this looks like once it has been fitted, I also hope to be offering some very cool gauges for it soon too.
This is my Personal ride and I shall be making quite a few upgrades to it but as you can see from the tires, to the Chain Guard I have altered the look of the bike.
So, all you Royal Enfield owners, check this out and if you think you can use this on your mean machine, then drop an order to me at my email address – carpy@carpyscaferacers.com
I ship same day and 6 days a week, so you are sure to get your order in a very timely manner, I always try and get parts out as fast as I can and customers appreciate that.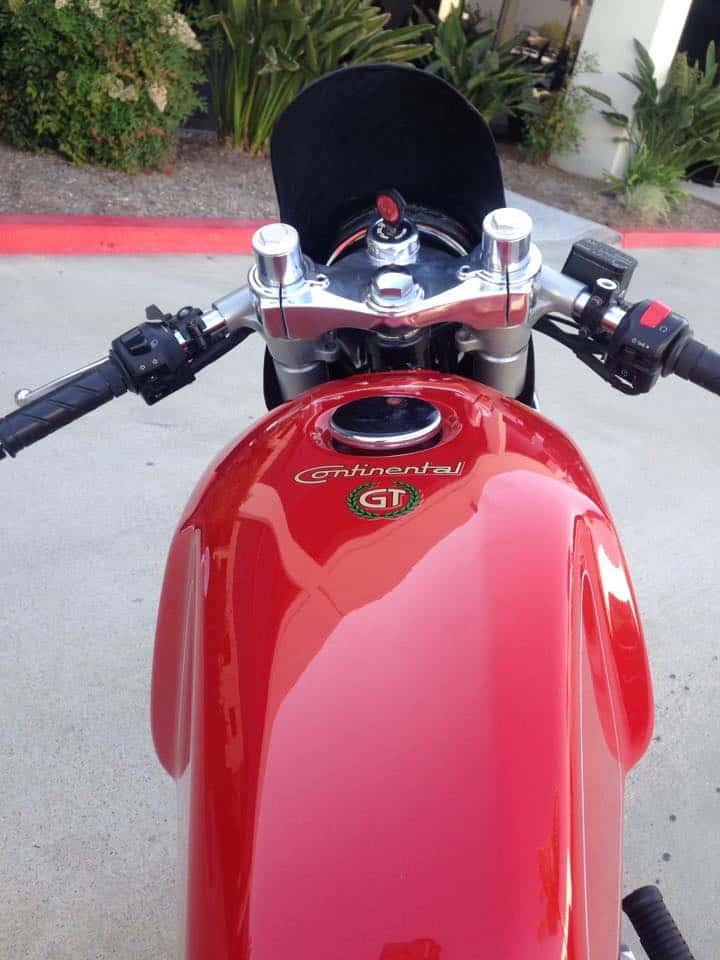 Thank you for taking your time to have a look at what I have done to my Royal Enfield Continental GT, I sure hope you like the look of the bike, I really love it.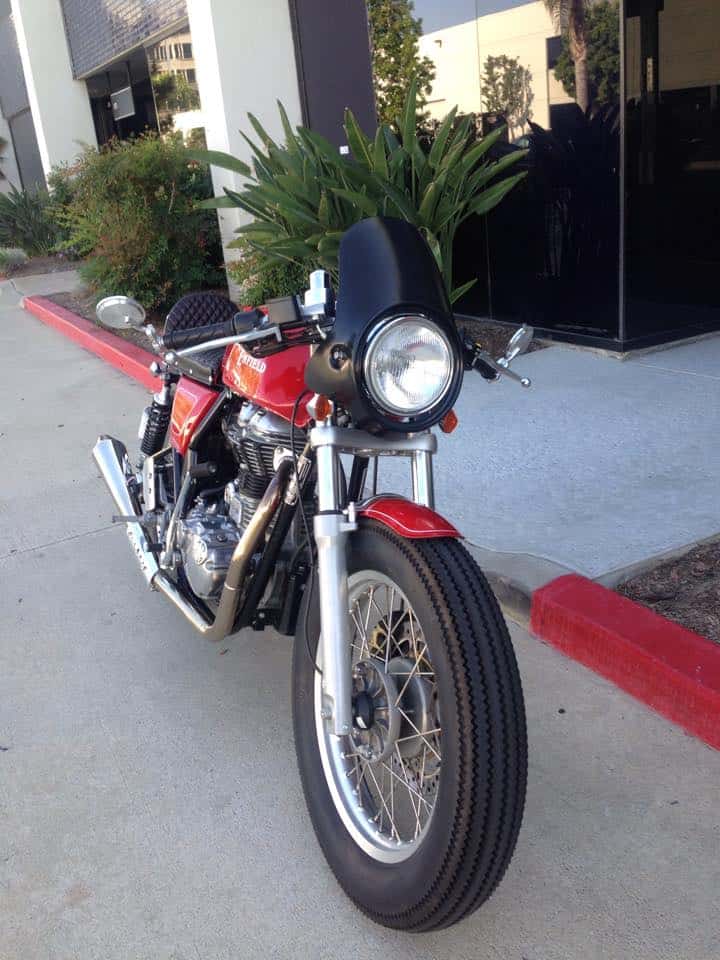 I have had orders all over the place and as far as India, Russia and back home in jolly Old blighty, these bikes are fun and of course affordable and I have fun on mine.
If there is anything else that I can help you with you can always drop me a Dime at 714-996-4597 and I am more than happy to have a chin wag on the Ear Trumpet.
Let me know what you think as input for other parts is always helpful, I try and come up with idea's on a weekly basis but if you would like something made, let me know OK?
These Royal Enfield's are so affordable and, with the price of gas going up again, the right time to sling your leg over one of these steeds and cut the traffic time down for sure.
I will be adding more photos when I paint the fairing so you can see how cool it is when all done, but thank you for looking and until next time I bid you a fond farewell until the next part.
Comments
comments
| | |
| --- | --- |
| Weight | 1 lbs |
| Dimensions | 10 x 10 x 10 in |
---