THE SPEEDMASTER I BUILT NOW LIVES IN AUSTRALIA
 OK, here we go with a Cafe bike that I created a little while ago here in Anaheim California, this CB750 HONDA was just a Rusty Hulk of a bike and needed some love, I was not sure what to do on this build but thought what would be cool is think of a name that I remember from back home in the UK when i was a Teenager and Cafe racers as well as many other Motorcycles were doing on the tracks and on the roads etc.
Now Speedmaster was a Tire brand that was synonymous with col bikes back in the day, be it Cafe racers or trials Bikes, so I thought that I would base this machine on them said tires and build the bike around that title, so, here is the build up of this bike that now resides in Australia and is on the tarmac there right now bombing about the curves of Melbourne, Victoria.
 I took the old rusty machine apart to see what I had, and what I did have was a bunch of corroded and rusty parts, so it was time to strip this right down to the skeleton.
 This bike took some time to dial it in, as I was always trying different set ups, this set up here was pretty much how I wanted it but I thought that I could use the Original Dunstall exhausts on another machine.
 The Motor was gone through and she seemed pretty good, the build up didn't really take that long but I kept trying different parts to see how she would ride.
 I did a double drilled disc set up on this bike, using a few parts that I had in the garage and it seemed to work out good, but took some time to get the rotor just right.
 I went ahead and had a drilled Dresda style swing arm of mine fully chromed, as i think it would set the motor off well and I wanted to have a drilled swing arm to match the front Rotors.
 Obviously the Ace bars were a must and I think that I got the height of this machine to a good stance and was happy with it.
 Took some time to get good calipers and then strip all the old Black anodizing off them and then put the kit all together as the trick on these set ups is to get the off set bang on, else they would drag all the time.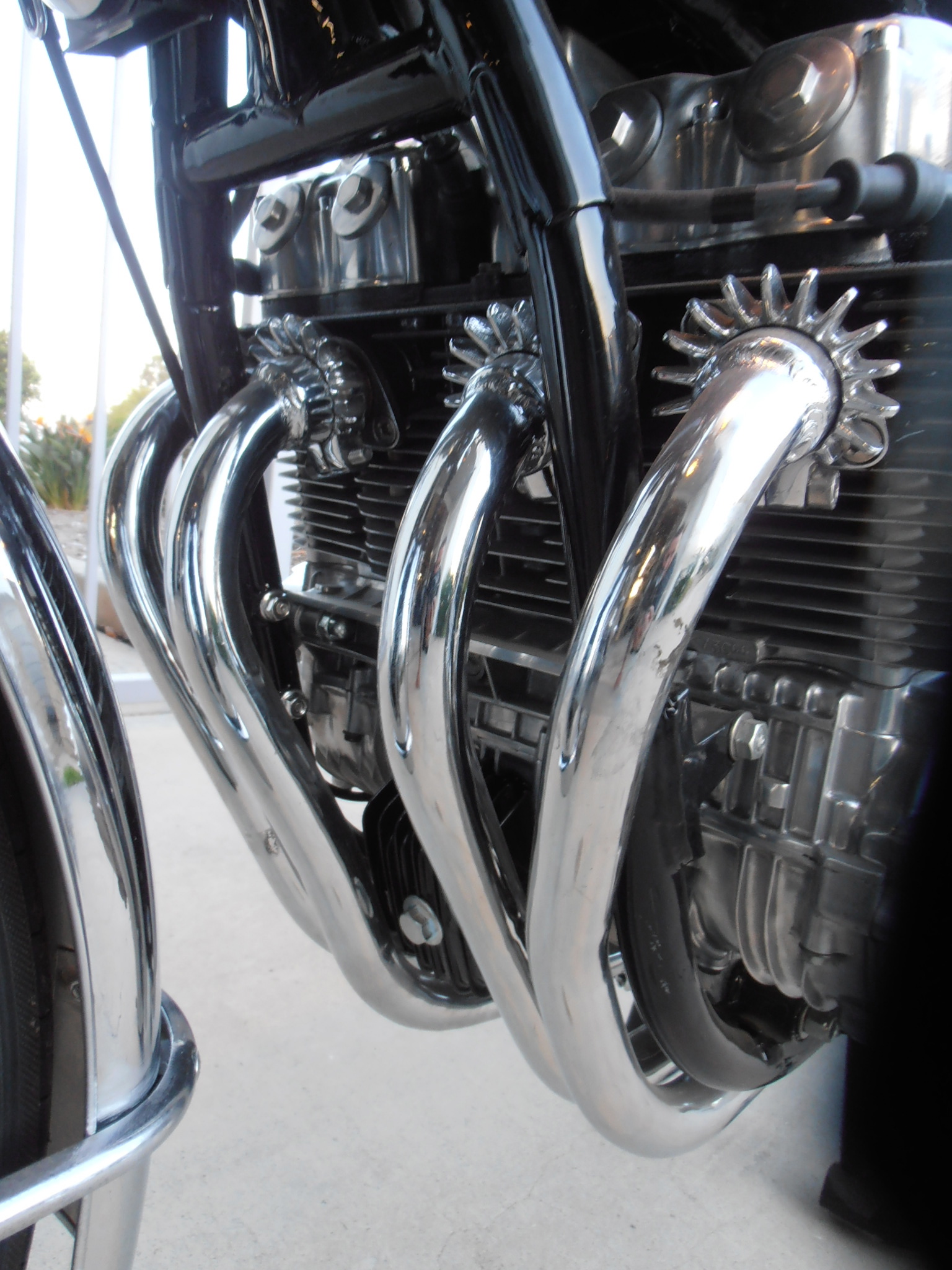 Original Dunstall headers here that I had in the original packaging, as i wanted to know how these fit and sound and boy did they look great.
 Looking at the rear tire you will notice that it is of course a Speedmaster which is from back home and Avon was a huge name in tires and racing when I was a teenager.
 The Chrome swing arm has Bronze bushes and I had a set of early Race shocks that I wanted to try on this puppy and i think I got the look I was searching for.
 I used a Harley rear wheel and laced it to a CB750K hub with new bearings and stainless spokes etc, I also make sure in New chains and sprockets too.
 You may notice that my signature sprocket cover gets the drilling and polishing look.
 I had a set of 29mm smooth bores that i wanted to try on this 836 engine and it ran pretty well, but can be a bare to set up sometimes.
 OK, here is the money-shot- as I love the way the rear end looks on this bike, should of made a poster of it.
 Of course, I went to town on the rear brake drum with new shoes and fittings this bike was like a new machine.
 Original finned speed parts I used as I had stored that stuff for some time for this bike and glad I managed to use it all on the bike.
 Original Beeston grips I have had for donkeys years ftted well and I wanted to start to detail the top end out, so I polished the master cylinder to a chrome finish.
 Nothing is better than polished aluminum or chrome, its just a fresh and clean look I believe.
 Oh yes, did I mention I polished the whole engine, not many people were doing this the and this took a long time.
 Plenty of lines to look at and I still was not sure if I was 100% into the overall look.
 Polished stainless steel Allen head bolts through out the bike, gave it some more detail and this sure was beginning to look sharp.
 I hand hammered and smooth the tank and then took the tank to a Radiator shop just to make sure it is all sealed and then had a coating laid inside and then pressure tested.
 A New Gas cap as well as a New Locking mechanism was needed for the freshly painted gas tank and sets it off nicely.
 I have lost count to how many of these I have polished in my back garden over the years but they sure look great when they are all buffed up.
 The switches had faded from the stock black to a dreary grey, so I had to polish these to look the best that they can, as originals are not cheap.
 The more I look at these photos, the more I sit back and say to myself, why did I sell this.
 Fun set of carbs once they were dialed in but a bear to get one of the throttle cables right but I sorted it out in the end.
 One of my New machined finned engine mounts set the right side of the motor off.
 The megaphones were a must and this did look reminiscent of the days gone by in London when speed to do the Ton was a must.
 I hand cut an alloy plate and drilled holes etc and made this rear engine mount, this was the first one I had made until I then got orders for them.
 I know, I know- Swiss Cheese, but I do get carried away but enjoy just making any pattern up and drilling by hand, takes some time and boy does it make a mess.
 Rebuilt front forks and the good old TRI-BAR headlight makes this stand out at the front end of the bike, as well as Alloy turn signals which are a must in California.
 New fork boots too that I bought from HONDA as I like gators, they kind of add Nostalgia.
 New cables of course are a must with any build as you want a smooth throttle when you take your bike out for the first time.
 I fitted a New horn and brackets to make sure that people know you are coming if for some reason you got to get on the loud button.
Original Cycle west Finned Points cover sets the scene for this Cafe Racer.
 Sat on the table at the shop for electrical and little bits and bobs.
 This time I went ahead and took the old megaphones off and fitted one of my performance 4 into 1 systems on and ceramic coated it Black.
 I changed the carbs as it was running a little rich for the 4 into 1 and it ran great, I added some old 1974 Velocity stacks that I had for years and like the look.
 Just chilling as now I have just sold this to a bloke in Australia and he too is English, so nice to have someone have this machine and enjoy it.
This was the last shot of the bike in the shop before we shipped it to Melbourne in Australia.
Well, here are some shots of the Speedmaster on the other side of the world in Australia and the Owner loves it, as he should. 
This is a great looking motorcycle that has gone through some guises but the bike looks tough and sounds even more.
Hope you enjoyed the pages about this Cafe Racer and it is still hard to comprehend that this is now on the otherside of the globe.
I am sure he will be bombing about the place and hitting them corners as hard as anyone here would be thats for certain.
Maybe one day when I get back out there, I will get the chance to sling my leg back over the machine and go for a burn up?
So, the Speedmaster has a New life in a new Country and I am glad its being used.
Comments
comments