VIVA LAS VEGAS 18 and we shall be off there on Thursday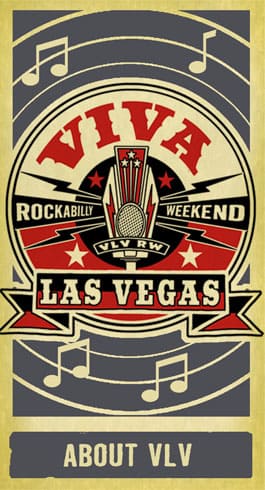 Well, the time is almost here for Viva Las Vegas 18- Jennifer and I shall be leaving on Thursday and driving up to the infamous desert resort, for some superb Music, great food, hanging by the pool, trying cocktails and generally enjoying the whole sin City deal.
There sure is a lot that's happening at the Orleans Hotel and if you can make a trip to Nevada this week and weekend, then this really be something that you will remember. Check out:     http://www.vivalasvegas.net/  as that will have ALL the schedules of events and a great event this is to be seen.
I have been going to Toms gigs for over 3 decades and this brings people from all over the globe, its a must see event if you have never been before and a great way to catch up with old and new friends too.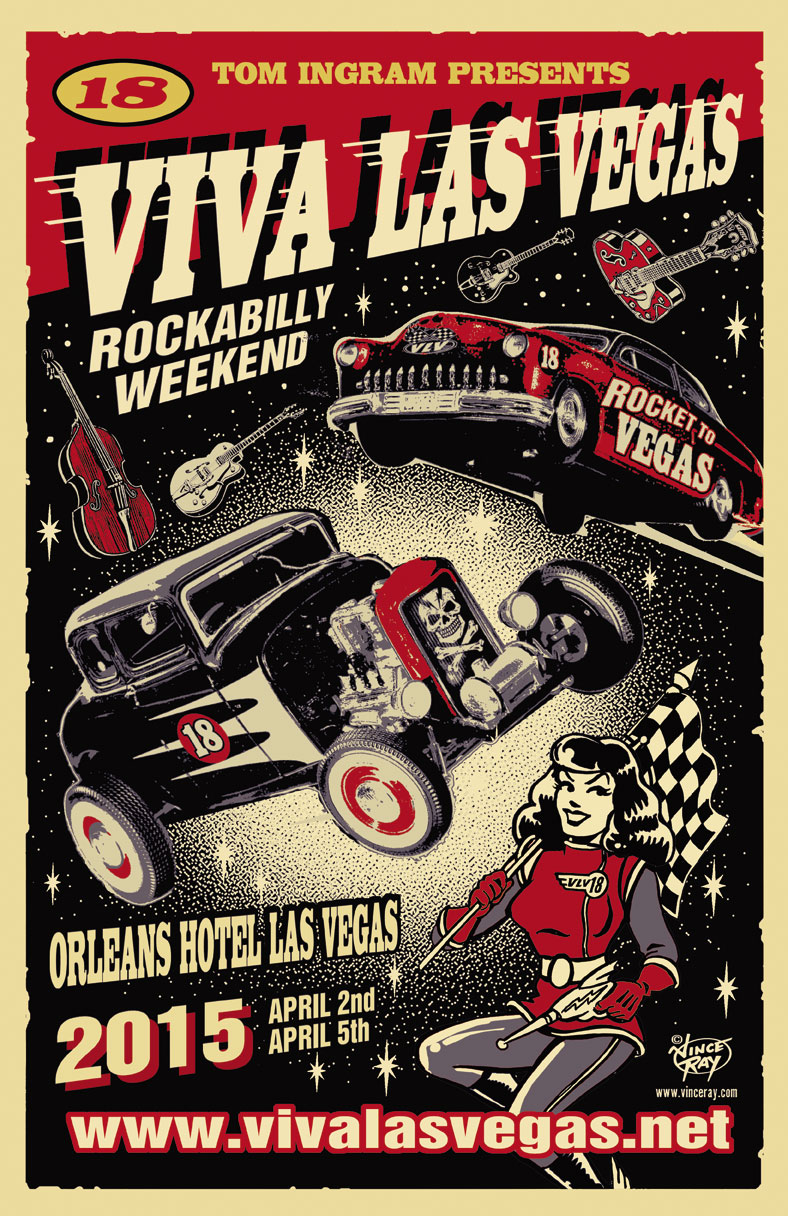 Tons of bands to choose from too, so hope to see some of you there.
There will be new Rockabilly Bands and some famous old school ones for sure, the Sonics will be playing and i for one think that will be great to see.
Also Joe Clay will be playing, I first saw him in the early 1980's when he was rediscovered and been many years since I have seen the old fella play and a great opportunity to see the Blonde Bomber crank out his old hits.

here is just some of the bands and Dee Jay's that will be attending this week.

We are pleased to present the Line-Up for the
18th Annual Viva Las Vegas Rockabilly Weekender.
Click on each artist's name for a link to their website or Facebook page.
CAR SHOW
DION
THE SONICS
KITTY DAISY & LEWIS
INSIDE THE HOTEL
Doo Wop Allstars Show
Herb Cox – The Cleftones
Eugene Pitt – The Jive Five
Bobby Lewis
Stars of Rockabilly Show
Joe Clay
Huelyn Duvall
Ray Campi
The Sonics (2nd show in ballroom Sunday)
Buzz & The Flyers
Bobby Brooks Wilson
Levi & The Rockats
Furious – UK
Marti Brom
The Chop Tops with special guests Mario Valens (Ritchie Valen's brother) and Chantilly Vincent (Gene Vincent's grandchild)
The Go Getters – Sweden
The Hi-Tones – Russia
Omar & The Stringpoppers (their farewell show)
The Savage Hornets – UK
Jake Calypso and His Red Hot – France
Wild Boogie Combo – France
Conny – Japan
Slip and The Spinouts
The Bop Hounds – Brazil
La Puzzydoll – Chile
The Delta Bombers
Nico Duportal – France
Sean Coleman & His Quasars
The Desperados
Jason Hoss Hicks
Mike Bell & The Belltones – Finland
Shelley and Lawrie Minson
The Stardust Ramblers
KB & The Slingtones
Hillbilly Casino
The Vintage Vandals
The Moonlight Howlers
Kay Marie
The Sabers
The Cavaleros – Canada
The Roy Kay Trio
The Rattle Rockin' Boys
Tidal Wave
Dirty Dice
Johnny Deadly Trio
Aileen Quinn & The Leaping Lizards
So-Cal Rocket Dynamics
The Rhythm Combo
Straight Shooter
Switchblade 3
Frantic Rockers
Hot Roddin Romeos
The Buzzards
Li'l Mo and the Unholy Four
The Kingmakers – Canada
Cadillac Casanovas
Phil Friendly Trio
Danny Duke & The Northern Stars – Canada
Hank Biggs & The Hardtops
Dawn Shipley & The Sharp Shooters
Babe Miller
The Fulltones
Gino & The Lone Gunmen
Cherry Divine – Australia
Hank Angel – Canada
Little Lesley & The Bloodshots
The Rhythm Bomb Showcase #1
The Frantic Rockers
The Sidewynders
The Margraves
Nico Duportal
Crystal and Runnin' Wild
The Rhythm Bomb Showcase #2
Jai Malano
Lily Moe
Billie and the Kids
Ricky Fabian
The Shadowmen
Jittery Jack


BLIP BLOP            GERMANY
EL DEDO               ARIZONA
DEEJAY SAVAGE        CA, USA
LUCKY LA ROCKA         CA, USA
TOJO     SCOTLAND
LITTLE CARL      UK
DJ HI TONE      CA, USA
DJ SERENNA     CA, USA
ANDY ROADOILER        UK
DEEJAY FATKAT         CA, USA
SWINGABILLY RAY       AUSTRALIA
LUCKY LaRUE     NV, USA
SIMON THE PREACHER     LONDON, UK
EASY ED       MA, USA
DJ JAMES       CA, USA
DJ SEI    NEW YORK (JAPAN)
ROCKIN VIC      CA, USA
DJ BRIAN   AUSTRALIA
BOPPIN BUD     CA, USA
TOM INGRAM   CA, USA
SIMON MOON      PORTSMOUTH, UK
SIMON FLINTSTONE       WALES
BILL GUNTRIP        SOUTHERN ENGLAND UK
JUMP BLUES RICHARD        CA, USA
GIULIANO GUEST DJ       BRAZIL
More information for you.

The Links and info provided on the page are for informational and entertainment purposes only and were not created by VLV. These links were created by attendees and express their personal opinions on preparing and participating in events at Viva. Everyone has their own plans and ways to enjoy Viva and we hope that you share your personal links and suggestions with us for possible inclusion on this page.
http://www.pinwheelpinups.com/pinwheel-blog
http://issuu.com/dixiepress/docs/april_2015_issuu
Great Tips for the First Timer attending The Viva Las Vegas Rockabilly Weekender
VLV Countdown – Interview with Tom Ingram
VLV Countdown – You Ain't Doin' Viva Right if…..
100 Days Until Viva
VLV Countdown 70 Days To Go!
VLV Countdown – Tips for Saving Up!
VLV Countdown – Safety Tips
Dance Practice Tips
How To Be A Rockabilly Socialiate VLV Style!
VLV Fashion Guide
VLV Fashion Week Clothing Bloopers!


Shape Wear Tips for VLV


VLV Wednesday  – What To Do
VLV Thursday  – What To Do
VLV Friday  – What To Do
VLV Saturday  – What To Do
VLV Sunday What To Do

Let the Viva Las Vegas Rockabilly Weekender Prep Begin by Pin Up Persuasion

What to do at the Weekender by Pin Up Persuasion

A recap of the VLV17 Weekender by Pin Up Persuasion




Packing for The Viva Las Vegas Rockabilly Weekender


http://www.therockabillysocialite.com/2014/03/how-i-pack-for-vlv.html


http://www.therockabillysocialite.com/2011/04/vlv-countdown-packing.html




Getting in Shape for The Viva Las Vegas Rockabilly Weekender


VLV Countdown – Time To Start Working Out!
Thank you Dollie Deville for your helpful tips.


If you would like to submit information for this page, please email
manisha@vivalasvegas.net
.

The Tiki Pool Party has become one of the major events at VLV, and will take place on Friday, Saturday, and Sunday. It is a great opportunity for girls (and guys!) to show off their vintage swimwear.  New to VLV18 – The Pool Party will begin early, at 9am, on Sunday!
CABANAS AT VLV
As you know, there are a limited number of cabanas at the pool for VLV and the hotel is getting a lot of requests so here is the plan. A cabana for Friday, Saturday or Sunday will be $250 for a day. That includes guaranteed entry to the pool area for 10 people. Between now and March 8th please send an email to cabana@vivalasvegas.net On that day we will randomly draw winners who will then be able to phone the hotel and deal with the payment.
Don't forget that the pool party will be for 3 days this time and you will automatically be entered into the drawing for all 3 days. The hotel also hopes to have even more cabanas installed by then.
Please only use cabana@vivalasvegas.net for entering the draw. If you have questions please email tom@vivalasvegas.net
---

Proudly sponsored by Lucy B Swimwear
Are you a vintage swimwear enthusiast!  Well, come out for 3 days of fun in the sun while wearing your best poolside attire.
We have 3 fun, fashionable contests spread over 3 days!
Men's swimsuit contest- Friday 3:45 PM
Couple's Swimsuit contest- Saturday  3:45 PM
Womens's Swimsuit contest- Sunday 3:45 PM
We're looking for contestants with the best AUTHENTIC VINTAGE (pre-1970) swimwear. If you would like to compete in one of the contests, please follow the guidelines below, registration for Friday & Saturday differ from the registration process for Sunday, so please read carefully.
The Men's Swimsuit Contest on Friday & the Couples Swimsuit Contest on Saturday, both do NOT require pre-registration. Arrive no later than 3PM at the Lucy B cabana at the Pool Party to sign in and receive your number, it's as easy as that!
REGISTRATION FOR THE WOMEN'S SWIMSUIT CONTEST IS NOW CLOSED.  The finalists are:
Aly Rose
Chelsea Spirito
Devyn Beth
Edie Edison
Elizabeth Parker
Emily Boyd
Gretchen Anderson
Jessica Martin
Little Bit
Mae La Roux
Mary Lynn Mayhem
Missy Firestone
Serenity Siren
Shannon Million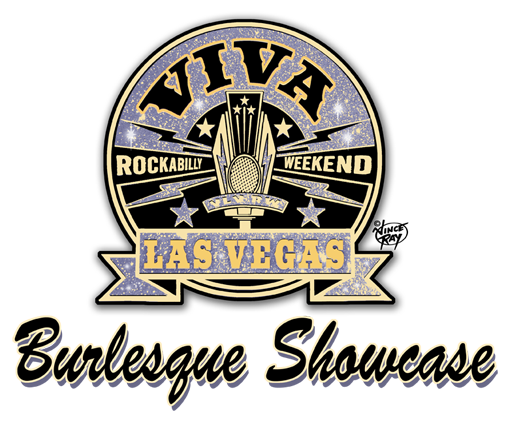 Tom Ingram and Audrey Deluxe are back with the World Famous Viva Las Vegas Burlesque Showcase!
Starring:
The Rockabilly Show and Car show area is open to those with 4 day wristbands as follows:
Thursday 10am – 10pm
Friday 10am – 10pm
Registered cars may enter and leave the parking lot during the times posted above
See information below regarding cars entering and leaving on Saturday
Gates open for cars to leave at 8am Sunday
The gates will be locked at 10pm each night. No unauthorized persons may stay in the Car Show area after 10pm including on Saturday. Security will be posted in the area when the gates are locked and throughout the night.
And for everyone on the Saturday:
Cars 6am – 9am entry – no cars will be allowed to enter the area after 9am
For safety reasons, cars cannot leave the area or be moved between the hours of 9am and 8pm, They can only be moved or leave the area at 8pm or 30 minutes after the last band finishes playing, whichever comes later.
The gates will be locked at 10pm and no cars can leave after that time.  The gates will re-open on Sunday morning at 8am.
PEDESTRIANS 9am – 8pm $30 in
Comments
comments