My Custom Armadillo seat assembly all hand made and available here.
Here we are, Friday already, time sure does fly by and sometimes I just do not get enough time to compile a Blog, so forgive me for that but many fingers in many pies right now.
People have been purchasing my steel Armadillo seat base and are enjoying the look, style fit and of course quality of these set ups, took me a while to get the seat how I want and I made them long, so that you can cut them down to fit the ride you are currently working on.
The Cowl piece I cut by hand out of steel, then I pound away at it using my hammer and sand bag until I get the shape I am looking for.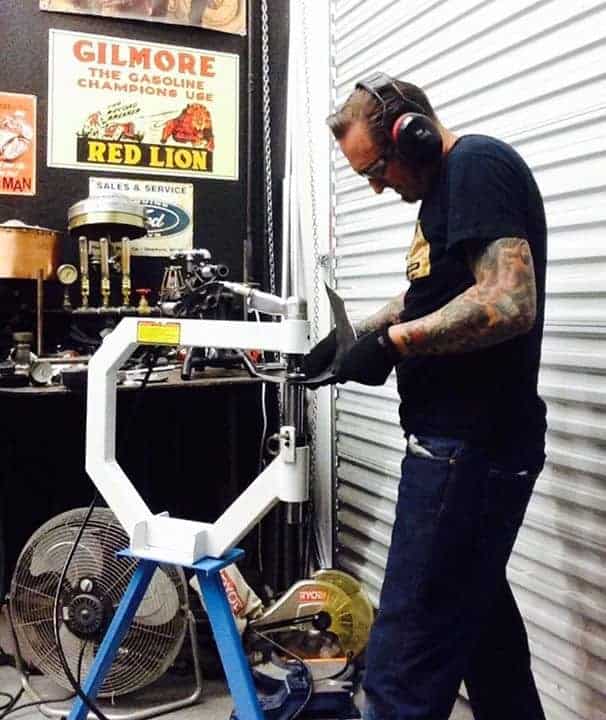 Once I have that done I shake my fillings out by using the Planisher and smooth out the hammer marks and stretch the material to the curvature that I am trying to create.
Prototypes always take time, but, if you want it to fit correctly and have the look you are after, then you must be prepared for hours in the saddle and this is no easy task to tell the truth, I had made three templates until I got to this stage and then I was happy, just trimmed the Card and then it was time to make a steel version.
Cowl is the curve I need and now its time to make the base and then weld together for a cool Old style cafe look seat base.
Just a little trimming and I will almost be there with the seat base and then cane fold up a few of these in one go, as I get many requests for this seat base.
A long seat base is great for a builder who is not quite sure how long he needs his seat, so can reduce until they are happy. 
Tight fitting, this will be a great fit to the frame and sturdy too.
Just need to be welded up then smoothed and thats it for you lot you can fit and cut to length the seat base that you require to be able to fit your motorcycle.
Once I had made a jig for these, they were great and fun to make, and I enjoyed creating this as you can shorten the seat base, as well as curve the back of the Cowl if you so wish.
I made mine for the good old CB750 and this time this was a Super Sport but will fit other models too.
But I wanted to incorporate my own tail light, so set about to do that as I would like to recess this LED tail light to flow with the Cowl itself.
Cut the hole out I needed to make the recess pocket, then welded that in and smoothed the welds around the edges.
Fits in the pocket and looks great, this is a Running and Brake Light LED and is brighter than a Harvard Professor and so pleased at the way this came out.
So now that is where I want it, its time to make the securing holes to fit to the frame, paint and upholster this to finish it off.
Tons of clear coat and yet to buff, but its looking great with all the Candy Flake on it.
The LED has to be Bright as possible, this is a brake and a Running light and there is no way you cannot see this.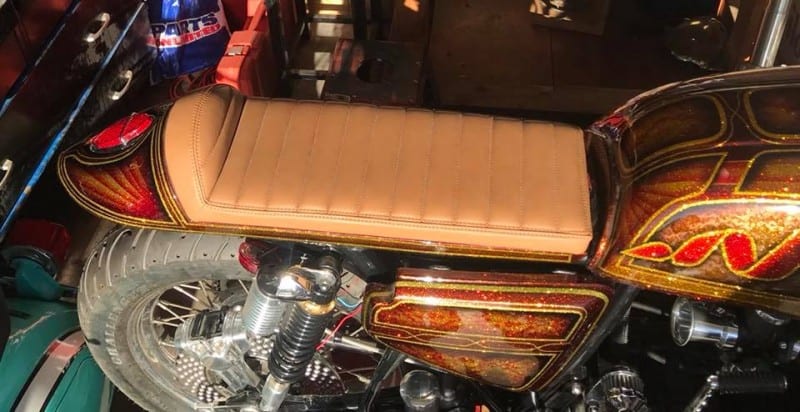 Soft Leather with high density Foam underneath, this will be great one or Two up.
This will be a fun machine and am almost completed in the build, no time limit but I want to finish this now and take it to a few shows.
So there you go, the Armadillo seat is completed and you can purchase the Raw steel version up on the website, it also comes with a insert to upholster too.
The Armadillo has a very tough shell and is close to armor plating.
And my Newest Seat design is aptly named "The Armadillo"
This is my ALL STEEL seat pan that I hand bent and folded the sides , to give extra strength.
Also this is 16 Gauge , no light weight overseas model- Mine is the real deal, made right here.
Weighs in at just over 5.6 pounds alone.
Perfect for many motorcycles , although I created this for the Honda CB750 model.
This can be used on many brands .
The advantage is I have made this seat base long, that way, you could trim the base to what ever length you require for the motorcycle you are creating.
30 L
8.5 W front
9.25 W Rear
Hump is:
9.5 W
4.5 High
Total Weight 5.5
Buy From a real motorcycle business , these are made here in the USA 
🇺🇸 .
I am very proud of these Armadillo seat bases. Check them out and at $220 each- Very affordable indeed.
These will fit Honda CB750 CB650 and CB550 and CB500.
I ship all over the world, 6 days a week.
These seat bases are hand bent and tif welded to cowl and make a very very strong unit.
But with confidence .

Thanks for looking.
carpyscaferacers is the place to buy your Cafe, Brat, Tracker, Scrambler, Custom , parts from.
Comments
comments