Clay Smith, a man beyond his years.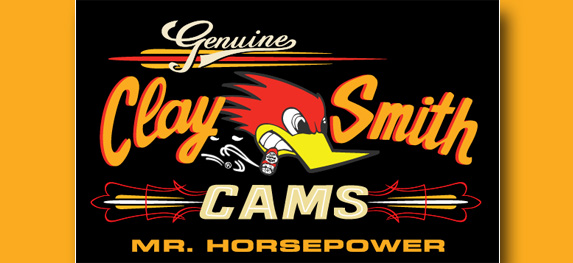 Everyone knows this logo, many people have seen it on Tee shirts and many even have this iconic Woodpecker inked on their body, not many people remember that he was a Man beyond his years in mechanical ideology,but clay Smith was an unbelievable non college trained guy, that could turn chicken poo into chicken pie.
I have taken a few examples of his history here as people still think the man himself is here, I guess in spirit he always will be and of course the shop in Dale street down the road from me in Buena park will have his parts for ever.
Who knows where he would be today if it wasnt for that tragic day in 1954 but i will never forget him that's for sure.
In fact, Clays original Cam grinding machine is still used in there to this day.
Enjoy
Gearhead Guys You Should Know: Clay Smith
Clay Smith, the legendary purveyor of speed during the early days of professional racing here in America is a gearhead guy you should know. He's a more than worthy guy to be profiled. Heck, Smokey Yunick looked up to him.
Yup, Smokey Yunick once dubbed Clay Smith, "the world's smartest mechanic." That's something coming from a guy who was notoriously light on the compliments. Most people recognize Smith's name and immediately think about the camshaft company and its famous logo. Mr. Horsepower, the pissed off looking, cigar chomping, bird was drawn up to be a cartoon version of Smith himself, a whimsical look at an intense and brilliant competitor. It's been argued that the image of the red-headed fowl was the inspiration for Woody the Woodpecker.
Smith's mechanical education did not come from a university or a set of mail order books. He learned on the job by hand grinding cams. As legend has it, he was good enough and smart enough to tune each lobe to the cylinder it was to be working on.
Smith worked for a man named Pierre Bertrand in his shop as a younger man. That experience, along with the experiences of racing, sunk the hook deep. In 1942 Bertrand died and Smith bought the company. It was renamed Clay Smith Engineering.
It should be noted that Smith cams were appearing in midgets, land speed cars, Indy cars and even stock cars, but with the addition of his own full line shop, his name skyrocketed along with his celebrity. Now building full-on racing engines, Smith's business was expanding
We'll skip right up to 1947 when Smith made his first big headlines. He teamed with Bill Stroppe to compete in a hydroplane boat race. Their machine was powered by a Ford straight six engine and they were repeatedly told that it was junk. The problems were numerous with the factory pieces. Oil starvation and vibration were two of the terminal problems with that particular motor. Smith solved them both and they won the event.
So impressed were the people at Ford, they kept Smith on a sort of retainer to work on special projects, and they put him to good use. He took a stocker Mercury and tweaked it to get the best mileage possible, winning the 1950 Mobilgas Economy Run. Following up on that success, Ford had Smith and Stroppe prepare Lincolns for the PanAmerican Road race across Mexico. That was a harrowing adventure for drivers' as well with lots of sharp turns and kinks. The big Lincolns dominated until the race was discontinued in 1954.
During the time of the headline projects Smith was grinding cams and tuning engines for racers all over the country. He became one of the early household names of the hot rodding world. His crowning achievement was tuning Troy Ruttman to victory at the 1952 Indy 500. He had arrived.
With the camshaft business booming and his tuning abilities being sought out by the biggest names in racing, it all came to a tragic end for Smith at an Illinois speedway in 1954.
Roger Ward lost it on the front straight of the Du Quoin Speedway in Du Quoin, Illinois. His car careened into the pits, striking Smith and killing him. Smith had been Ward's own crewchief in years past and the accident shook the steely Ward so hard he nearly walked away from auto racing forever.
Clay Smith's story is one of sadly unrealized long term potential. His accomplishments prior to passing were huge, so we can only imagine what he would have gotten done with decades more of life. There's all the chance in the world that he'd be held in the same mainstream gearhead lexicon as Yunick and others of his ilk. We can only imagine the fun he would have had in the musclecar era. His company still lives in the hands of capable owners who are maintaining a legacy of quality and innovation.
Clay Smith, another gearhead guy you should know.
Just some more bits and bobs that I thought you would like about Mr Horsepower.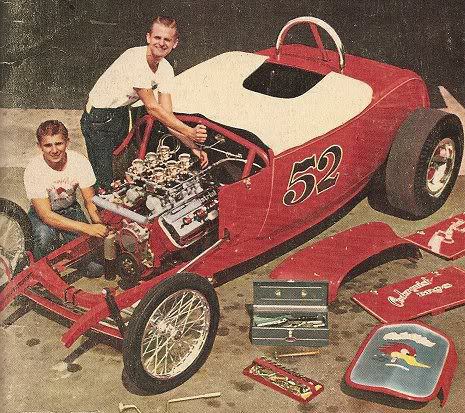 The "Mr. Horsepower" legacy began in the early 1930's with camshafts that were literally hand-ground by clay Smith to high performance specifications. His technical expertise was recognized by the industry and racers were mesmerized by the overall performance of his products. Although he specialized in camshafts, his high performance engines were setting world speed records. He raced Joe Guess's Hydro boat and during this time a friend of theirs drew a characterization of Clay Smith – which is the now the very famous "Mr. Horsepower Logo"
Comments
comments