Dakota races at Irwindale and takes the Win!
Photo: Adam LaVelle
Some of the videos I took have not loaded for some reason, but I thinks its photo bucket, buy at least some captured for you to see at the lower end of this Blog.
Sometimes just refreshing the page will load the videos.
Well, some people are  a little superstitious when it comes to any sport, Base Ball players do their little unwrapping of gloves and re-positioning of their cap etc, Super cross riders do their head shaking and goggle  adjusting etc.
Now as today is the 13th, you'd think that our shop grease Monkey – "Dakota Kai Sun " of Bronze Star Racing group- Would be doing an accumulation  of that, as well as rubbing a Rabbits foot, kissing a baby, looking up the the sky for the great Gods of Maui for some higher than though luck.
But Kota just shrugs his 19 year old shoulders and says, " I will take any lane, doesn't bother me"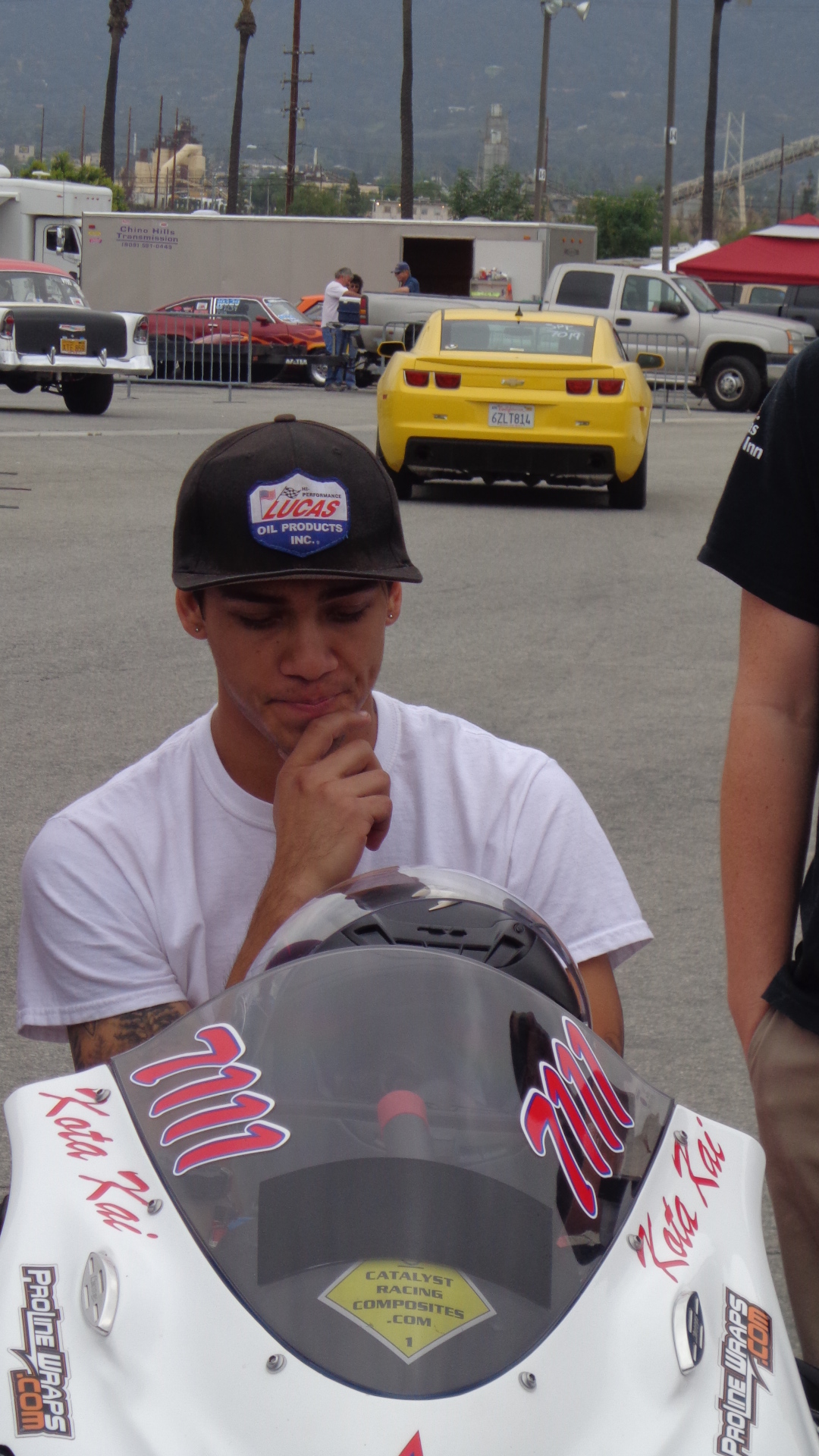 That is someone with not just drive and positive attitude, it is someone who has a passion in his sport and gives it 100% every time. Today was no exception and as me and Jennifer Pulled in to the Pits with Bailey with us for a little luck from us, we could see Dakota was already on the starting line and we watched him Blap a really good strong 5.45 second run for his Qualifying run.
  A bit of a different set up for Dakota this time as Usually his Dad "Aaron Pine " is there either Racing or wrenching for him, but Dakota's Grandpa " Bob Pine " Was there as always to make sure all went well, Aaron was actually at Bakersfield with Dakota's little Brother "Gavin" who at 8 years old has just started  racing in his mini Dragster, so a Racing Family and quite rare to have all three racing and that will be happening in a few weeks time.
The bike was all set and ready and seemed to react well to the condition of the track- the weather is usually hotter than the inside of a Camels Guts when you get to the track and when we jumped out of the Van, it was actually a little cold, the temp was down and the bikes loved that ambient temperature and Dakota's machine was definitley  loving the cooler air.
        Kota ran a strong and faster 5.41 on his second pass and the bike launched better than a Political lobby for a new president! 
  With a fast time and a really good 60 foot and reaction time, we could sense there was something in the air- was it Triumphantness ?
Or maybe our Bulldogs rear end as that seems to let go every five minutes these days. Turns out is was the Triumphantness- as Dakota ran on his first run on the Left Lane   and took the win and the bike dug in and launched well, and this seemed to be a good day for this machine and of course for Bronze Star Racing group, Mav tv, Lucas oil, Shinko Tires and Penske suspension as this ZRX1400 was all go today.  
More focus than a telescopes View finder- kota sets his eyes in the Christmas tree.
A quick rest under the easy up and then the next round was already here, they sat in the staging lanes for some time and the weather was slowly warming up, but its the same for everyone else and when the green light was given, Dakota headed for the staging lane.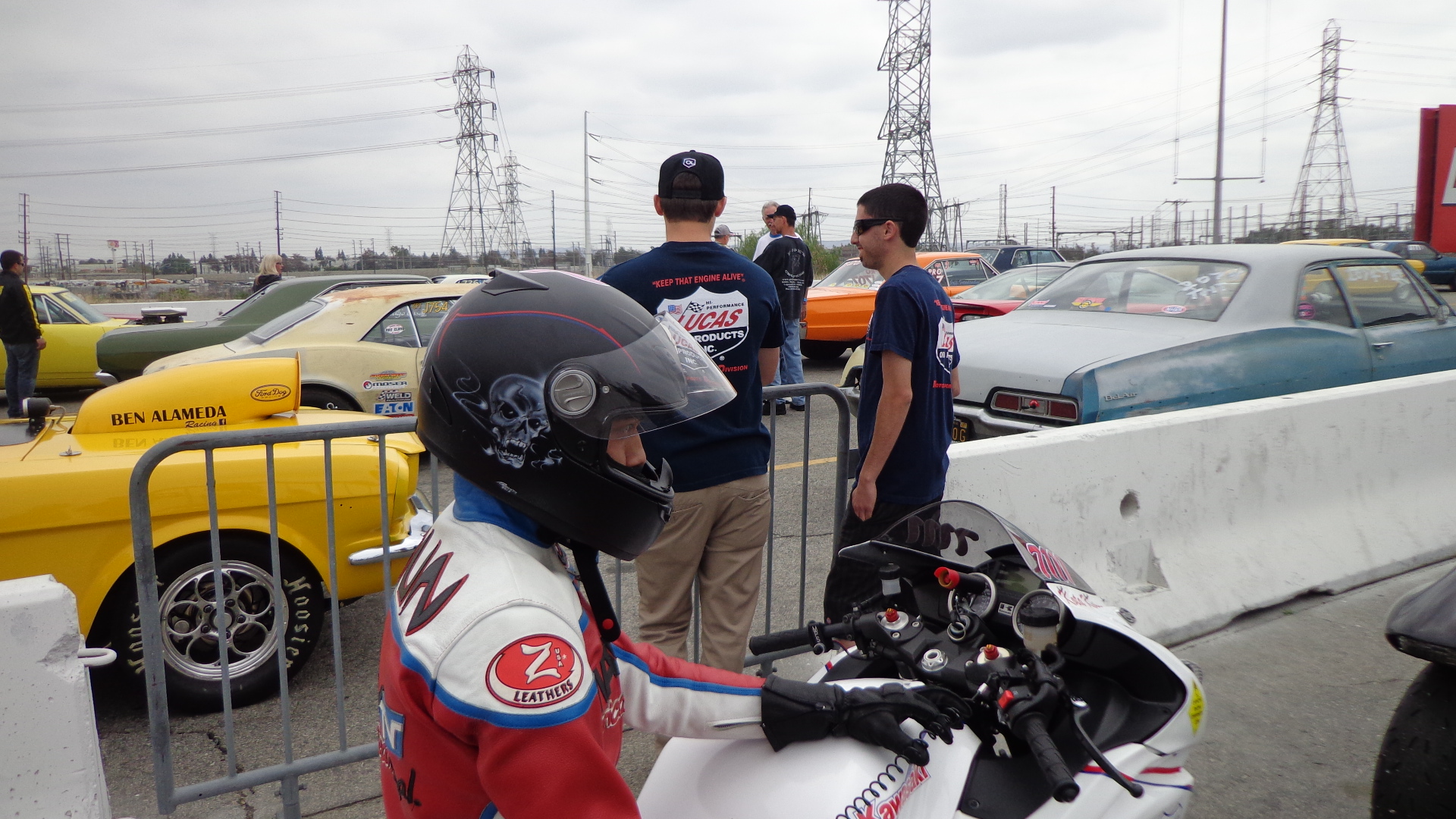 Whoosh- Bang- Bing- Bong- Rock on- His Gone!  Dakota takes the win once more, the bike is holding well and the clutch seems to be fine too.
  Next time up came Dakota and some Older geezer who could easily be Chuck Lidells ( The Ice Man )  dad- On his Buell. No worries, the light was on and Dakota took of for the win once more!  
Always focused and gets the job done to the best of his ability every time.
 Kota's mate Gage Berrara on his Ninja sits and awaits for the track to open.
In the staging lanes just waiting for the call to take it to the line.
Dillan, Cody, crew for Dakota whilst his Girlfriend Taylor gives him some support in the staging lanes.
And so, a great Sunday of Drag racing with some fun characters for sure.
The Flying frog is getting to be a known commodity at the track these days, Dakota had to race him in th4e Final at their last meet, the froggy can fly rather than hop!
TONY PALLATERA has won many championships and the bike is a missile, although he had a few issues with tire pressure in testing.
They both are up on the line and the froggy gets the win as matey cant get the bike off the line as he wanted to and the tire lit up.
The staging lanes show a Mixed bag of Brands of Motorcycles, from Buells to Busa's and Irwindale is a really great place for the spectator, as they can get close to the Pitts and to the track too.
Qualifying passes are what gets the day started.
Bob " POPS" Pine is Dakota's grandpa and he sets him up on the track and make sure all is good for his run on the 1/8th.
Dakota is all set, great shot here of him all set to hit the loud button and run a mid 5 seconds pass.
Gage Berrara fires up his ninja and gets a run in.
Tony Pallatera was unlucky with his tire pressure and clutch today but- that's Drag racing.
Irwindale is great for spectators as you can get so close to all the action.
The Little Buell that could, seemed to run well for an old bike and an older fella!
Kota and Kermit both have a go at the 1/8th mile.
2 Kwackers sit on the line, one new, one old, the Old one does not fair so well against Kota Kai!!!!!!
Dave Miller and his Squidster runs a By and this bike launches like NASA spaceship!
The Jolly Parisian comes back after kota shows him how its done, a fun guy, even for a Frenchman!
Dakota cruises back after the win and is as cool as a Eskimos out house.
Mr.Miller heads back for another round as he blasts through too!
Chuck Lidells dad suits up!
The lads have a chin wag in between rounds.
The infamous sign that you can see from the freeway!
Kota's dial in time got lower than that too, this bike was doing great today!
OK- here we go, one more round and the Sun is coming out to warm up the track, its been remarkably cool today here!
The 2 youngest lads racing have a bit of a chin wag between rounds.
Staging lanes start to get a little hotter in the day.
Last minute checks and preps before kota takes to the 1/8th.
Lighting the tire up so traction is good and his grandpa Bob Pine makes sure he is all ready and lined up!
A great team and have proven to be a force to be reckoned with once all the ducks are in a row.
This Buell did itself a good turn today and he got the numbers in and sent Gage home!
Staying cool under pressure but this was a really good event for Dakota.
Final preps for the next round.
Pop's Pine wished Dave Miller all the best as he gets ready to hit the tarmac once more.
This is a good fraternity to hang with and even though the racing is dead serious, there is always fun and laughter afterwards.
Dillon putting his back into it as he pushes Kota to the line.
Dave lights the tire up.
fresh paint must do something as he made the final!
Relaxed but focused on the next job at hand!
Dakota and Dave head back from their run with Dakota taking the win!
Kota shows his girl that this trophy has bling on it!
This is the view they they get at the line!
Kota and Taylor pose for some pics in the winners circle!
Dakota looking happy and wants to thank ALL his Sponsors. Shinko Tires, Lucas oil, Penske Shocks, MTC, Kawasaki and of course Bronze Star racing group, all added together, this makes for a winning combination.
Seven Triple One, thats Dakota Kai Sun, you will be seeing a lot of him, especially in the Summit class of the NHRA!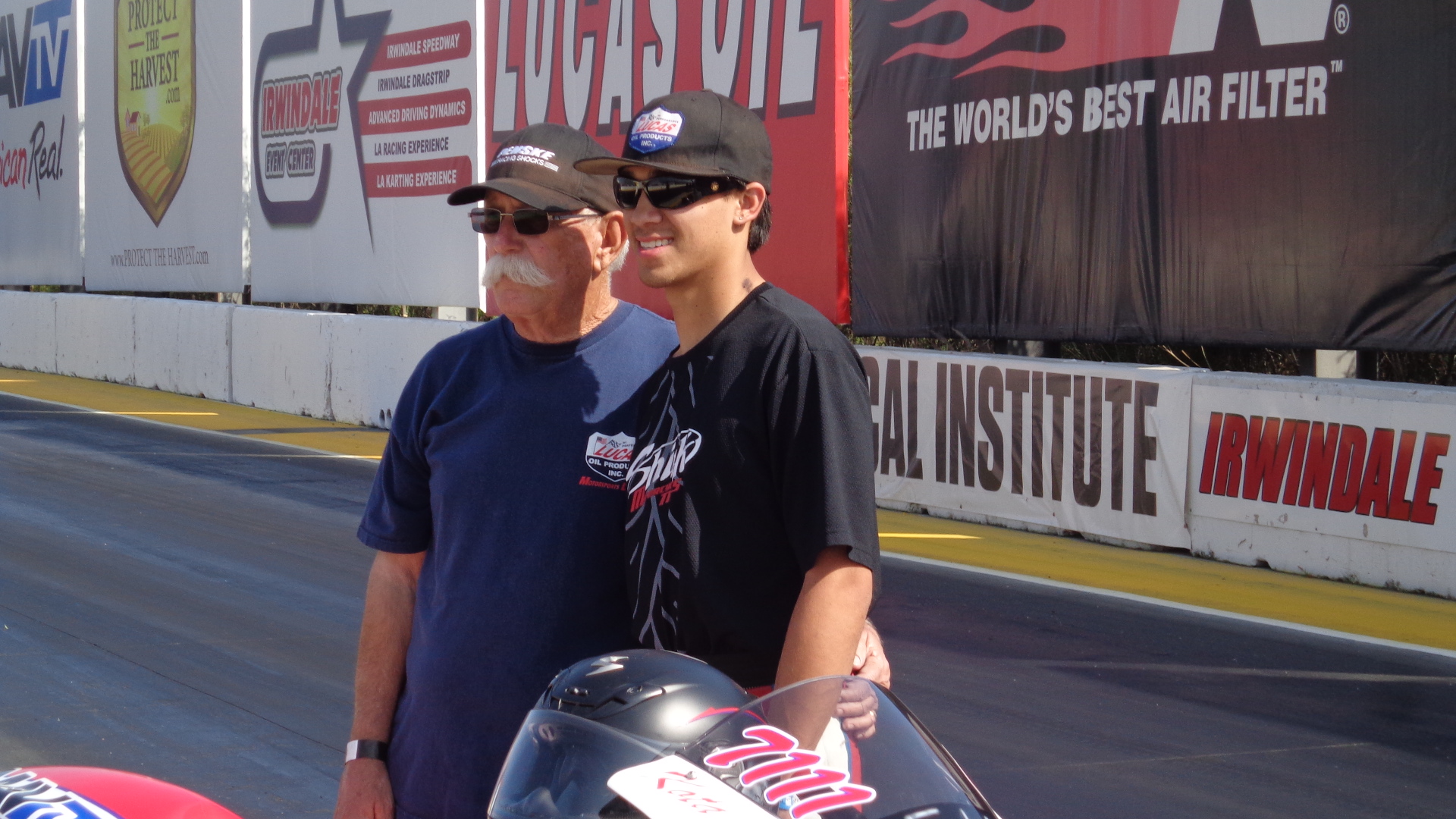 A great Sunday meet and always good to come to irwindale to watch the drags, you should try and make it as it is a blast!
The Flying frog tries his hand at running the numbers, but runs like an egg short of an omelet!
OK- here is some more video I did using my little camera, so you get to see what we did, this video is the froggy in the Left lane but doesn't quite make the numbers.

Here we have the qualifying with Dakota and a long time friend gage, Kota is on his ZRX1400 and Gage on his Busa!
Kota is happy with the bike pulling mid 5 seconds.
Poor Gage has to run against the Buell and let the fella run 2 seconds ahead of him, that's a hard chase.
Watch Gage as he lifts the front end on more than one occasion, bad luck mate.
Dakota into the next round with his win here over " Tony Pallatera" but an issue with wheel spin shuts him out and Kota pulls hard into the lead and the win with a super time.
Dakota in the next round and this time against the Flying Frog, this could be a tight race, but kota gets the win and is through the the next round- GO Kota!!!
Dave Mad man Miller up against Former champ " Tony Pallatera" but " Tony" has issue in the first few feet and Mr. Miller takes the win and into the next round.
Dave Miller having a go with his Bike and just out of the paint shop, the three eyed red Squidster hauls some serious Arse!
Dakota runs against the old boy on his Buell, but- kota has to wait a full 3 seconds after Chuck liddels dad heads off, mid track i thought I heard the tire light up on the revs but kota ran it through and got the win!
The Final, I got this video of Dakota in the right lane against Dave miller another local racer and bloody fast too, this is a great match up and great friends too, but its a close race and kota does it and wins the final and the trophy!
Check Dakota's reaction time.
Thanks again for all those who support our Team. Kawasaki Lucas Oil MAVtv Shinko Tires USA MTC Engineering LLC Muzzys Performance Catalyst Racing Composites DME Racing Penske Racing Shocks  World Wide Bearings Proline Wraps Dynatek And Adam LaVelle
The final with Dave miller and Dakota
Other cool News is, I think this may be a first, but kota wins at Irwindale and his 8 year old Brother "Gavin", takes the final in his first race at Bakersfield- Now that is a racing family.
Comments
comments