Distinguished Gentleman's ride 2015
Well, what a super event, the day was begun by the 59 Club O.C. meeting up near my shop at 6 am so we could cruise down to Del Amo Motorsports in Long Beach- where we would be catered for breakfast etc and then ride to Pasadena town hall.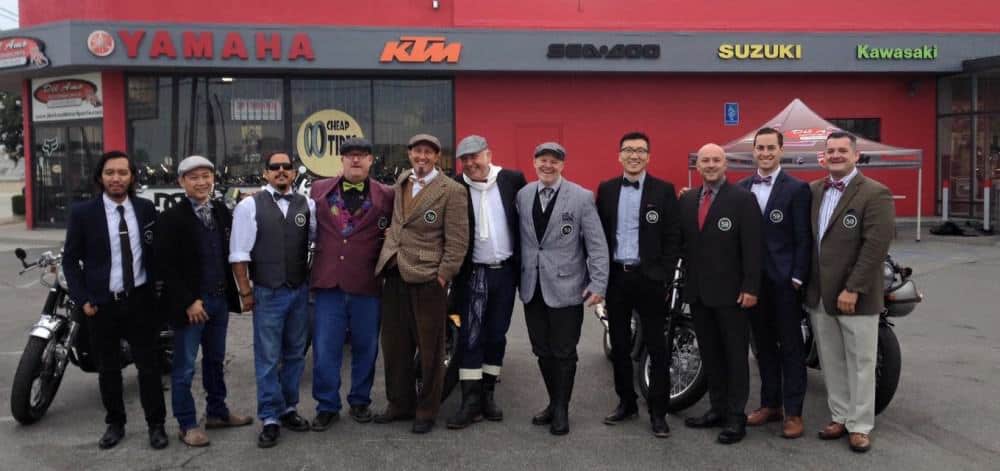 We met at Del Amo Motorsports on time, but they were asleep I think, poor turn out there but we were cheered up later.
Some of the lads leaving ealy to help mark in Pasadena.
But we decided it was time for us to make our move to Pasadena as that was still 30 miles away and although we rode through thick fog to get here, the Sun was starting to come through and we needed to make tracks.
We were all ready to make the trip to the City hall in Pasadena and the 59 Club made a great entrance for the DGR.
Below, time for a selfie as we pulled into Pasadena, didn't see the little old lady but tons of Distinguished gentlemen that's for sure.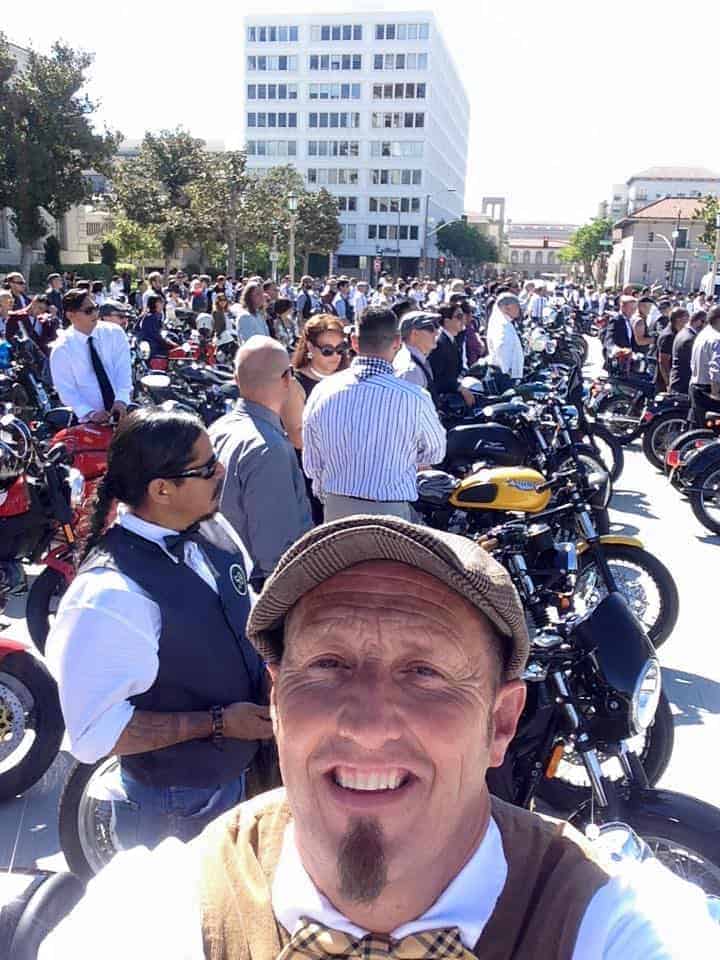 The Sun was baking already so needed to get a few photos but couldn't keep the Dapper Tweed on for too long as the temps were getting high.
Above- the 59 Club O.C. representing and all Dapper up for this great Charity Ride, such a fun bunch of mates I always enjoy their company.
Plenty of motorcycles here and more turning up, it was an amazing sight, there were tons of Triumphs at the event and was stoked to see that.
Everybody was friendly and wanted to take a photo of your machine, or just asked where you were from, loved this event.
Gerard, Zach and me do a selfie to remember this Hot September day.
The lads Mingled about as we got ready for Stage 2 of our ride, and that's a long winding one to the Ace in LA.
The Lads all parked up as we get ready to embark on this nostalgic day and boy was it getting hot dressed in Tweed.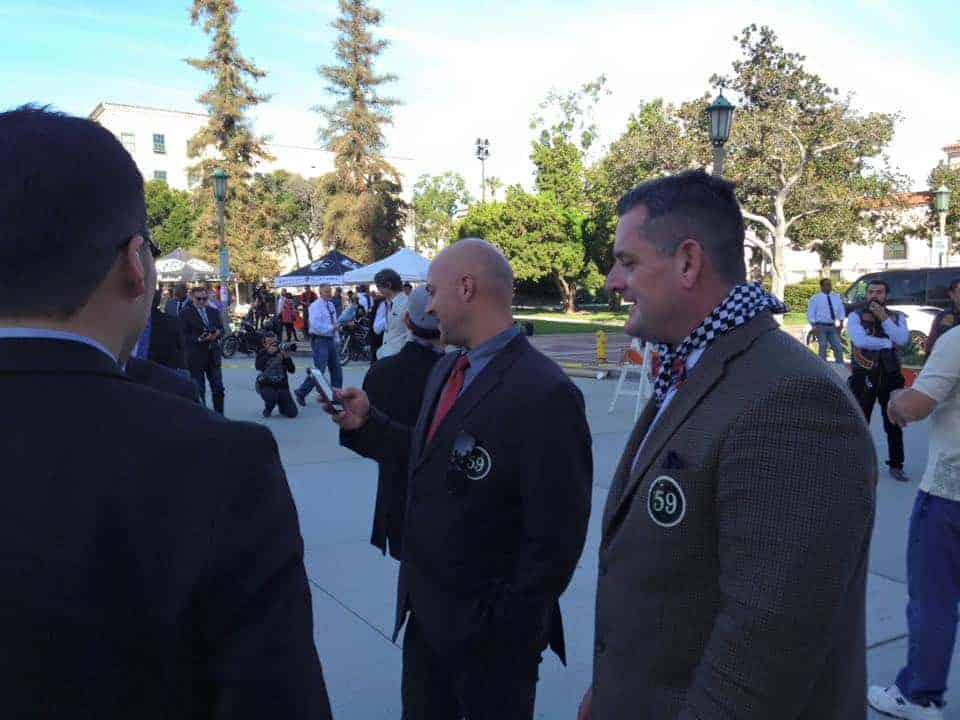 We all kept together and people knew who we were by our Club decals we displayed on the front of our jackets.
Mark, Zach, Perla and Ditrick chin wag about the festivities, Perla saves the day by taking our jackets so we could ride a little better in the heat.
We all had to stand by our bikes for some photos then the big chat on road safety and how we will ride in a mass formation.
City Hall was busy and a great area to have this meet up, a lot of organizing went into the worldwide event and it paid off.
Below: My Rig and love this Motorcycle, such a blast to ride and it enjoys the twisties for sure.
Motorcycles and people all over the place soon congregated for the big ride out to Los Angeles and over 600 machines there too.
Below, as we sit and cook as we get ready to fire our steeds up and take this winding route to the Ace Hotel in L.A.
So many cool Motorcycles and Crash helmets on display here, I enjoyed seeing all sorts of attire and machines in Pasadena.
Dapper was the order of the day but with the sun getting hottoer by the minute, you needed some H2o but hard to do on a ride, thats why we cooked.
I upholstered my Davida for the ride as this was for Cancer,wanted to ride for my Mum and my step dad who both passed away to the big C.
My Ton Up machine as it sits majestically in the Sun, awaiting for me to straddle the machine and get going to Los Angeles.
So many Triumphs at this event, it was such an eye catching view and when we all fired up, the roar was awesome.
Different styled and colored skid lids were a plenty and the turn out was pretty impressive.
All awaiting for the get go as we wait for a few photos to be taken and then the riding instructions from the police.
Triumphs old and New were here in abundance and was great to walk about a bit and take it all in to be honest.
There is a Ducati that's more money than I will ever see but nice to see they made the trip to this event in Pasadena.
I almost wore my Brit Crash helmet but there seemed to be many of them here, so glad in a way I didn't.
My mate Dave's GT came up from San Diego area, he rides the Little GT everywhere.
Dapper Dudes chin waggin on what the day will bring upon us but, such a great atmosphere here in Pasadena.
Yes, even a side car made it for the ride of which would of been quite fun sat in the chair, but would need an umbrella in the sun.
Listening to the Police giving road safety instructions, before we make this epic ride into the LA area/
hard to hear at first until the Bull Horn was used and we were all ready for the off by now.
Plenty of people came out for this Distinguished Gentleman's Ride and I wasn't expecting it to be this bloody hot though.
Marvelous turn out, atmosphere and camaraderie as we all are about to ride our Motorcycles.
A Mate of mine Tom Haigh gets ready to ride hos Trumpy along with us.
Getting on our machines to make this journey through the City streets in Pasadena, all the way to LA and this would be a Hot and Bumpy Ride.
Happy faces as we get the Green light to fire up our motorcycles and get moving out of this heat.
The Roar of all these engines was something you could only explain if you were here, 600 Motors all revving up.
So like a bunch of well dressed Bank managers we were finally ready for the off.
Now people are stoked to be able to click into first gear and work their way out of the city hall and into the Streets of Pasadena.
Blue skies as we head through Hollywood and people cheering, waving and taking photos of us as we speed past.
In Downtown LA now and boy was the Sun getting hotter, but with a Police escort we kept moving but it was touch and go with some of the riders.
The Ace Hotel parking lot soon filled up and we was ready for a cold drink after an hour of riding in the back streets of LA.
Plenty going on, food, music, drink, photos, video and just great people at this event.
Many different styles and brands of machines turned up, quite a few Honda's flew the flag too. 1975 CB750 below.
I am having a chin wag with some geezer about the event and, thats how it went all afternoon, 59 Club member Mark Baker was with me.
Plenty to look at if you can stand the heat as this Summer seems to be going on for ever.
Triumphs, Ducatis. Harley, Honda, there were many machines here and it was a super turn out.
Triumphs sitting in the sun after a winding ride through the back streets of Los Angeles.
So many good Motorcycles were here, it was nice to walk around if you could find some shade .
Bow tie and mustache adorned this R67 Beamer.
From the roof top of the Ace, the skyline was great to see and this was the pinnacle of the day for me.
Bikes on the tarmac, taking in the U/V's as we sat up on the Roof of the Ace Hotel, where the Bar is.
Great view of Los Angeles.
The front door that welcomes you to this old Hotel.
Bands played in this sweltering heat and a good job they did too,.
I just had a photos taken and in the back ground my mate mark Baker on his Trumpy gets ready for his shot.
Vendors and Music seemed to be the order of the day at the Ace.
Below is a photo I took with my phone as there was a bit of shade and I managed to find some stairs to get a better view.
People on the far side of the parking lot who got in first got the shady parts to sit, lucky buggers.
An eventful day that is for sure and hopefully next year it will be bigger but not so bloody hot.

And finally the Major Speaker Christopher Medak – photographer of the stars gets all Las Vegas in the Pool.
I managed to raise over $5500 for the research for a cure for Prostate Cancer, Our team combined raised just over $45,000 and combined all around the world, so far- we have all raised 2.2 Million Dollars, that's a tremendous achievement and the charity is going on through October if you still like to donate.
Thanks to all my crew for the help and the the fundraising, you are all my hero's- and thank you to everyone around the globe that got this total to what it is.
Until next year, ride safe and hope to see you at one of the rides that we attend as the 59 Club O.C.
http://www.gentlamens ride.com/rider/carpy
PHOTO Credits,   to Ron Nicholson of Santa Clarita Thanks Ron.
Comments
comments