Jakusa Motorcyces and just some of Tamus Jakus designs.
Here's something for the curvy crowd: it's a Harley Davidson and Bugatti fusion machine, mixing the best of American motorcycle engineering with a European design aesthetic from a bygone era. It's as art deco as the Empire State Building and as curvaceous and sexy as Ingrid Bergman. It goes by the name of Jakusa Atlantico and it's one of the few 'fat and round' looking motorcycle concepts that we've taken a shine to. Sure, it's a theme bike but don't let that get in the way of a good idea!
What we have here is a fantastic combination of the Harley Davidson Fat Boy and the ultra-rare and incredibly voluptuous 1936 Bugatti Type 57SC Atlantic. This particular concept by Tamus Jakus, is the perfect example of using retro lines and curves and a fair amount of simple streamlining to produce a beautiful motorcycle with a slightly modern twist.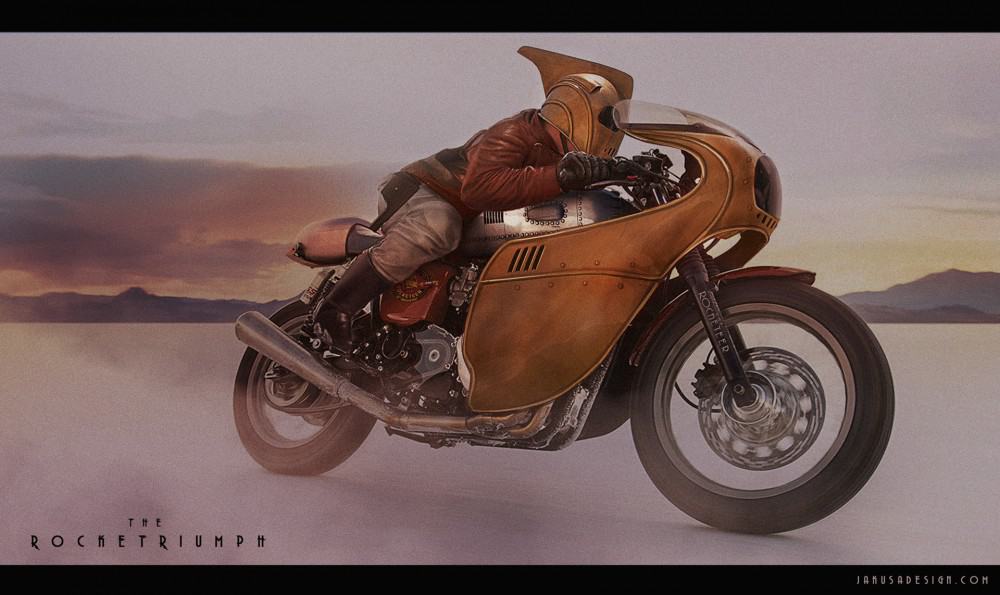 Tamus Jakus is no stranger to designing gorgeous concept bikes; his portfolio boasts some of the most elegant and well thought out car and motorcycle concepts of the era. The Hungarian artist, illustrator and designer has a knack for mixing classic styling elements with modern machinery, to create some insane concepts. I love the Boneville design that you see Below, very stylish.
Now, if you look below, you will see just a few of the designs that the Hungarian Designer has managed to knock out of the park, his style and color palette is so amazing, I wish I could do something like this, what a great foresight to be able to create things of beauty.
All amazingly designed that I could be happy with owning any one of those on the board, all the lines flow like a River and so glad to be able to show these works of art today.
Be it modern or a Classic style, Tamus Jakus just knocks these designs right out of the Ball Park, there is something there for you I am certain of.
Above is a concept machine that was drafted from an art object and has conformed to the motorcycle perfectly, only a true artist can pull something off like this.
I am sure there will be many more great designs and I shall be looking out for these from now on, I was always trying to think of what Hungry offers to the world and now I know a Gold Medal Winner when I see one.
What I like about all his renderings are that the actual finished product is exactly as the drawing, he makes it look so bloody easy.
He designed this as a DGR ride machine and the concept seemed to work quite well, the bike is complete and does a few rounds on the road and is in a shop on display.
Look at this Tasty Ducati, a stealthy look but something I wouldnt minding slinging my leg over and taking it for a long ride, like to Las Vegas, it looks pretty comfortable.
Something for all you Street Fighter fans, the finished Product looks pretty tough to me.
This Machine looks like the Clubman Racers of the day when I was a teenager, he sure captured the styling using this XSR700 TD3 Model.
These looks like the early JPS Nortons on Steroids, a Tough and menacing stance, what a great job to pull off on this Motorcycle.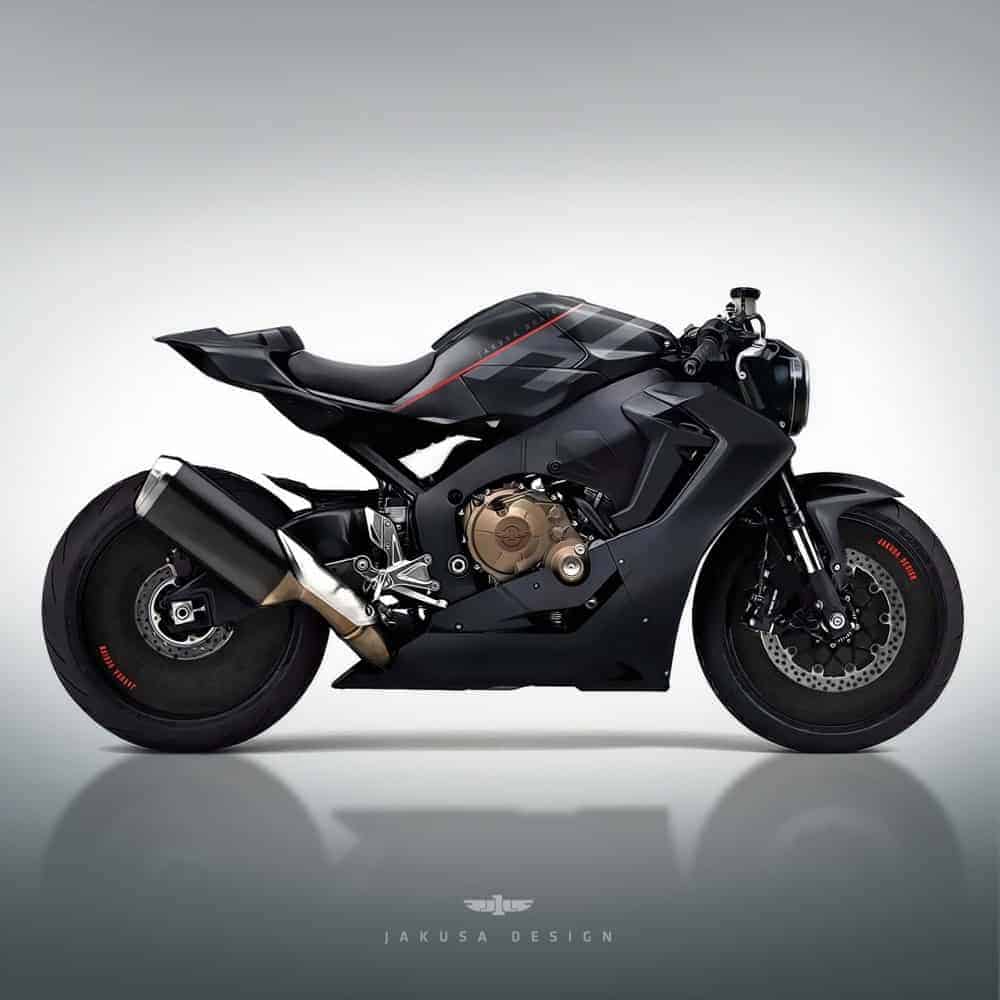 I sure hope we get to see some of the finished Models on the road or on the show circuit as being as unique as this, makes for you to physically inspect the whole machine when you clap eyes on it.
Look at this Ducati, I mean it looks as tough as a doorman on New years eve dont it?
Bobber looks pretty cool, not my cup of Tea but can see the bike has motion and smooth lines.
I wonder How many heads will turn if they saw this machine cruising down the street, a smooth concept and looks pretty tight.
Frigging mad machine in the Gulf Livery for sure. May be a wee bit hard around the Hairpins but again I would love to have a go on it.
I think Burt Monroe would do a double take on this Indian, how I would love to try this on the Lake bed at Bonneville to see what it can really do. Love the Shot Gun Mufflers.
New and old Concept works very well, reminds me of the JPS livery and the old Caff bikes of the XS650 era back home in the UK, a great job here capturing the Desmo styling.
I love the work he does with the Triumphs, the fairings are shorter on here and that is reminiscent of the 70's styled 3/4 Fairings that you used to be able to purchase in many other speed shops of the day, kind of a Phil Reed style.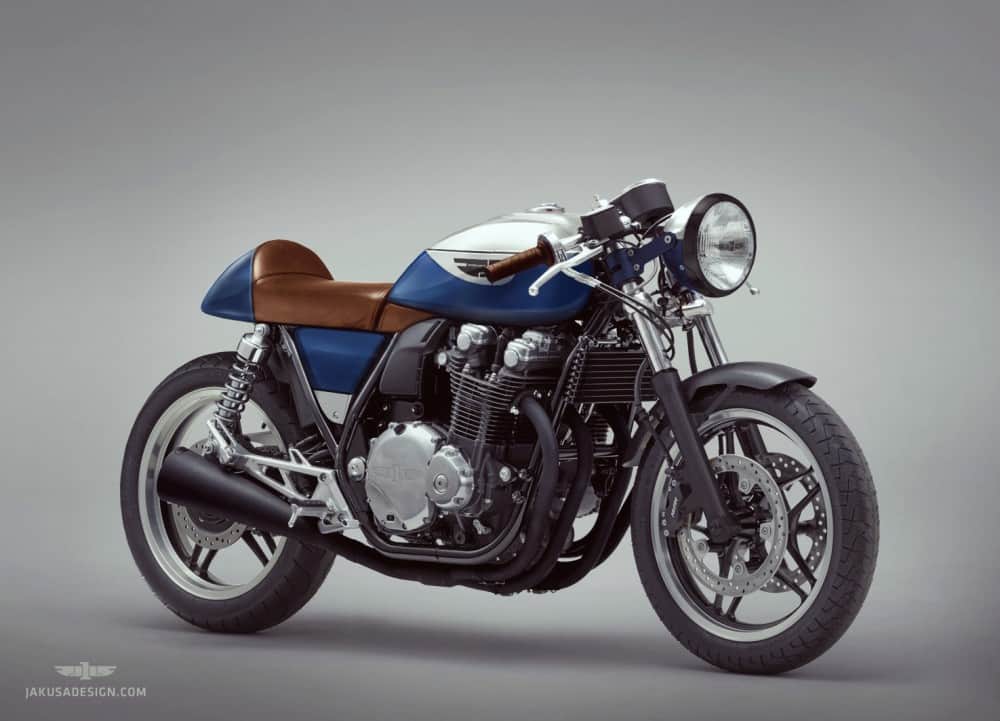 The good old DOHC looks great in this guise, what a tough style and form, well done mate as this is a Killer Cafe styled motorbike I see right here, we need more of these.
The good Old SR Motorcycle has been seen in many guises for many years but I never tire of it and have always loved the GT40 Gulf Livery and one day I shall create my own version, I loved this little Bar hopper bike.
Looks a lot better I think with the fairing as then it flows from the front to the rear cowl, unusual right side only Rotor set up too.
This is a Duck on a frozen pond but it looks at home and I would dearly love to ring its neck out around this area, great concept machine.
Comments
comments