Little bit more work on the Old Vesco Honda
Well, here we are, been away on the East Coast but now need to play catch up as I have this Vesco bike to get up and running, and then I have to plan a build for a Customer all the way in Iceland, so that's kinda cool.
But, as I was away I had time to collect my thoughts on this machine, it needs tons of work but will be fun and I have gone with the concept of getting the bike to run and see how reliable the engine is, maybe take it for a blap across El Mirage Dry Lakes in a few weeks and then, if I am happy with the old snot Monster, then I can strip her apart and build a nice Custom machine out of it for someone to have fun with.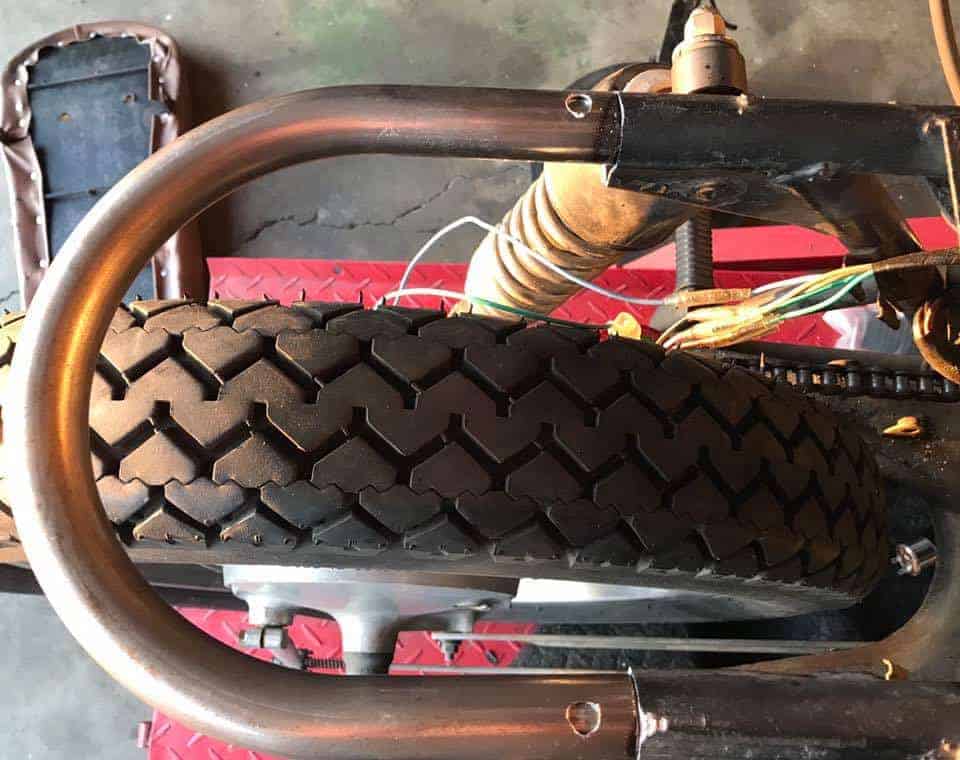 The Motor runs as we all know now and I am happy about that, but now its time to clean out the gas tank and get some paint on it, so I have used an old knackered gas tank as a mock up as I still need to make a seat base for this ride, and as it is going to be a Brat style machine, I need to get about and cut some of the frame to allow me to fit my special Steel Hoop Inserts and then I can set about making a flat seat base for it once the hoop is all cut and welded in.
I make sure I drill a hole through the tops of the hoop and the frame, then- when I insert the slugs and tap the hoop to Butt up against frame, I will be able to spot weld the holes first and then weld the Butted join for more strength.
So, just some Gloss Black paint for now so it doesn't rust, later on when I am happy about how the bike rides, handles and sounds, the whole machine will be taken apart and I shall bead blast the frame, smooth the welds and then modify the frame a little more before I go for a Custom paint job, but this is the length of the frame I am looking for and can go onto make a seat base.
As you can see, it looks pretty good, I used Automotive paint to spray the tail end, but I have so much more to do, its taking shape a little bit each day and that's what I like.
I used an old piece of 1/8th inch steel plate and this is more than ample enough to support my fat arse and will be good to upholster too, yes of course I will clean the surface rust off when I am ready for Upholstery. I was lucky to have some old steel plate in the garage, so no cost involved at all, thats always good right?
OK, the steel is now cleaned up as it was only surface rust and a quick going over with my Air sander sorted that out, when you see the base it looks pretty long but, it is just the length I am looking for as you can easily sit your arse on the bike, and you have enough room to strap some parts or luggage on the rear if you so need, I mean, Motorcycles are still supposed to be practical right?
Now the seat base is done, I just need to weld some studs underneath, as I am going to have them go through the cross brace behind the battery box and can then plop the seat on and add some flange nuts underneath to tighten, I will also add a bolt at the back of the seat to keep everything secure, as well as a small half moon plate on the inside of the hoop, just in case I want to add a tail light or license plate there later. You wont see it as its hidden, so if I chose not to use it, no harm done.
Up front I chose to go for some cool Custom 7/8 Grips, this time I liked the look of the Marble effect that Cole Foster makes, they really are comfortable, so a good choice, you will notice New handlebar control switches as well as New clutch lever and cable fitted to this machine.
This bike didn't have any gauges at all, so I chose to go for the good old 2.5 mini Gauges, to keep everything neat and tucked away up front, eventually I will polish the triple tree and fit new front forks.
The old carbs needed going through and re-jetting as I am running my Exhaust system, I also fitted new throttle Cables and Bell Mouth velocity stacks for that yester-year look, I made sure that I also fitted brand new Air intake manifolds and used stainless hose clamps with rolled edges. The over flow lines are braided hose and at $4 a foot, they aint cheap but work great, the rubber ones you usually see dry out in the California Sun, so want something to last, ad these Aircraft hoses are just the ticket
Well, thats as far as I have got done today, will take more pics tomorrow, enjoy your weekend everyone and thank you for following me on the Vesco Honda..
Comments
comments