Picked up some Original Chopper frames
Well, sometimes things come along and you think to yourself- " I might have a pop at these later" And sure as eggs are eggs, I have them at my place.
These are some cool old pieces right out of the 1970s.
First off is the Black frame, A Denver Choppers frame, these were one of the best out there and built many frames over the years and I was lucky enough to locate this one not too far from me, its been sat in the desert for many years but later on, I think I can build something cool, may take time to find some period parts and have my own twist on it, so we shall see how this goes.
Since 1967
Denver's Choppers was the first company to manufacture the long down tube stretch frames, or the Swedish style as they became known, which was actually Denver's style. There is even a motorcycle club in Sweden called Denver's Choppers, so named after the long stretch bikes.
Denver's Choppers became famous worldwide in the early 1970's, and their parts have been used by world renowned bike builders over the last three decades. Denver's Choppers has been and will continue to be one of the leading trend setters in the industry.
They have quite an aggressive rake to their frames and that's what I like about their chassis, now, this is just parts right now but in time, I hope to try and assemble it into some sort of cool 70's style machine and be able to take it out around here and experience the trippy feeling of being a Chopper rider.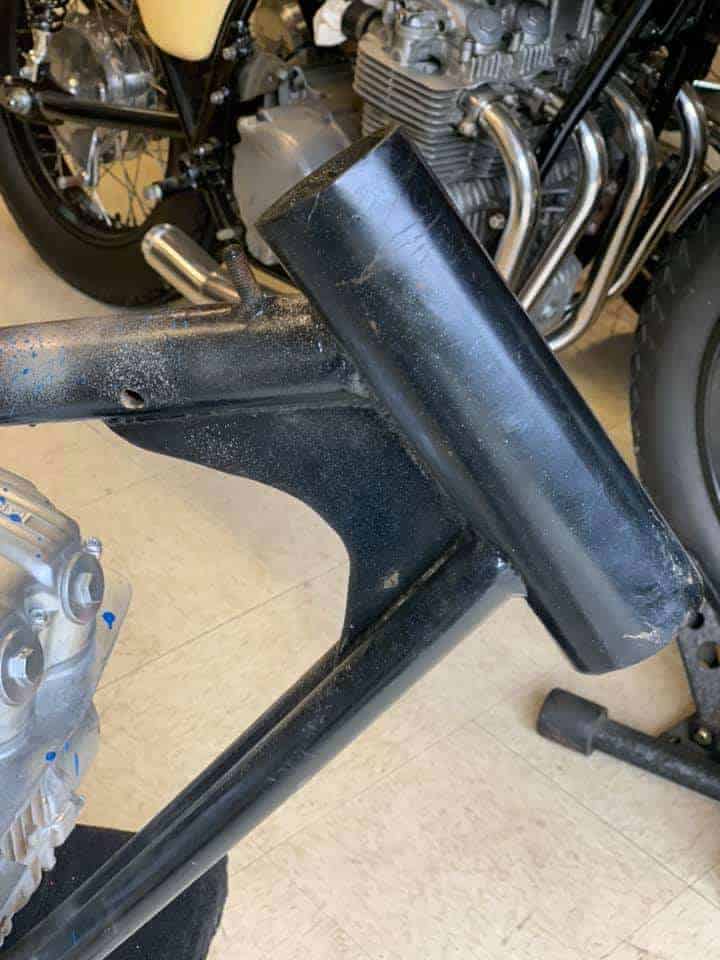 A long way from anywhere and even though I have owned a few of these frames in a while, I have always sold them to guys that want a chopper bike, but thought that it would be cool to have a couple of real customs, so it will take time but hopefully I can pull another machine out of the Barn later and see what these are like again, as it has been a long while since I have had one of these Iconic machines.
I am sure it will have a few different parts on it to get it rolling and still need to find adjusters, but dont see one in the rear rigid, so may drill the back to allow for a long wheel aligner bolt to be used.
Still has the Original OIL tank and Battery box, but may copy it with a New version if this is in bad shape, but its all fun and still a learning curve, so I really have my work cut out and it will be a long battle of which I hope to become the Victor in.
So the start begins for parts, bit by bit and then we shall see how I go about all this and enjoy another Denver Mullins Chopper frame for the good Old CB750 Honda.
This is something how I want it to look, this is a Denver  Chopper, similar frame.
Comments
comments