License Plate frame with LED stop tail light
A Custom Chromed License Plate surround with LED brake light and running light with License plate LED's too.
License Plate Frame w/ LED Third Brake Light
DESCRIPTION
Beautiful Art-Deco Design Light Housing 
Red LED Third Brake Light Also has Running Light Function 
White LED License Plate Light with 11 LED 
Here we are with a great set up for your Motorcycle, as this is state of the art and a really good bang for your buck.
If you are building a Cafe Racer, Bobber, brat or Chop and want to get rid of that huge tail light assembly, then look no further as this set up has all been thought out for you.
This is a Motorcycle license Plate frame that is not just chromed, the Brake and stop tail light assembly has cool fins machined into the surround and inside that is 5 L.E.D. lamps that act both as a Tail light and a bright stop light.
Also, to make sure the old bill do not give you a tug for not having a license plate light, this puppy has discreetly placed 11, yes Eleven LED's to illuminate the rear license plate clearly.
So easy to wire as I will add the color code to you and I am going to take some photos of the frame working as I wire it to a 12 volt motorcycle battery, as then you can see how much the rear set up really illuminates and sets you apart from the others.
The positive in this is that Light Emitting Diodes will last for many many moons and have a constant voltage as to 12 v bulbs that seem to burn out if there is a power surge of anything.
So, if you were scratching your head as to how the hell you were going to get a rear license plate figured for your project, look no further as I have you covered and ready to go right away.
This is a superb set up and cheaper than many expensive aftermarket systems out there, I have tried and tested this a number of times before I even attempted to offer to you, this is Quality.
I ship all the world and also I ship out 6 days a week, so you get your parts a lot faster than many other companies out there, there is no middle man, just me and I make sure its right for you.
These are for ANY 12 volt Motorcycle and I am sure you will be happy at this great set up and how very efficient this product is on your mean machine, you will thank me later on for sure.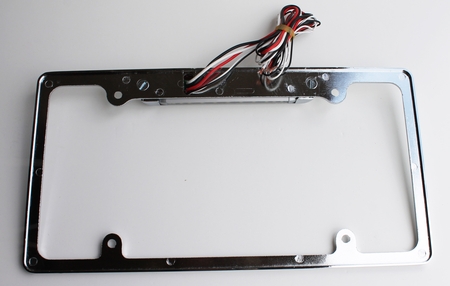 I have been in business here in Southern California for over 15 years now and want to make sure every Customer is happy.
Keep looking on my website for more cool parts, as I try and add New parts every week, I also blog everyday to try and keep you entertained.
Yes- I am a business and I live and breathe Motorcycles, I try to give you the best deal possible and sometimes I have coupons on a limited trial offer, so keep your eyes peeled for that as the more savings for you the better it is eh?
This makes a great Gift for that gear head in your life and I know they will be more than happy when they unrap their gift to see this nicely weighted License Plate frame, it is really that good.
Comments
comments
| | |
| --- | --- |
| Weight | 1.0 lbs |
| Dimensions | 9 x 5 x 3 in |
---