Sunday Morning, Heading to Dana Point. California
Well, I am heading down to Dana Point this morning, to go and check out some real classic steel and to get out of the workshop for a bit, as you lot will know, spending time in the workshop for too long, well you get stir crazy,. I need to stretch my legs and go and look at some cool stuff that Southern California always seems to have going on.
Holy Moly !
I wasn't expecting Motorcycles at the show, but I was so stoked to see some of my top 10 favorites attend this great show, and the day was superb, sun, sickles and, well more sun to be honest, and I was baking like a Cup Cake wars contestant.
But check this out!!!!!!!!
How awesome is this shot? Exhausting I know but I really have had a passion for the MV Augusta and there were 2 at the show that i was dribbling over, and am sure glad that I attended the show, although Thirty five bones was a bit steep to be able to have a look at some of this Classic Iron, still- it got me out of the shop.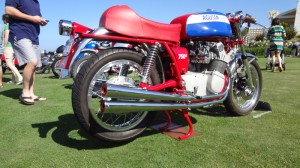 Before the Sun got too hot, i thought I would have a quick look around, as people started to pour in like ants on a picnic table, so I did my best to look at some cool stuff and take a couple of shots for the blog.
The Beeza was jut what the Doctor ordered this morning, as I have not seen one of these since I was 15 years old and used to hitch hike to Snetterton race track on a cold Sunday morning.
Well here we go with the Crazy 2 stroke, this would pull my own arms off and then beat me with them if I attempted to ride this monster. " Ring -A -Ding-Ding-Ding !
The rear end is something to see, if only they had a chance or section, where you could hear them fire up, as them expansion chambers would cackle all day if I had the choice, and- of course, the Smell of Castrol R fumes is the cherry on the cake.
Here is something I never knew, I saw this really cool trials bike, something I loved as a kid too, but, never knew Ducati made a trials bike, so was really taken back when I saw this on the display and was sure glad to see it in real life too, I loved this machine.
I want one so bad, I think i'd even buy Rosetta Stone to learn the lingo too if I had to. it is just Classic Ducati and just love all the lines on this Trials bike.
So I was having a super morning and its worth taking a risk and checking on shows local to you, as you really do not know what is there until you actually attend.
Another MV Augusta that was a Classic racer and boy Does red look sharp under the Sun at Dana Point. 
So many cool rides but people started to heard in and taking photo's was getting tough there, so had to flock off to some other area, but a great morning just to look at these really cool machines that are restored to the nine's.
If you can make it to Dana point next year, its worth while for sure.
Comments
comments