Welcome to my New website.
Hey All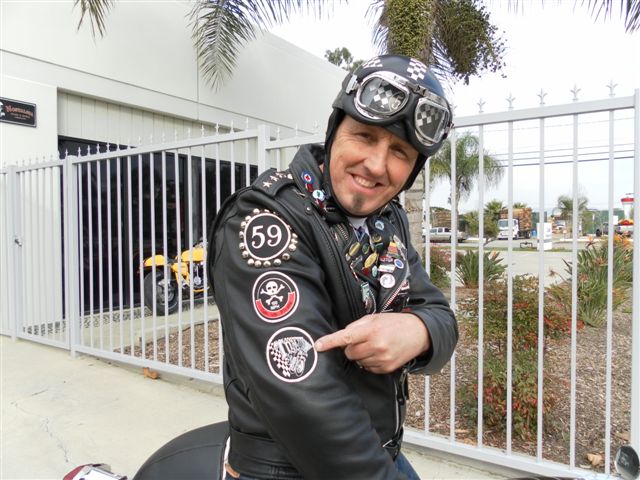 Well, this may take a little bit of time, but I wanted to have a New website, as I have had the original one for many many years, and now it is time for change and of course, I have to stretch my idea's, imagination and of course, pocket book, to many new products at my shop in Orange California.
My company is known as Nostalgia speed and Cycle, but most of you know me as Carpy.
Not meaning to blow my proverbial trumpet, but- when I came here to the Great USA in Feb15th 2000, nobody- and I mean nobody even knew what a Cafe Racer was.
Lucky for me, I grew up with these machines and have always been part of my life and, many of my friends back home, it was just a natural progession when I moved here, so much in fact, I was the First person to regularly use CB750's as the platform for later Cafe Racer machines.  People may boast and shout they did this years ago, but show me the photos and dates, as I even had to paint the name CAFE on my gas tank in old English in 2000 as everybody kept asking me what sort of motorcycle I was riding.
Now, 12 years later, many Cafe Racer builders have hit the states and the globe, its a fun and refreshing scene that I really believe has brought people closer together in a friendlier biking fraternitiy.
How so?
Well, I still get over 100 emails a week, I get many emails from people all over the world and from many walks of life, telling me that I have inspired them to get off their arse and start to wrench, thats such a cool feeling for me and I also get many emails and phone calls from fathers who have had a few issues with their son and as they had an old bike in their garage, the father and son build has become really popular and has bonded them in a way that no other interest would of worked.
Where do I see Cafe Racers going in the future????
Upward and onward, as I see some stuff on the internet that simply blows my mind, todays builders are very very talented and to mix and old and new is now becoming very popular, todays builders are tomorrows engineers and this will reflect on the Motorcycle industry, as I know that all the major brands have now actually sat up and taken note that the Cafe Racer has now become popular and has brought many people together.
I still get many enthusiasts from all over the world that  pop into my new shop, yesterday I had some people from Paris ( France ) and they were builders, then on Sunday I had two people all the way from Hungary come over and wanted to meet me, I am always totally gobsmaked they know who I am to be honest and always have time for people.
I will continue to create Cafe Racer motorcycles and will now be making and designing more and more parts to fit these great machines, so keep checking back on the ever growing website, I have many idea's and of course, public participation is going to be emmulated in this website as input from you is very important.
Follow me on here, as well as Facebook and Twitter etc as you will get to know me as a real person, this is My life, not just a job.
I started in my garage at home and now have an 8000 square foot shop, the store front is 2000 square feet where I sell my products and now I am selling parts for Hot Rods and Customs of which I have always been into and of course built and owned.
Please, if you are ever in Orange County, drop in and say hello, as its always cool to meet you in person.
Thanks for reading this, remember, it is you who put me on the map, I want to thank everyone for giving me a chance and for purchasing my parts, I am here to help, I am not into the One upmanship aspect of this trade, as we are all equal and deserve to all have fun and make friends in this ever growing industry.
Stay tuned on my blogs as I hope to be inputting all sorts of things from tips and tricks to Videos etc.
PEACE AND GREASE
CARPY
Comments
comments