Rocket 4 Seat UNIVERSAL FITTING Honda
A Classic Seat base thats a Universal fit on many motorcycle frames.
 I designed this seat not only to look good, but fit a variety of frames and make this a cool Universal set up and have sold about 350 of these and still continue to ship these all over the globe.
 These seats are sturdy and really make a nice flow to match your stock gas tank and plenty of room for your rear end to perch upon.
These fit over any metric frame from the 1970's no matter what brand, Honda, Suzuki, Yamaha etc.I get many comments on the Rocket 4 seat base and I am sure that you will too as this is right on the money and looks so Nostalgic. I also sell a couple of different rear lights for this seat too as you can have round or rectangle and easy to wire too.
Dimensions: Length- 28″, Height- 4″, Hump 14″, and Seat 13 1/2″
Below is a Super Sport I fitted this too and made snaps for the upholstery, I can offer that service too if you need it.
People have asked me how I fit this and the best way to show is just with a few photos of how I plop this right on the frame, have a look a little lower down and there will be a pic of how I fit them to the CB750 frame and the CB500 and 550 models too.
Want to change the look of your ride?  Here is a really popular set up for your Cafe Racer motorcycle, and this seat base named the Rocket Four, is one of my top sellers.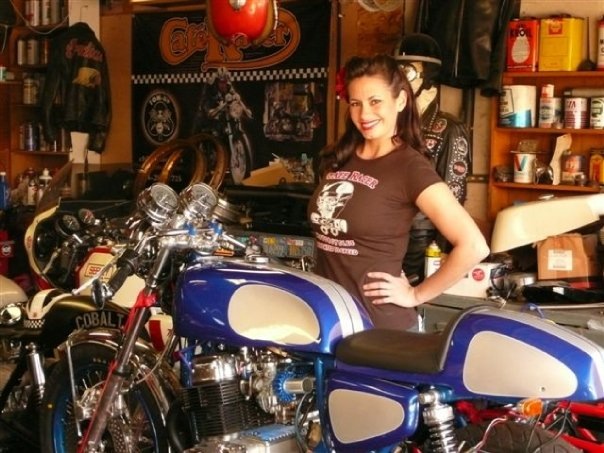 I have sold over 500 of these units and people from across the globe have sat their arse on one of these set ups, and am still going strong.
If you want to stream line your ride and are looking for something that will turn heads, then this is it, I designed and manufactured this a number of years ago and still is one of my best sellers.
HOW DO YOU FIT IT?
OK- here we go, what I do on the cb750 is remove all the tabs from the frame, that includes the hinges and lock etc as the seat base sits on top of the frame.
Then what I do is plop the seat base onto the frame, that way I can see if she is sitting flat and if I want it forward or back a little.
Then I marked under the seat base where the cross brace is for the battery and then I drill 2 holes about 1/4 inch in front of the line, I then place the seat base on the frame and drill through the holes in the seat base and into the frame, then use stainless Button head bolts to hold the seat on.
I then sometimes fit another bolt up at the front and you are now ready for your upholstery, your local guy should be able to make a cool cover for about $100.
I like to use snaps n many of mine as its way easy to remove the cover and the foam does not need to be glued and this is a good thing as you can store your registration there and easily get to the bolts if you want to remove the seat for any reason.
This is a universal seat base, so, it will fit a number of Motorcycles, and at 26 inches long, really does show the lines off of your motorcycle.
This comes in Black gel coat and is ready to bolt onto your frame, as it will neatly plop over your chassis, allowing you to bolt through the base of the seat and into the cross brace on your frame, behind your battery box.
Take a look at the style of yesteryear and you will agree this is Bang on for the look.
I am pleased to offer this Rocket 4 seat base to you and ship 6 days a week to all over the globe, been in business almost 17 years here.
I really do like this seat base and of course, I sell the stainless steel round light with the glass lens to enhance this, or the rectangular LED steel light, as well as a chromed LED oval light, all will look stunning on this seat base.
This seat base is made from a strong hand laid matted fiberglass and I have had 300 pound riders use this seat and are happy with it, I hope you like the style of this seat and enjoy the photos I have put on the site.
I have a company that makes fiberglass products for Disney and the film industry, manufacture my parts from my molds and the quality is better than any out there I am pleased to say.
This seat comes in a 30X12X12 box and ships via fed Ex to you and I try and ship the same day, if I have it in stock as i know what it is like to wait on products, especially if you are trying to get your own project completed.
So easy to fit compared to many out there and they stand the test of time to all the elements too.
Below, I even fitted to a CB350 Honda and it looked great.
Here was my first one I made back in 2000.
So-if you like this look, then jump on board and grab this well made seat base I named the Rocket 4.
Thanks for looking and if I can help you can always call me on 714-996-4597 or email me at carpy@carpyscaferacers.com and I will do all I can to help you out with your project.
See how the seat sets the whole Motorcycle off, I hope you like it as much as I did designing it?
Support real bike businesses and get parts that fit, work and last, all made right here in the USA too.
Comments
comments
| | |
| --- | --- |
| Weight | 5.0 lbs |
| Dimensions | 24 x 10 x 7 in |
---