MASTER CYLINDER HONDA
New master Cylinder for Better stopping Power. for ALL 7/8 Handlbars.
Are you fed up with a master cylinder that leaks as bad as a baby's ill fitting diaper?
Is your master cylinder as corroded as the the tin man's boxers
Well, never fear, we have the answer here at Carpy's Cafe Racers, and I now have to offer these gorgeous Black Aluminum Master cylinders.
This is one cool set up and I am now using these on my own machines, the good thing about these is they look like the original ones from back in the day, and these are New and will not leak like your old worn out ones do.                            This fits all 7/8″ handle bars.
Stealthy and smelling as fresh as daisies, this set up is literally ready to bolt on, bleed and off you go wit peace of mind for your front end.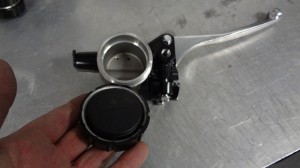 I have used these on my machines and am really stoked as to how they function and of course, how they look, easy to fit, just like the Originals.
See what you think, but way better than many other brands out there and of course, I use these anyway and shall continue to.
I like the way these do look and of course the function is way better than older second hand ones.
I have sold many of these and I am certain you will like everything about this master cylinder assembly.
Comments
comments
---