Chromed 7 headlight Assembly with Halogen
This 7 inch Chrome headlight assembly is a bolt on deal.
OK-here we are with a great headlight for your Motorcycle, be it a Royal Enfield, a Honda, Suzuki, or even a Triumph, this is a Universal headlight that will fit many brands and applications and have used these for years, a great price and solid headlight set up that always seems to stand the tests of time.
This is my own model RE and it fitted right up and was so much brighter than many of the expensive units I have seen out on the market these days.
Product Details
CHROME Headlight Assembly is available in the classic Honda CB style or classic Kawasaki KZ/Z1 style in Classic Chromed steel Bucket. The headlight is very affordable and includes an H4 bulb .
Many people ask me about my parts that I am fitting to my machines and of course, fitting to other people Motorcycles too, so here is a new one for you.
This is for a branch new Chromed 6/34″ headlight assembly that is complete with mounting bolts to and you can have a direct fit to your Royal Enfield GT.
As you can see, I have my Bulldog " Bailey" Guarding my bike but the light is so much better than the big Factory version and Brighter too.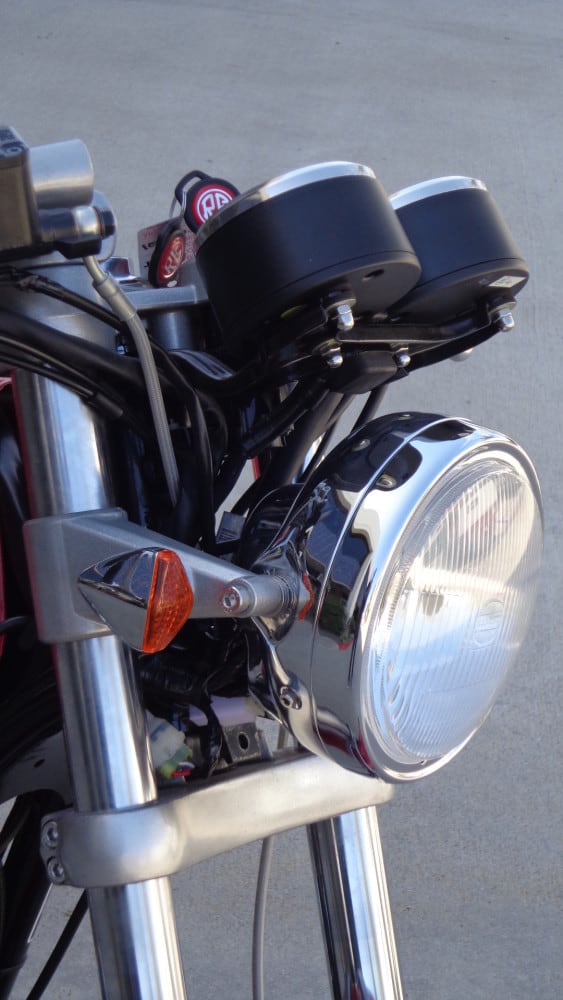 This is a Classic headlight assembly and you simply plug and play, as simple as removing your stock one and fitting my version and your done!
If you want a fun and easy kit but also have a Nice headlight that really helps the style of your GT, then you have come to the right place indeed!
I ship these 6 days a week ad to all over the world, I also make sure the Custom forms are filled in correctly so you do not have Duty to pay when you receive it, I have been in the Motorcycle business here in Southern California for 21 years and look after my Customers.
I hope you like the look of the headlight set up as I am proud to bring you this and many other parts for the Continental and as you can see below, Mine is taking shape nicely from exhausts to tires.
I have sold over 1000 of these Chromed headlight units to all over the globe, I ship 6 days a week and help with all the Customs forms so you do not get hit with unwanted fee's.
Comments
comments
| | |
| --- | --- |
| Weight | 3 lbs |
| Dimensions | 10 × 10 × 10 in |
| Finish | |
---