Exhaust System HONDA 4 into 1 CB750 SOHC Yoshimura style choice of Raw steel or 4 Ceramic Colors.
The very best in performance and value for money- Also- Made in the USA!
Below you will see my Fantastic SOHC 4 into 1 Yoshi style performance exhaust system, this is by far the best value for money and the sound is right back from the 1970's when these bikes ruled the world.  I have sold over 1500 of these to people all over the Globe and customers come back for more.
INTERNATIONAL CUSTOMERS: Checkout using the USPS option, as FED EX and UPS are charging way too much. I also tick the gift box on the Customs forms and put a low value-That way you get no duty to pay.
AVAILABLE IN RAW STEEL, CERAMIC COATED BLACK or SILVER, and Now Ceramic BURNT BRONZE and TITANIUM Ceramic as well as our offer of custom made Stainless steel systems too, cut and welded to a Fixture to make sure that the headers locate correctly and fit with ease, but the sound you will just love.
THESE are Now a 2 Piece- that makes it way easier to fit and to ship too, this has been my Number 1 seller and continue to produce these at an affordable price and Made right here in California USA.
Just listen to this exhaust, This CB750 had not run in 20 years, I fitted my Raw steel 4 into 1 exhaust system to her, changed fluids and added battery and she kicked into life, boy is this pipe Crisp.
TURN UP YOUR VOLUME!!!!!
I have sent these from as far as Russia to Iceland and always amazes me where customers find me, but good parts will get noticed and mine get noticed for sure.
Here is one I cut the tailpipe down on but still added the Custom Baffle, and it sounds great.

Below is a Custom version in Stainless Steel for the well known Rice Boiler Cafe Bike I created.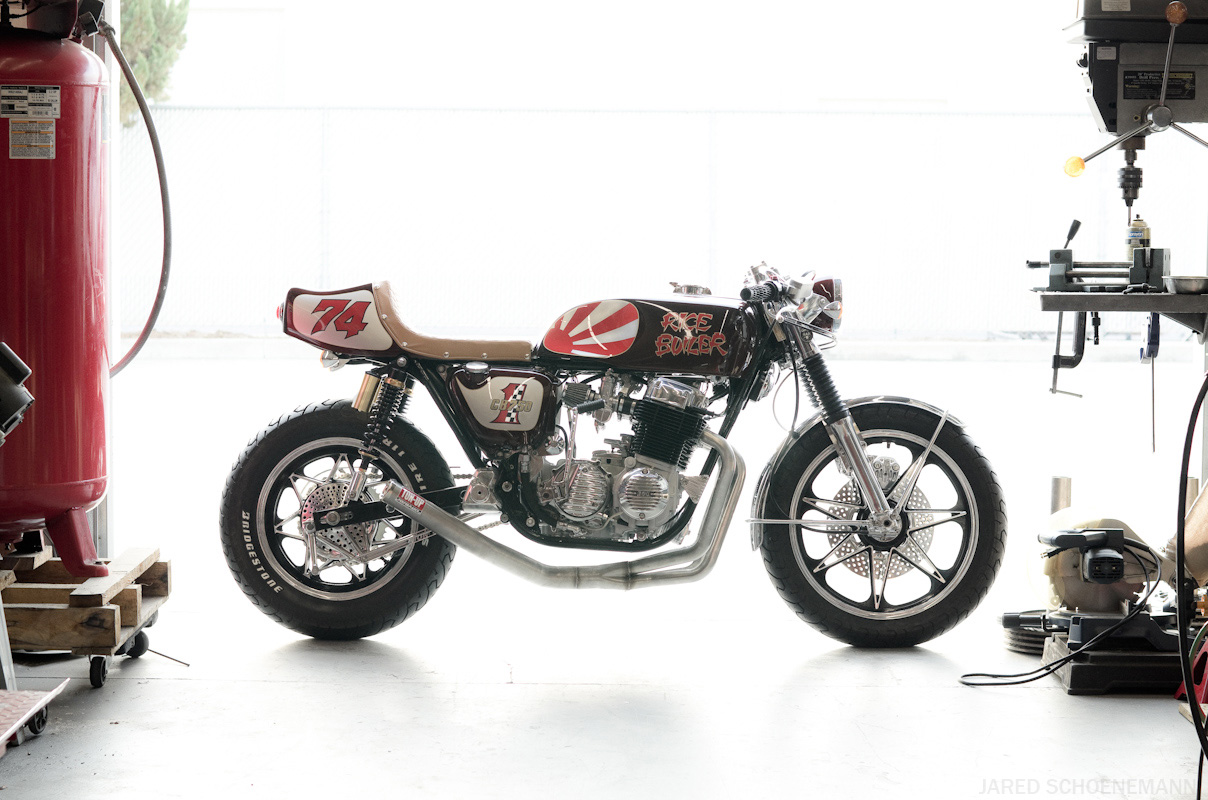 If you want something that screams Nostalgia, then stop right here and have a look at the photos and see if this set up is for you and your inline Four.  many have tried to copy but to be honest they just miss the mark and most of them are not int Motorcycles as such and just trying to make a quick buck. Look at the Cerakoted system below thats the New Burnt bronze, dissipates the heat well too.
Ours are built by Pro's now and all jigged and these will perform and sound bloody marvelous and I continue to sell these all the year round and repeat buyers I may add too, below is the New Titanium color we now offer. Its like a Gun metal Grey with a slight texture to it.
This is a great color too and I can do many things with the exhaust , just as you can, you can cut the tail section down and re-insert the baffle for a more aggressive look.
I have been designing and selling Motorcycle parts here in the USA for over 20 years now and love what I do, not many people have the Passion and the drive that I have always kept, I look after you and help the best way I can.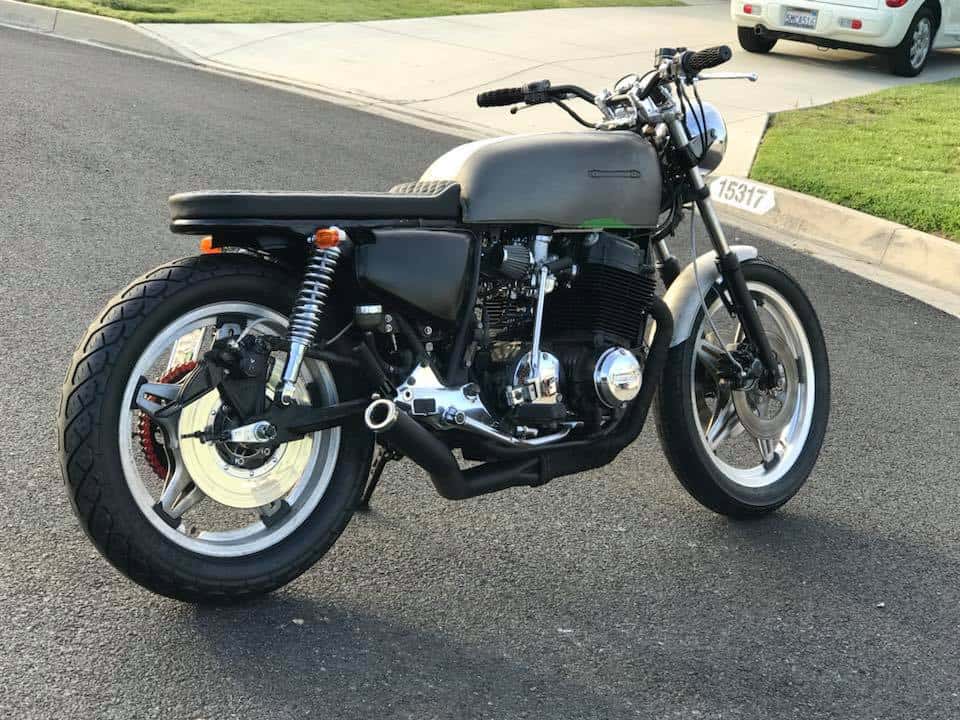 If you are looking for a top class, specially created exhaust for your 750 Honda 1969-1978 S.O.H.C. then you have found it.
These exhausts are a replica of my Original old Yoshimura system that I used as the template a this sounds awesome.
The Bike above I created and shipped to the Customer in Seoul- Korea and he loves the machine.
I supply these with a Baffle but I do not pack the baffle with fiberglass, I like the raspy sound with no backing, but something you can change easily by adding muffler packing from any dirt bike establishment. Personal choice really.
These are a 2 Piece exhaust system and that makes it easier to fit and cheaper to ship as well, made right here in California. USA.
Here's how they work—ceramic coatings and exhaust wraps help contain the gaseous heat within your exhaust pipes. This causes the gasses to heat up and expand. Since the exhaust gas is trapped within the system, it expands the only direction it can—out of the tailpipe. As a result, exhaust flow is boosted, allowing a rush of fresh air to enter the engine's cylinders, increasing horsepower. Both ceramic coated headers and Exhaust Wraps improve horsepower, so let's go over their pros and cons and see which one is best for you.
Ceramic Coated Exhaust Parts
This is a spray-on finish that's infused with heat-insulating ceramics. It is not a DIY solution, these exhaust parts are coated at the factory, or sent to a facility with the proper equipment.
Pros
Provides the biggest horsepower gains when compared to other exhaust insulation methods
Reduces under-hood temperatures better than other types of exhaust insulation
The ceramic coating is applied evenly on both the inside and outside of the exhaust pipes, preventing "hot spots" that can cause metal fatigue
Improves the laminar flow of your exhaust gasses
Prevents rust and corrosion of the ceramic coated parts
Looks great—some coatings resemble chrome plating.
These will fit CB750K and CB750F  SOHC models too from 75-78 and you will love the flow of the system for sure.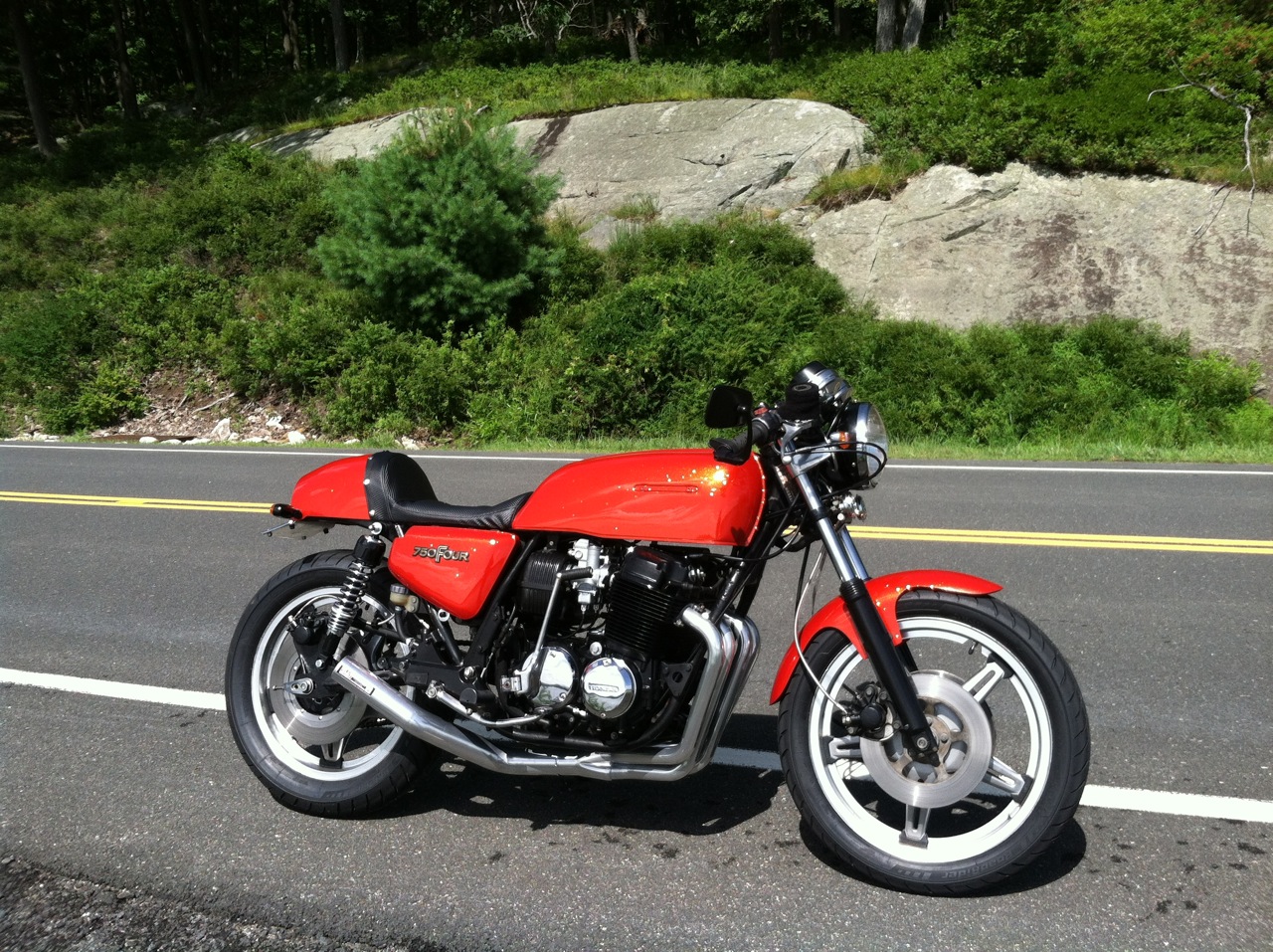 These will fit from 1969-right up to the last SOHC the 1978 and I can sell them in Raw steel  so you can paint them or wrap them, I also offer High Temp Titanium Wrap kits too, so have it all covered, above is the Silver Ceramic on that Super Sport, as a Brushed aluminum look.
Exhaust system is supplied with a 6 inch removable baffle as well and you will notice a smooth power range all the way through when you re-jet the carbs. Usually a Rule of Thumb is 2 sizes bigger on the main when you fit these. Only the main jet, the stock #40 Idle jet does not need to be changed at all.

We have sold well over 1500 S.O.H.C. models and people really enjoy the look and the snarling sound of these pipes of yesteryear, below is a set that we sold to a Customer for his 1978 CB750K model and he sure loves it.
These are easy to fit and give you performance right out of the gate, I am sure you will be happy with this set up and made in the USA too. Below is one fitted to a 78K model.
The Silver Cerakote looks like its Chrome too, a nice touch to your system with a choice of 4 colors to Customize your inline four to how you would like it.
 Below: This bike I created was built for Jason Freese of Greenday and he loved tearing it up and the sound was just Music to his ears.
So easy to fit and boy, do they sound crisp and even and you will feel a power difference too.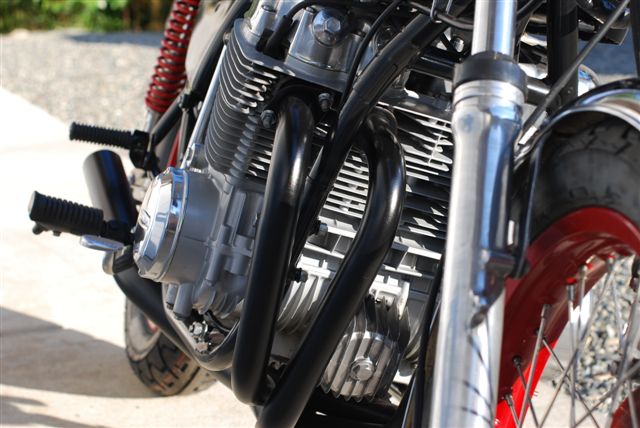 I Now have A New Burnt Bronze ceramic coating now available and this is a super Custom look, almost a Metallic look and sure is a Custom style that I really like.
I am proud of these systems and continue to sell these all over the world, I really appreciate everybody's cool input on how they love the sound and fit of these systems of mine. Have a look below at a set I have ceramic coated the headers, then wrapped in Titanium heat shielding and finished off with a Chromed rear tail pipe, you can see the Baffle too thats inserted and has an end cap, ALL exhaust systems I sell come with a Removable baffle, the system you see me with is now available too on my website.
Any questions about these systems, then drop me a line carpy@carpyscaferacers.com or you can even text me at 714-598-8392 as I am here to help.
Thanks once again for choosing my products and am stoked to hear from you and have many repeat customers.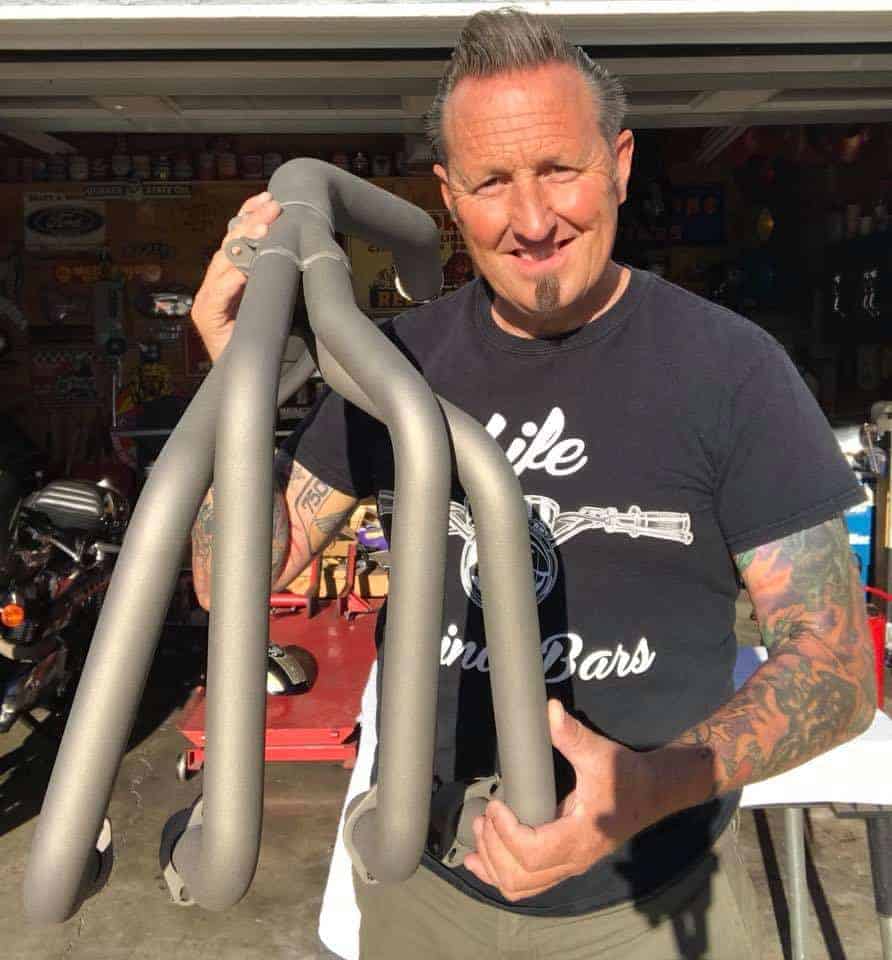 Hope to hear from you soon, you can email or even text me on 714-598-8392 for a fast reply. The one below I am fitting on the Vesco Honda but, then I am shortening the tail pipe for a meaner look.
Here is the same system but I cut the tail pipe down until I was happy with the look, then simply inserted the baffle and it was done, looks bad arse.
Either way it's a great set up and MADE IN THE USA, right here in Southern California, none of that Chinese Rubbish, I am a real Motorcyclist not just some salesman that's paid to sell their over sea's products.
Please Note:
Comments
comments
| | |
| --- | --- |
| Weight | 14 lbs |
| Dimensions | 22 x 16 x 16 in |
---